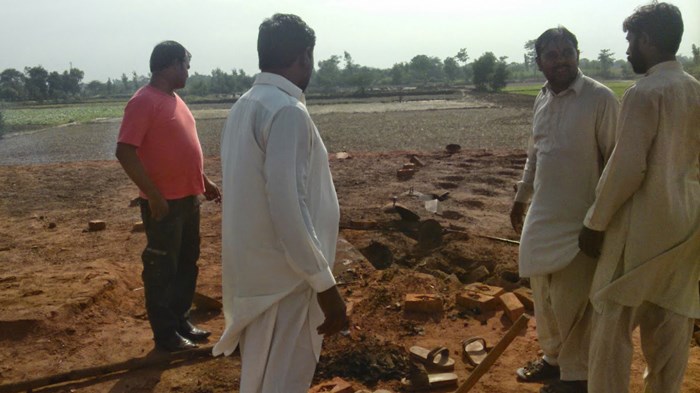 Image: Courtesy of LEAD
Update (Nov. 10): After a fact-finding trip, the Church of Pakistan claims that "revenge for unpaid bills" was the real reason a Christian couple fell afoul of blasphemy rumors that led to a mob burning them to death. The Anglican Communion News Service reports more details, as does Vice News. A Wall Street Journal op-ed notes how Pakistan's blasphemy laws, "almost as a matter of routine, are misused to settle personal scores."
-----
In the most provocative incident since Pakistan's highest court ruled this summer that blasphemy law abuses should be reined in, a Christian couple were beaten and burned to death on Tuesday following accusations that the wife—five months pregnant—had burned the Qur'an.
Shahzad Masih and Shama Bibi were bonded laborers (seen by many as a modern form of slavery) at a brick-making kiln who lived in a small Punjab town named for the first Anglican missionary to Pakistan. After a mob threw them into the same kiln, protests erupted in the provincial capital, Lahore, and the nation's capital, Islamabad.
Both World Watch Monitor (WWM) and Morning Star News (MSN) report the details of the attack, which drew attention from The New York Times, Reuters, NBC, and other media.
The Muslim nation's prime minister, Nawaz Sharif, quickly condemned the mob action as "an unacceptable crime." He authorized the government of Punjab, Pakistan's largest province and home to most of its blasphemy cases, to prosecute the couple's killers.
"A responsible state cannot tolerate mob rule and public lynching with impunity," stated Sharif, according to The Express Tribune. "The Pakistani state has to act proactively to protect its minorities from violence and injustice. We must promote religious and ethnic diversity in our society as a virtue."
News of the death of the couple, who left behind four children (two were relatives' children whom they were raising), was first reported by a Pakistani advocacy group, Legal Evangelical Association Development. Despite making up less than two percent of the population, Christians make up "a high proportion of bonded brick-kiln workers in Punjab," reports Human Rights Watch.
Masih's sister-in-law told WWM that the incident arose following a neighbor's overreaction to Bibi disposing of her late father-in-law's black magic amulets. "Shama never meant any disrespect to Islam as she was totally illiterate and had no idea what the amulets contained," said Parveen Bibi. "A few people recognized partially burned pages in the ash and raised a cry that Shama had burned the Qur'an."
The brick kiln's owner refused to let Bibi and Masih flee their village without paying their bonded loan, reports WWM.
Eventually a mob formed. "The mob broke into the room and then dragged both of them out to the courtyard," a relative of Bibi's told MSN. "Shama was already dead by the time the Islamist zealots had thrown her body into the kiln. Shahzad was still alive when he was shoved into the fire."
This latest episode of "vigilante justice" comes five months after Pakistan's Supreme Court in June ordered the creation of a police task force to "eradicate" what one member of parliament described as a "social evil that has taken root in our society in recent years." A national Council for Minorities Rights was also mandated to "monitor the practical realization of the rights and safeguards provided to minorities under the law."
In September 2013, more than 80 Christians lost their lives after bombs went off following a church service at All Saints Church in Peshawar. The incident joined past high-profile attacks in Lahore's Joseph Colony in March 2013 and the city of Gojra in 2009 that prompted hopes that outrage would lead to blasphemy reform.
Instead, blasphemy accusations remain common. In August, three Christians were charged with blasphemy in separate incidents, reports WWM. In one case, Christians seeking land to bury their dead attempted to work with a local politician to secure property only to have Muslims argue that their own dead were already buried there. The plight of Christians finding burial sites was also chronicled last month by the Washington Post.
CT reported last month's high court decision to uphold Asia Bibi's death sentence. Last year, four Christians were acquitted of blasphemy charges.
Christians are not the only victims of blasphemy. Since 1990 more than 50 people have been murdered on charges of blasphemy, over half of them Muslims or other religious minorities. In 2013, French journalist Anne Isabelle Tollet and author of Blasphemy: A Memoir: Sentenced to Death over a Cup of Water told CT she had little hope that Pakistan would repeal its blasphemy law.
"With the new group (Sharif's administration) it is impossible. I don't have any hope," she said. "The blasphemy law fits the definition of terrorism. It's a terror law. It's a way to instill terror. Everybody is scared of this law."
Earlier this year, Open Doors moved Pakistan up to number eight (from 14), on a list ranking the worst countries in the world for Christians.