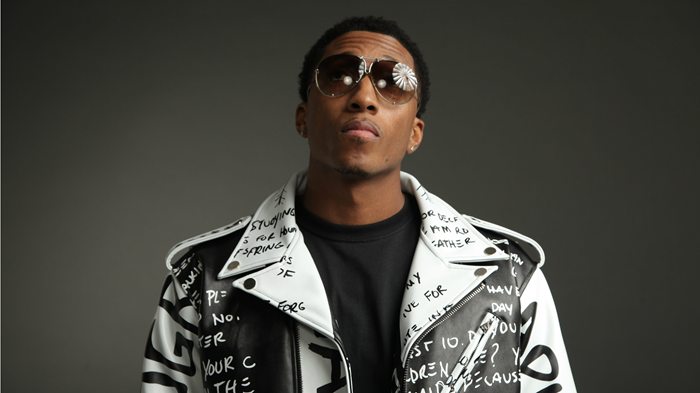 Image: Reach Records
Update (Jan. 10): With images of an American flag flashing behind him and quotes from Martin Luther King Jr. playing in between verses, Lecrae performed a timely selection from his chart-topping 2014 album on The Tonight Show Friday.
Jimmy Fallon made good on his promise have the Reformed Christian rapper back on the program, a few months after Lecrae sat in with Fallon's house band, the Roots.
This time, he took the stage with DJ Promote (who has collaborated with Christian rappers and worship bands alike) to perform "Welcome to America," remixed to feature clips from MLK's 1968 "I've Been to the Mountaintop" speech. A video of the performance is available on The Tonight Show website.
After the song, Lecrae mouthed to viewers to "Go see Selma," the acclaimed civil rights drama that released nationwide the same day.
He described "Welcome to America" to MTV News, saying:
'Welcome to America' is a special song because I think everyone has a unique perspective on America. I wrote the song from three different perspectives . . . You've got a guy who's from one community, another guy from a completely different community and then you've got a person who's not from America and [it's] their perspective on what America is. Everyone sees it differently, through different lenses, and it makes us take a step back and look at ourselves.
#LecraeOnFallon and #WelcometoAmerica trended in the United States, as Christian fans applauded his performance. Blogger Jon Acuff posted an image from the show's closing, depicting Lecrae standing beside Fallon and motioning to the heavens. "How do you survive fame? How do you survive the spotlight?" Acuff asked. "You point up when pointing at yourself would be easier. Loved seeing that tonight @lecrae."
In December, Lecrae received three Grammy nominations for his album Anomaly, including for Best Rap Performance, his first nomination in the mainstream rap category.
------
[First published Sept. 19, 4:27 p.m.]
On The Tonight Show Thursday, Jimmy Fallon congratulated Lecrae for his No. 1 album, Anomaly, and invited him to return for another performance.
For the night, Lecrae joined Fallon's house band, the Roots, for musical interludes between segments. He rapped portions of songs from his new album, including "Nuthin," "Fear," "All I Need is You," "Say I Won't," and "Welcome to America."
The Tonight Show posted a clip of Lecrae explaining his inspiration for the lead single on Anomaly. "I made a battle cry for substance in music," he said.
James Poyser and Frank Knuckles, both members of the band, posted pictures with Lecrae, as fans and friends tweeted along. #LecraeOnFallon trended nationwide.
Following the show, Lecrae posted on Facebook, "It's a lot to take in. I haven't had time to download it all. I am so grateful for the support. I know I represent something much bigger than me. Thank you! I thank God for a voice into culture. I pray I use it wisely."
"I'm really excited for Lecrae," tweeted fellow Christian rapper Sho Baraka. "I pray for wisdom for that brother. This can't be easy navigating new waters. ‪#116Circa03."
-----
To borrow some popular lingo, Christian rapper Lecrae is blowing up.
His latest album, Anomaly, topped iTunes on the day it was released and took the No. 1 spot on the Billboard Top 200—a first for a Gospel act.
On Thursday, Lecrae will become the first from the resurgent ranks of Reformed rappers to appear on a late-night network show when he sits in with the Roots, the house band for The Tonight Show with Jimmy Fallon. He is expected to perform his single, "All I Need is You."
Listeners began a Twitter campaign to get #lecraeonfallon months ago, and once the appearance was announced on Monday, Lecrae's label, Reach Records, attributed the decision to his fans.
"Remember when y'all had #lecraeonfallon trending?," the Atlanta-based rapper asked. "Well guess who is a guest on the show this week?! Tune-in to @FallonTonight on 9/18."
The prolific hip hop-soul band the Roots joined Jimmy Fallon when he took over Late Night in 2009, and they've invited several legendary artists to sit in with them, including Aerosmith's Brad Whitford, Kiss guitarist Ace Frehley, and John Oats.
Lecrae's Tonight Show gig follows recent features on MTV.com, the Billboard site, and the front page of the Washington Times. CT interviewed Lecrae in 2011 on how he went from addiction to self to Jesus becoming his "drug of choice."
As Christian hip-hop grows in popularity and theological depth (and also develops a critical edge), Lecrae is celebrated an artist who can entertain both Christian and mainstream audiences; last year, he toured with a hip-hop festival featuring secular artists such as Wu-Tang Clan, Kendrick Lamar, and Common.
Previous Christian acts who have made late-night appearances (under Fallon's predecessor, Jay Leno) include Third Day, Switchfoot, and For King & Country.
A 2013 CT cover story examined the leaders of Christian hip-hop and how the movement could call the American church back to the gospel—and hip-hop back to its roots. CT also spotlighted the centrality of Reformed theology to Christian hip-hop.
One of Lecrae's new songs, "Non-Fiction" name-drops pastor Tim Keller as well as CT executive editor Andy Crouch and his book Culture Making.
CT coverage of Christian hip-hop includes what Shai Linne's takedown of Joyce Meyers suggests about Reformed rap, a defense of using the n-word in certain songs, a Katy Perry ripoff lawsuit, and the lack of female artists.
Earlier this summer, the magazine also celebrated Jimmy Fallon's new comedic tone on The Tonight Show.