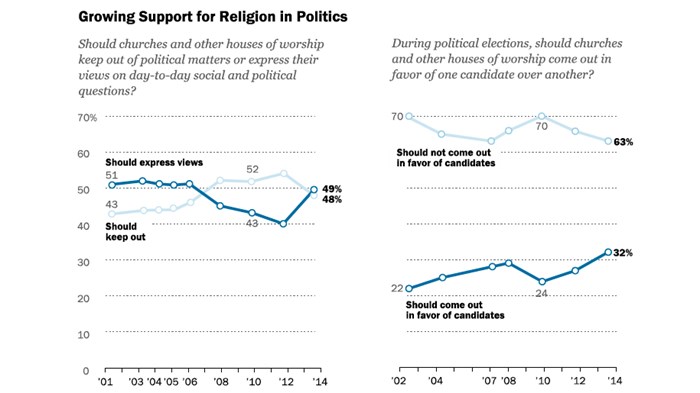 Image: Pew Research Center
More Americans want more religion in politics, according to a new Pew Research Center study exploring the "growing appetite" for churches endorsing political candidates and other intersections of church and state.
While three out of four Americans (72%, a record high) believe that religion is "losing its influence on American life," a majority of Americans (56 percent) also believe this shift has been for the worse. White evangelicals are the most likely to view the change negatively (77 percent), but the majority of white mainline Protestants (66 percent), black Protestants (65 percent), and Catholics (61 percent) feel likewise.
Gregory Smith, Pew's director of U.S. religion surveys, previewed a number of what he called the study's "surprising" and "interesting" findings at the Religion Newswriters Association's annual conference on Thursday.
Fewer Americans now believe churches (and other houses of worship) should stay out of politics. ...
1