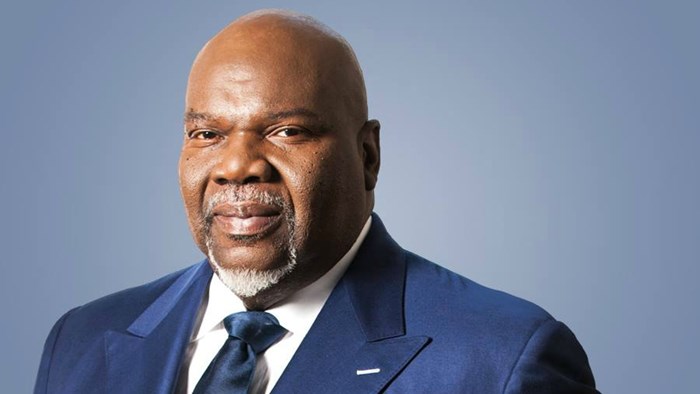 Image: T.D. Jakes Ministries / Facebook
A new remix from rappers Jeezy and Kendrick Lamar opens with another voice: the familiar preaching cadence of megachurch pastor T. D. Jakes.
Jakes's Dallas-based ministry announced last week they will go after the song's creators for using the sermon excerpt without permission:
The "Holy Ghost" remix by Jeezy featuring Kendrick Lamar was produced without the knowledge or consent of T.D. Jakes, TDJ Enterprises, Dexterity Music, or its associated companies. We are taking the necessary legal actions to stop the unauthorized use of T.D. Jakes' intellectual property.
The song comes from Jeezy's album Seen It All: The Autobiography, which debuted at No. 2 on the Billboard charts earlier this month.
Despite the title, "Holy Ghost" includes explicit language and references to drug dealing, criminal activity, and betrayal. The song's hook begins, "Please Lord forgive him, you know he got that thug in him." Jeezy performed the original song (without Jakes' audio) on Jimmy Kimmel Live last week.
Rap music has a long tradition of sampling from other artists, which has led to lawsuits over copyright infringement.
The 20-second excerpt from Jakes comes from a 2013 message, where he says, "To tell myself, I'm still on fire. I'm under attack, but I'm still on fire. I got some chatter, but I'm still on fire. I got some threat, but I'm still on fire. I got some liabilities, but I'm still on fire. If it's not amazing that I'm on fire. I've been to hell and back, but I'm still on fire."
"Generally speaking, it is 'fair use,' in the context of a song, to copy elements of someone else's work in order to make a point that amounts to commentary," Jonathan Kirsch, a Los Angeles-based lawyer, told the New York Daily News. "The notion of taking a cultural artifact, like a sermon, and using a small portion to make a comment on the role of religion in peoples' consciousness is very similar."
In recent years, pastors and churches have increasingly navigated copyright issues related to sermons, as more pastors distribute their messages online and use their teachings to inspire book series and other content.
Earlier this year, a CT story asked, "Who Owns the Pastor's Sermon?"—discussing whether the intellectual property of a sermon is owned by the individual pastor or their ministry organization.
CT has also looked at whether churches should trademark their names and logos after a Mars Hill dispute, how Josh Hamilton relinquished his rights to "Play Hard, Pray Harder," and whether Derrick Rose would help a hometown church keep its tithing trademark.