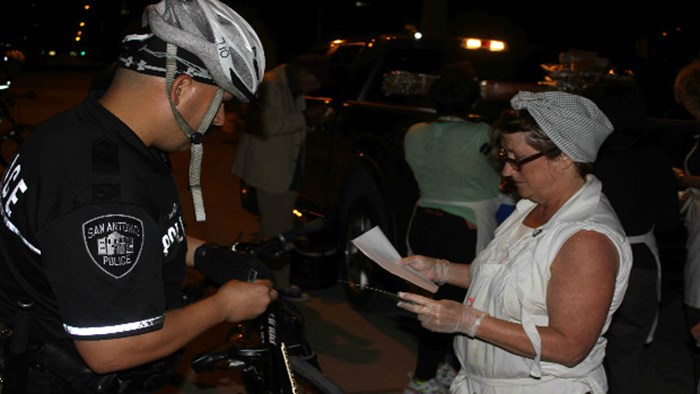 Image: David Davies / Flickr
The latest battle over religious freedom doesn't involve wedding cakes or pizza.
Instead, it's about a warm meal of vegetable soup, pasta, and Southern greens, offered to the homeless in San Antonio. That meal earned Joan Cheever a $2,000 fine from a police officer earlier this spring, according to Texas Public Radio (TPR).
"Do Good Samaritans get tickets in San Antonio?" she remembers asking the officer as he wrote up the ticket.
"Yes," he replied, according to TPR.
TPR reports that Cheever, in response, turned to the Bible and the Texas version of the Religious Freedom Restoration Act (RFRA), telling the officer the law protects her right to exercise her religion.
"The Bible says, 'When I was hungry, you fed me,' and I take that seriously," she told The Washington Post. "This is the way I pray, and we'll go to court on this."
Cheever, who prepares food in a truck licensed and inspected by the city, ...
1