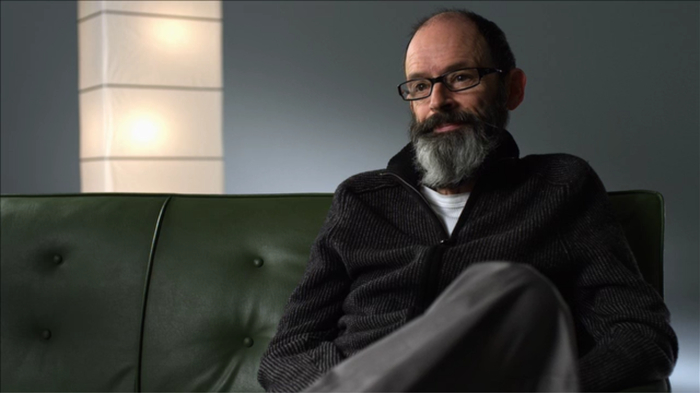 Image: Ed's Story screenshot
"Ed Dobson is now healed and with his Lord."
That's how the Facebook page chronicling the life of the former Religious Right leader since his diagnosis with ALS announced his death on Saturday.
Dobson, 65, was the former senior pastor at Calvary Church in Grand Rapids, Michigan.
Born on December 29, 1949, in Northern Ireland, Dobson immigrated to the US at the age of 14. He attended Bob Jones University and earned his doctorate from University of Virginia. In the early part of his career, Dobson worked closely with Jerry Falwell, became a Liberty University administrator, and served on the Moral Majority board.
"I graduated from Bob Jones and couldn't get a job, and Falwell offered me to come work. It was the second year they had a college, and I figured that was better than what I was doing, which was digging graves," Dobson told PBS in 2009. "So I ended up going to Lynchburg till I found something better, which took 14 and a half years."
He became the pastor of the non-denominational Calvary Church in 1987.
In 1999, Dobson and Cal Thomas co-authored Blinded by Might, which criticized Falwell and the Religious Right movement. (Read CT's review.)
Dobson later felt he'd been too harsh.
"I was an outspoken critic of Jerry Falwell and others. Recently, I've changed my mind," he told CT after Falwell's death in 2007. "I think he was doing what he felt God was leading him to do, and I was doing what I felt God was leading me to do. The ultimate judgment is up to God, not me or Jerry."
In 2000, at age 50, Dobson was diagnosed with Lou Gehrig's disease and given 2-5 years to live. Over the next 15 years, his public wrestling with the illness became the subject of a video series.
"After I was diagnosed with ALS, people would say, 'I bet you're thinking a lot about heaven.' Actually, not really. I discovered how attached I am to my wife and kids down here. I want to be here as long as I can," he wrote for CT in 2012. "The more time I have, the greedier I become. I want more and more time with my family."
One of the first things Dobson did after his diagnosis was to make a list of everyone he had offended.
"I began working my way through the list and asking forgiveness," he wrote. "When I die, I want people to know that my relationship with them was 'without regrets.' I didn't want to die with a broken relationship with other people."
Dobson stepped down as senior pastor from Calvary Church in 2005.
In 2008, Cornerstone University in Grand Rapids named Dobson the school's vice president for spiritual formation. After he took the post, Dobson was criticized by some for voting for Barack Obama in 2008 and for drinking alcohol during his year of living like Jesus.
"For me, being pro-life includes not only the protection of the unborn but also how we treat people who are already born," Dobson wrote. "I felt that Mr. Obama was closer to the essence of Jesus' teachings—compassion for the poor and the oppressed, being a peacemaker, loving your enemies, and other issues."
In his book The Year of Living Like Jesus, Dobson recounted what he learned from eating what Jesus ate and praying as he prayed. He also wrote about ALS in Seeing Through the Fog (read CT's review here) and Prayers and Promises when Facing a Life-Threatening Illness.
Through Dobson's initiative, Calvary Church provided care for AIDS patients and the nearby LGBT community. "Although Dobson's belief in the wrongness of homosexual practice had not changed, he [reached] out to the gay community in Christian love," wrote Philip Yancey in his book What's So Amazing About Grace?
"If I die and someone stands up at my funeral and says nothing but, 'Ed Dobson loved homosexuals,' I would feel proud," Dobson told Yancey.
In 2013, Dobson's son Daniel came out.
"Mom, Dad, I'm gay," Daniel told his parents. "And I still love Jesus. And nothing else changes."
"We still love you," Dobson responded. "And nothing else changes."
The relief of hearing that was "absolutely huge," Daniel, then 28, told MLive. "It almost felt like I was able to breathe again."
Dobson was a mentor to former Mars Hill Bible Church pastor Rob Bell, and Dobson's son Kent became the church's teaching pastor in 2012. (Kent announced in November that he would step down in 2016.)
He also served as an advisory editor for Christianity Today magazine and a consulting editor for Leadership Journal.
"Ed Dobson was the total package," Cornerstone's president Joe Stowell told MLive on Monday. "He was compellingly relevant, yet unashamedly an advocate for the historic theological landmarks of orthodoxy. He was merciful, yet prophetic; he was an encouraging, yet honest and confrontational when necessary; he was authentic, transparent, and deeply in love with Jesus."