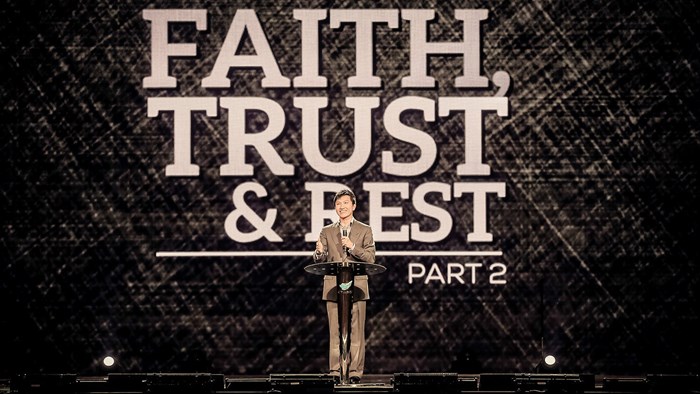 Image: Michael Chan
One of Singapore's most prominent pastors says he was wrongfully convicted of fraudulently funding evangelism through the tithes of his megachurch.
"Whilst I respect the court's decision, there are points which appear to be erroneous and warrant appeal," wrote Kong Hee, leader of City Harvest Church (CHC), in a statement posted on Facebook. "I will therefore be preparing to file an appeal against both my conviction and sentence."
Last month, Kong and five other CHC leaders were found guilty by Singapore's charity commissioner of siphoning $35.9 million in church funds to support the singing career of Kong's wife and church co-founder, Sun Ho, in the United States and Asia. The megachurch maintains that Ho's pop music was intended as a form of outreach to non-Christians.
Kong, who was sentenced to eight years in prison, compared himself to the Apostle Paul in a nearly 1,000-word statement entitled "Can & Should Christians Appeal?" While Paul was destined by God to be a martyr, his decision to appeal the verdict after his arrest allowed him to spread the gospel for eight more years, Kong wrote.
"Paul appealed not because he was defiant toward the ruling authority," wrote Kong. "He appealed because (a) the weight of the evidence was in his favor, (b) he had a clear mission from the Lord Jesus that he still needed to fulfill, and (c) he was exercising his legal rights as a Roman citizen, a privilege that God had blessed him with."
Judge See Kee Oon said he did not wish to hand down "disproportionately crushing sentences," given that those convicted were not seeking personal gain. As CHC's spiritual leader, Kong deserved the longest sentence, See said. Kong's fellow defendants were given 21 months to six years in prison.
"I have no doubt that they loved CHC and had no wish to do any harm to it, and I accept that, in using CHC's funds for the Crossover, they believed that they were using church funds for an evangelistic purpose that was not just permitted but positively mandated by the vision and mission of CHC, and which was supported by the vast majority if not the entirety of the congregation," See wrote in his judgment.
Meanwhile, the prosecution, which argued for sentences of 11 to 12 years, filed its own appeal, complaining that the sentences were "manifestly inadequate," reportedThe Straits Times.
Among those sentenced was CHC's former fund manager Chew Eng Han, whose investment company is being sued by CHC for $21 million, according to The Straits Times. CHC alleges that Chew's company did not return its money, which included nearly $5 million in interest.
Chew and deputy senior pastor Tan Ye Peng also said they would appeal.
In a statement, CHC leaders, including Ho, thanked the congregation for "demonstrating strength and unity" over the past few years.
"We ask you to remember and hold close to your heart the call of God upon City Harvest Church," they wrote. "We have learned lately what it means to have faith, trust and rest in God—let us put what we have learned to practice. Let's band together to fulfill the heavenly calling for us through CHC 2.0."
Nearly 175 of CHC's executive members had signed a letter petitioning the judge for leniency:
Although the court has ruled that monies from the church and its building fund have been misappropriated, which many of us have given to over the years, we have no wish to see any one of them go through a jail term. And while we, as individuals on our own have much to reflect upon and are coming to our own conclusions based on the trial and findings, we do find common ground in one matter--not one of us want any of the six to go to jail for what they did.

In this whole matter, we believe they wanted to fulfill the Crossover mission and in their zeal, they overstepped certain boundaries.

We sincerely ask for leniency on their sentencing. For the sake of their young children, we appeal for them to be spared jail terms.
Those convicted were scheduled to start their sentences after Christmas. An appeal date will likely be scheduled within six months, a lawyer told The Straits Times.
CT noted when CHC leaders were first arrested and the progression of the trial.