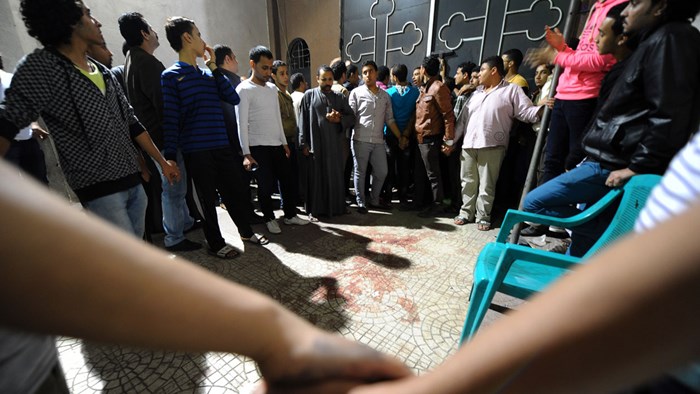 Image: Mohsen Nabil / AP Images
Late Sunday night at an otherwise quiet curbside café in Cairo, customers put down their tea and backgammon. They sat riveted, watching Egypt's president pledge retaliation against the Islamic State in Libya.
Earlier in the day, jihadists released a video of the beheading of 21 Coptic Christians. Following President Abdel Fattah al-Sisi's declaration of a week of mourning, the channel switched to images of the orange-clad victims, walking to their death on the shores of Tripoli.
"Do you see that?" one customer exclaimed, rising to point out the scene to his friend. "They dressed the Copts like in Guantanamo. This is horrible!"
The remark demonstrates the gut-level reaction of Egyptian Muslims, contrary to the desires of the Islamic State.
"There has been a very strong response of unity and sympathy," said Andrea Zaki, the newly-elected president of the Protestant Churches of Egypt. "People are describing Copts as Egyptians, first and foremost, and with their blood they are unifying Egypt."
In the wake of the beheadings, President Sisi visited Pope Tawadros in the Coptic Orthodox cathedral to express his condolences. He dispatched his prime minister to Samalout, 150 miles south of Cairo, to visit the families of the victims and promise construction of a church in their name.
Sisi has also struck hard with his air force at Islamic State positions in eastern Libya. However, Egyptian Christians interpret this as more of a national defense move than a specific defense of their community.
"Egyptians now have a sense of relief, wondering if Sisi would act on his words," said Youssef Sidhom, editor-in-chief of the Coptic newspaper Watani. "It was not done to avenge the slayings, but to restore the sovereignty of the Egyptian state."
Since the January 25 revolution (part of the 2011 Arab Spring), and in particular after the June 2013 demonstrations that led to the removal of Mohamed Morsi as president, Egypt has suffered a rash of terrorist attacks. The government—as well as most Christians—pin responsibility on Morsi's Muslim Brotherhood.
Sidhom rejoices that Muslims do as well. "After June 30, Copts stopped feeling like a lonely minority as they clung firmly to moderate Muslims," he said. "Egyptians have learned the lesson that looking to political Islam for solutions leads only to fiasco."
But not all Egyptians agree. The Muslim Brotherhood denies terrorism links and has condemned the killings in Libya. But Morsi supporters still demonstrate in significant numbers, despite the imprisonment of 3,000 of their top and mid-level leaders.
To think of the situation as "good Islamists" versus the "bad Islamists" of the Islamic State would be "naïve", according to Ehab el-Kharrat, who left his role as a pastor at Cairo's Kasr el-Dobara Church—the largest Protestant congregation in the Middle East—to serve in Egypt's parliament.
"The Muslim Brotherhood are not democrats," said Kharrat, a candidate in new elections scheduled to begin March 21. "We had hoped they would be, but it is clear they are providing political cover for terrorism."
Kharrat points to pro-Brotherhood satellite channels broadcast from Turkey, where many of the movement's leaders have fled. The Washington Post recently detailed their incitement, including calls to assassinate Sisi, kill pro-government media figures, and threaten foreigners as legitimate targets.
"It may be a very difficult time for Copts," said Kharrat, despite his firm agreement that most Muslims have sympathy for Christians. "I expect tens or hundreds of victims in the coming months."
Recent polls suggest only 3 to 4 percent of Egyptians view the Islamic State in positive terms. But if such aggression is to come from this small minority, it might be most expected in Upper Egypt. It is from that region that many kidnappings of Copts occur and ransoms are paid, as CT reported last February.
It is also a place of great poverty, forcing 1.5 million Egyptians to look for work in Libya before the Arab Spring. Today only about 40,000 foreigner workers remain. (In the wake of 2013 detention of dozens of Copts in Libya, CT examined whether Coptic evangelism was really on the rise in Africa.)
Yu'annis Anton, a Coptic Orthodox priest in Upper Egypt, agrees that the region has many supporters of Morsi. But he disagrees with Kharrat's assessment.
"The spirit now is especially good with Muslims. Everyone is condemning the incident and expressing their sympathy," he said of his Maghagha district, 30 miles north of Samalout. "The followers of Morsi are still anticipating he will be restored to power. But as they see the government is staying and expressing its respect for Christians, they will return to their homes and stay there."
This thought is the central feature of nearly all Coptic advice to Christians in the West: Support Egypt.
Sidhom speaks openly of his "grudge" against the US administration, and no longer holds hope that American organizations can help. Zaki asks Western citizens to pressure their governments to see the "reality" and designate the Brotherhood as a terrorist entity. Kharrat asks for tourism and investment, especially in Upper Egypt.
But all ask for prayer.
"We are praying for God to change the hearts of those who have been raised on extremist thoughts," said Anton, "and that this generation of Sisi will be different."