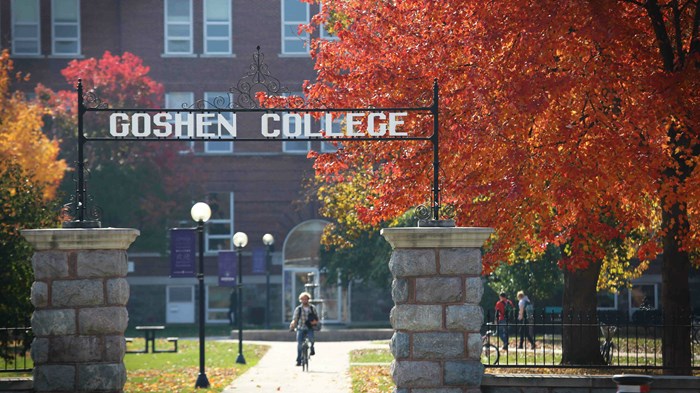 Image: Brian Yoder Schlabach
Update (July 28): The Council for Christian Colleges and Universities (CCCU) will use a "deliberative and consultative process" to decide the fate of two members schools.
Last week, CCCU members Goshen College and Eastern Mennonite University (EMU) added "sexual orientation" to their nondiscrimination policies. That news was discussed at a recent CCCU board meeting. In the past, the CCCU has advocated for the right of its 118 US member schools to uphold traditional Christian teachings about sexuality and marriage.
The CCCU board, which includes EMU's president, plans to call all the presidents of its member institutions to discuss the matter further.
Up to 40 CCCU schools may consider leaving if the board takes too long to act, Dub Oliver, president of Union University in Jackson, Tennessee, told World magazine.
The CCCU's full statement:
The CCCU has received inquiries regarding the recent change by member institutions Eastern Mennonite University and Goshen College in employment policies regarding faculty and staff in same-sex marriages.

At the recent meeting of the CCCU Board of Directors, which includes the president of EMU, the board engaged in thorough deliberations regarding this policy change. The president of EMU recused himself as appropriate. As a result of their discussions, the board has reaffirmed its commitment to a deliberative and consultative process. Therefore, in the coming weeks and months, the board will be calling all member presidents to discuss this issue. This plan is consistent with feedback from CCCU members, the vast majority of whom are supportive of the board following a good and respectful process before making any decision.

The CCCU is a voluntary association of colleges and universities whose missions are rooted in the historic Christian faith and are informed by deeply held Christian thought, belief and practice. The vast majority of these member schools hold to a historic, orthodox understanding of marriage between a man and a woman. All of these Christian institutions are places where students receive an education that develops not only their academic prowess but also their integrity and their faith as they live and study in a community of Christian peers taught by a community of Christian faculty. Graduates of these institutions contribute to the public good as artists, health care providers, educators, public servants and entrepreneurs—all with their faith as the core of their work and service to others.
-----
[First posted on July 20]
Two words may get a pair of Christian colleges in hot water.
Goshen College and Eastern Mennonite University have added "sexual orientation" to their nondiscrimination policies, opening the door for the schools to hire staff and faculty who are in same-sex marriages.
That language puts them at odds with their denomination and with other members of the Council for Christian Colleges and Universities (CCCU), which has advocated for the rights of Christian schools to only hire those who support their beliefs, including traditional Christian teaching on marriage.
Previously two other Christian schools, Hope College, in Holland, Michigan, and Belmont University, in Nashville, Tennessee, announced that they would offer benefits to staff in same-sex marriages. Neither of those schools is a CCCU member.
In announcing the move, Goshen president James Brenneman said the school still has a "strong relationship" with the Mennonite Church USA, where wrestling with same-sex marriage recently led to the creation of a more conservative Mennonite church network. At its July conference, the denomination reaffirmed that homesexual activity is a sin but also essentially gave the green light for churches to allow same-sex marriage if they are in a regional conference which allows it.
Goshen's decision will be controversial, Brenneman acknowledged. Unmarried employees will still be expected to practice celibacy at the Indiana school, he said.
"We seek forbearance and grace amidst our differences. We deeply affirm the goodness of marriage, singleness, celibacy, sexual intimacy within marriage, and a life of faithfulness before God for all people," Brenneman said in a statement. "...We affirm the equal value and worth of each unique member of our community as a beloved child of God, and we seek to be a hospitable community for all—including those who disagree with this decision—as Christ modeled to us."
Eastern Mennonite noted that "as a confessional (not creedal) church, Mennonite Church USA has never had, nor demanded, complete agreement on every article in the Confession of Faith."
The school will hire those who are committed to Eastern Mennonite's "mission and core values," said Kay Brenneman Nussbaum, board chair, in a statement announcing the new policy.
"This decision is in keeping with our commitment to non-discrimination and our mission as a Christ-centered, liberal arts academic institution," she stated. "Our education is grounded in Mennonite/Anabaptist values, and we believe people in same-sex covenanted relationships are valued members of our learning community with equal rights to standard benefits."
While students and faculty members strongly supported the change to Eastern Mennonite's hiring policies, alumni and church leaders held more diverse opinions, president Loren Swartzendruber told InsideHigherEd.
"This was the right timing for us," said Swartzendruber, who will retire at the end of next school year.
Eastern Mennonite will also restrict sexual behavior for employees to marriage.
Eleven years ago, Eastern Mennonite fired two professors over homosexual behavior, but in 2013, it became the first of the 120 CCCU schools to allow tenure-track faculty to pursue same-sex relationships essentially without censure.
The Virginia school enacted a six-month "listening period" to allow students and faculty to weigh in on whether to drop its same-sex relationship ban. Last summer, trustees voted to delay a formal decision, effectively allowing faculty to violate the policy indefinitely.
Christian schools that do not recognize same-sex marriages may run into legal challenges in the future—an issue raised by Supreme Court Justice John Roberts in his dissent from the court's ruling in Obergefell v. Hodges.
Roberts wrote:
Hard questions arise when people of faith exercise religion in ways that may be seen to conflict with the new right to same-sex marriage—when, for example, a religious college provides married student housing only to opposite-sex married couples, or a religious adoption agency declines to place children with same-sex married couples. Indeed, the Solicitor General candidly acknowledged that the tax exemptions of some religious institutions would be in question if they opposed same-sex marriage.
There is little doubt that these and similar questions will soon be before this Court. Unfortunately, people of faith can take no comfort in the treatment they receive from the majority today.
For now, most Americans support religious liberty objections to gay rights, a new Associated Press (AP) survey found.
"Overall, if there's a conflict, a majority of those questioned think religious liberties should win out over gay rights, according to the poll," the AP reported. "While 39 percent said it's more important for the government to protect gay rights, 56 percent said protection of religious liberties should take precedence."
The CCCU released a statement saying it remains "fully committed to Christ-centered higher education." CCCU leaders plan to discuss the changes made by Eastern Mennonite and Goshen in the future.
"The CCCU is a voluntary membership association that advances the cause of Christian higher education institutions whose missions are rooted in the historic Christian faith and are informed by deeply held Christian thought, belief, and practice," the CCCU said in a statement. "Eastern Mennonite University and Goshen College have made the CCCU aware of the change in their employment policy. The CCCU is grateful for the transparent process engaged by both of these institutions. The CCCU meets regularly both as a board of directors and as a full membership to discuss association business, and it will discuss these changes at these regular meetings. The CCCU has a 40-year history of being fully committed to Christ-centered higher education. We remain unwavering in that commitment."