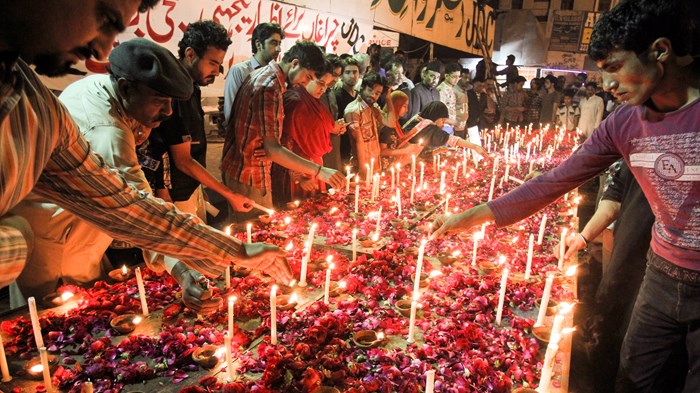 Image: Fareed Khan / AP
Update (Mar. 19): Christian leaders in Lahore have publicly asked for forgiveness for the retailiatory violence, as well as safety as Muslims gather for worship this Friday.
-----
Christian protesters turned unusually violent after suicide bombers attacked Sunday services at nearby Catholic and Anglican churches in one of Pakistan's largest Christian communities.
The explosions, which took place within minutes about a quarter mile apart, killed at least 13 Christians and four Muslims and injured 80 in the Youhanabad area of Lahore, the Muslim nation's second-largest city. Protesters killed two men allegedly connected to the attacks, while reports of additional deaths continue to surface.
"This is not how victims usually respond to terror attacks in Pakistan," wrote Michael Kugelman, a South Asia scholar who argued in Pakistan's Dawn newspaper that the retaliatory violence distinguishes the attack from "just the latest in a long line of horrific attacks on religious minorities in Pakistan."
Catholic leaders asked Christians to refrain from violence and cooperate with police investigations instead. "In this time of Lent they have participated fully in the death and resurrection of our Lord," said Oswald Gracias, president of the Federation of Asian Bishops' Conferences, to AsiaNews. "Surely there will be a resurrection for them."
World Watch Monitor (WWM), the Associated Press, BBC, Washington Post, The New York Times, and Indian Express report more details about the bombings at Christ Church and St. John's Catholic Church, for which a Taliban-linked group claimed responsibility.
Christian Solidarity Worldwide (CSW) called for Pakistan's government to "learn the lessons" from the last time twin suicide bombers targeted a church: 2013's high-profile attack on Peshawar's All Saints Church, in which 180 people were killed by CSW's current count. "The government has yet to fulfill its pledge to bring justice to the victims, including delivering on its pledge of compensation," CSW stated.
Churches have long demanded more protection from Pakistan's government, but have been told to take care of their own security. "The government told Church authorities to build higher walls [around their compounds], add barbed wire and install CCTV cameras," said Faisalabad bishop Joseph Arshad to AsiaNews. "For a poor Church like that of Pakistan, these are huge expenses."
Over the past year, the Taliban has also targeted Muslim targets, primarily Shiites. In January, a bomb exploded at a Karachi mosque, killing 53 people and wounding nearly as many. In February, militants killed nearly 30 people in three separate mosque attacks near Islamabad, Lahore, and Peshawar. Last December, the Taliban murdered 145 people, the majority of them children, at a military school in Peshawar. In the wake of the school massacre, Pakistan's government passed two laws allowing terrorists to be tried in military courts and bolstering the language defining religious terrorists.
Last June, Pakistan's Supreme Court ordered the creation of a police task force to "eradicate" what one member of parliament described as a "social evil that has taken root in our society in recent years." A national Council for Minorities Rights was also mandated to "monitor the practical realization of the rights and safeguards provided to minorities under the law."
Saleh Diego, director of the National Commission for Justice and Peace, told The Express Tribune that the government's failure to implement the directives was to blame for the bombings. "In June 2014, the Supreme Court ordered the federal government to form a task force to protect places of worships. This was never done," he told the news outlet as he led a protest outside the Karachi Press Club.
Lahore, a city of 9 million people, is the capital of Punjab, a Pakistani province where Christians have been targeted multiple times in recent years. In addition to the All Saints Church attack in September 2013, Lahore's Joseph Colony suffered a mob attack in March 2013. Elsewhere in the province, a mob burned alive a Christian man and his pregnant wife in a village last November. In 2009, eight Christians were killed by mob violence in the city of Gojra.
Earlier this year, Open Doors ranked Pakistan No. 8 on its World Watch List for the second year in a row.