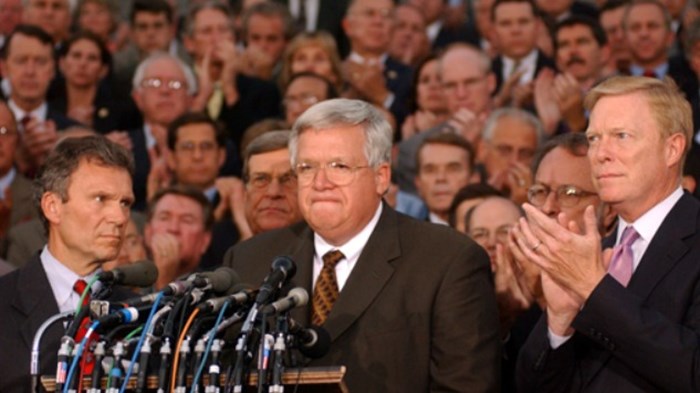 Image: U.S. House of Representatives
Update (June 1): Wheaton College has cut ties with former House Speaker Dennis Hastert, removing his name from the public policy center he founded at the evangelical school.
"In light of the charges and allegations that have emerged, the College has re-designated the Center as the Wheaton College Center for Economics, Government, and Public Policy at this time," the college said in a statement on Sunday.
Wheaton has no connection to the recent allegations against Hastert, according to the statement.
"We commit ourselves to pray for all involved, including Speaker Hastert, his family, and those who may have been harmed by any inappropriate behavior, and to continue the work and mission of the Wheaton College Center for Economics, Government, and Public Policy," the statement read.
Previously reported:
Former House Speaker and Wheaton College alumnus Dennis "Denny" Hastert paid $1.7 million in hush money before later lying about it to the FBI, federal prosecutors alleged on Thursday.
The hush money was meant to conceal alleged sexual misconduct from Hastert's time as a coach and school teacher in Yorkville, Illinois, according to the Los Angeles Times.
"It goes back a long way, back to then," a law enforcement official told the Times. "It has nothing to do with public corruption or a corruption scandal. Or to his time in office."
The New York Times also reported the alleged sexual misconduct involving a person known as "Individual A" in court documents.
"The man—who was not identified in court papers—told the FBI that he had been inappropriately touched by Mr. Hastert when Mr. Hastert was a high school teacher and wrestling coach, the two people said on Friday," the Times reported.
Court documents report that the former politician knew Individual A for most of his life. Hastert and Individual A began meeting in 2010, and Hastert agreed to pay $3.5 million "in order to compensate for and conceal his prior misconduct against Individual A."
Hastert allegedly made large cash withdrawals, raising suspiscions at his bank, which reported the transactions in accordance with federal currency laws. Prosecutors have accused Hastert of lying to the FBI about his true motivations for withdrawing the cash.
He told officials that he was withdrawing cash because the banking system was unsafe.
The Chicago Tribunehas more, including the full indictment.
Hastert graduated from Wheaton College in 1964. Prior to his career in Congress, Hastert served three terms in the Illinois legislature.
There he "spearheaded legislation on child abuse prevention, property tax reform, educational excellence and economic development," according to his biography at Wheaton's J. Dennis Hastert Center for Economics, Government and Public Policy.
In 1987, Hastert, a Republican, was elected to the House of Representatives for Illinois' 14th district. He became speaker of the House in 1999, a post he held for 8 years.
Hastert was elected to succeed former House Speaker Newt Gingrich after another candidate, former US Rep. Bob Livingston, resigned when his extramarital affairs were revealed.
Hastert was known for his ethics and for trying to get both parties to work together in Congress.
"Solutions to problems cannot be found in a pool of bitterness," he said after becoming speaker of the House. "They can be found in an environment in which we trust one another's word; where we generate heat and passion, but where we recognize that each member is equally important to our overall mission of improving the life of the American people."
As he prepared to depart Congress in 2006, Hastert donated his congressional papers to Wheaton. In late 2007, the college opened the Hastert Center, and the former speaker served on its board of advisers.
The center seeks to help students and the community understand the "redeeming effects of the Christian worldview on the practice of business, government and politics."
On Friday, the center accepted Hastert's resignation. On Sunday, officials announced the center would no longer bear his name and would instead be designated as the Wheaton College Center for Economics, Government, and Public Policy.
"The Center will continue to serve these purposes in conformity with the highest ethical and academic standards of excellence and integrity in conformity with our institution's identity," it stated. "The College respects Mr. Hastert's distinguished public service record and the due process being afforded him pursuant to the charges that have been filed against him."
David Iglesias, who served as the United States Attorney for the District of New Mexico during much of the Bush administration, currently leads the center.