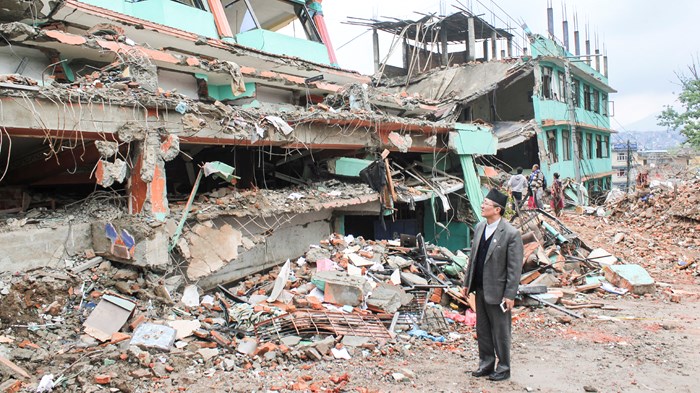 Image: Anto Akkara
Maili Tamang clapped and sang along as the remnants of her husband's Kathmandu church gathered for a noon prayer one week after a massive earthquake collapsed the "roof of the world."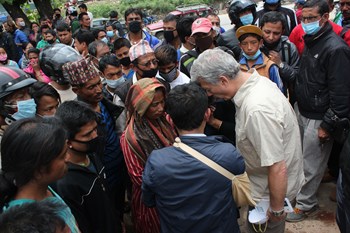 Image: Anto Akkara
"In God's time, anything can happen," the 55-year-old mother told CT. Tamang lost her husband Maila, her sister, and three other family members when Vision of Salvation church, which rented rooms in a four-story commerical building in the Swayambu area of Nepal's capital, collapsed with 62 worshipers present. Seventeen members of the Pentecostal church, where Tamang's husband served as an elder, died, including senior pastor Elia Ghale and his son.
"We cannot decide our future or what happens to us," she said, surrounded by cracked walls. "Even after the world, we will be with God."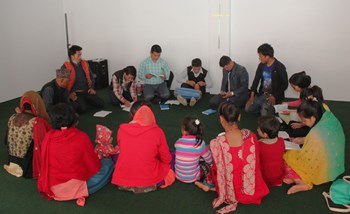 Image: Anto Akkara
Tamang was worshiping at a nearby Pentecostal church when the quake struck.
"I was standing in a row near to the wall and praying when the trembling started. The pastor continued the prayer and suddenly, everything collapsed," she told CT. "I was half conscious and could heard people screaming. After one hour I was pulled out. While lying there, I knew God would save me."
Meanwhile, pledging to spread God's love "even though earthquakes come," a small evangelical church in Nepal completed on Saturday its worship song interrupted by last week's natural disaster in the Himalayan Mountains.
Image: Anto Akkara
The first-hand account from the International Mission Board is one of many reports surfacing of how Nepal's Christian minority is regrouping after a 7.8-magnitude earthquake collapsed many churches during their main weekly worship services.
Reporting by CT in Kathmandu reveals that an accurate tally of churches destroyed and Christians killed remains hard to come by, since anecdotal reports can be duplicated or exaggerated. But it is clear that many Christians died in their churches during weekly prayers. (The Baptist World Alliance reports about 150 Christian deaths have been confirmed.)
"I am getting reports of entire Christian families being wiped out in Kathmandu and outside," Simon Pandey, chairman of the National Christian Fellowship of Nepal, told CT in an interview from his home in a Lalitpur suburb.
If the quake had occurred half an hour earlier, he noted, the casualties in churches would have been much higher. (Many Hindus died during worship services also.)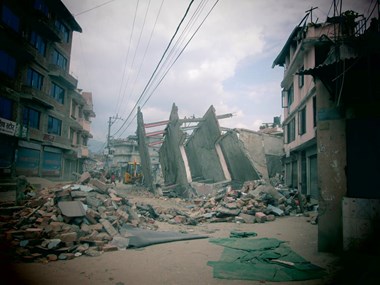 Image: Global Mission Nepal
"The evangelical churches have suffered terrible tragedies," Kala Bahadur Rokaya, general secretary of the National Council of Churches of Nepal, told CT. "It will take time to count the deaths among Christians across Nepal. Many areas are still cut off." He feared more bad news was yet to come from mountainous and remote districts such as Gorkha, Sindhupalchok, and Nuwakot, which have many evangelical churches.
Of Nepal's Christians—which comprise between one and three percent of the country's 30-million population—Protestants were disproportionately affected by the disaster, a Catholic leader told CT.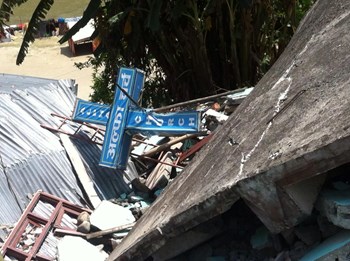 Image: Thir K.C.
The earthquake, which killed more than 6,000 people, damaged dozens of churches in and around Kathmandu, Nepal's largest city. A partner of Wycliffe Associates filmed the aftermath."The Catholics were lucky as we don't have church prayers at noon," Bishop Paul Simick told CT as he observed the wreckage of Vision of Salvation church. (CBN News also reports on the tragedy.)
Balaji Ramajhi, a police officer monitoring the crowd as the wreckage of the three-story El Shaddai church was cleared away in the Kathmandu district of Kapan, told CT that nearly 30 bodies were recovered and nearly 40 worshipers saved. Rescued from the debris was pastor Lal Bahadur Lumbu, presently hospitalized with serious neck injuries.
More than three dozen of those who attended Canaan Church, which met in a seven-story building, are reported dead. That number is expected to rise, said Paul Miller at Global Mission Nepal.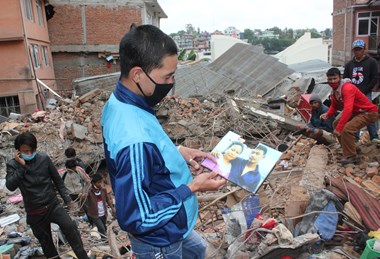 Image: Anto Akkara
Miller reported extensive damage to other churches in his organization's network: Nepali Evangelical Church lost its pastor and 80 members. More than 600 Christians lost their homes in the neighboring districts of Dhading and Sindhu Palchok. Between the two districts, nearly 45 churches were leveled.
"Our hearts are broken," Lokendra Ghalan, a pastor from central Nepal, wrote to CT. "My friend pastor Eliya Ghal, his younger son Raj and other leaders of that church and also believers are dead."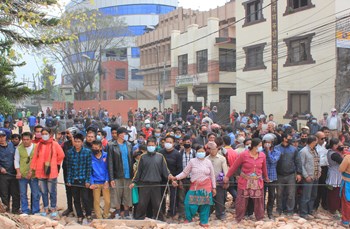 Image: Anto Akkara
According to officials of Sindhupalchok district, where over 1,800 bodies have already been recovered, more than 3,000 people are still missing. In Gorkha, nearly 90 percent of homes and buildings were destroyed.
In the midst of the devastation, missions and international organizations have been quick to praise local churches for their fast response."Only four of the 1200 houses survived in [Gorhka]," Anna Ho at Reconciled World told CT. "It's considered a Christian village and is estimated to have over 700 Christians and around 20 churches which also collapsed."
Gospel for Asia's Total Believers Church teamed former Prime Minister Madhav Kumar Nepal to distribute 1000 bags of rice in six different cities.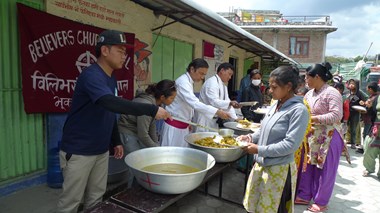 Image: Gospel for Asia
Nepali Christian leaders and youth affiliated with CRWM have purchased emergency essential items, arranged transportation, and distributed food to families whose houses were demolished.
Local pastors, organizers, and denomination leaders have also come together to form the new Disaster Relief Christian Community, Miller told CT.
"To see the Christian community—including many of whom were greatly affected by the loss of family, friends and possessions—mobilizing the church in the area to bring relief to the earthquake victims, all in the name of and compassion of Christ, is an amazing thing to behold," said Miller.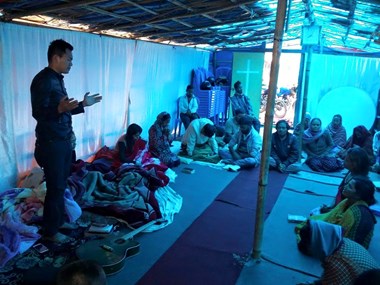 Image: Global Mission Nepal
International evangelical organizations also arrived on the scene shortly after the earthquake. With the goal of helping Nepali children "experience again a sense of normal life," World Vision has constructed shelters where children can sing, color, and play games. Samaritan's Purse is sending medical staff and supplies to support mission hospitals. Convoy of Hope has brought 700 tarps for families to use as shelter.
"When a Christian dies, there's no burial ground. So we really have to hurry when a person dies, and also secretly. . .immediately within the hour. . .we have to take [the body] into the jungle where nobody can see, or in the midnight. We're also not given security to bury the dead body. Sometimes Hindus come and beat us up, and the same dead body we are taking out three times and burying three times," said Sundar Thapa of Nepal's Federation of National Christians in a recent World Watch Monitor video.
The high volume of Christian deaths may once again revive a long-running debate. Nepal's Hindu majority cremates their dead and Christians say that the government, though officially secular, has done little to accomodate Christian wishes to bury their dead.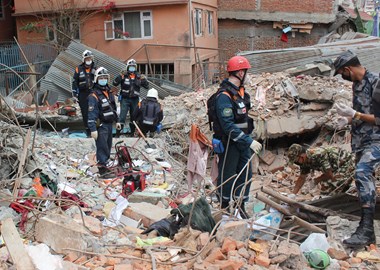 Image: Anto Akkara
At times, the only locations available to Christians are miles away from where their loved ones lived.
"My brother-in-law passed away, and we had to drive the dead body for five hours because we did not get a burial plot here, a cemetery, in Kathmandu valley," said Ram Prasad Shrestha, of the National Mission Commission of Nepal.
When churches do own burial land, Christians have faced resistance from locals who block roads, said Mahendra Bhattarai of the United Mission to Nepal.
"Now, they [the authorities] are also talking about electric cremation [as used in the West]; [the idea's] been around for a long time," he said. "But some Christians don't feel that electric cremation fulfills their spiritual feelings."
With additional reporting from World Watch Monitor.