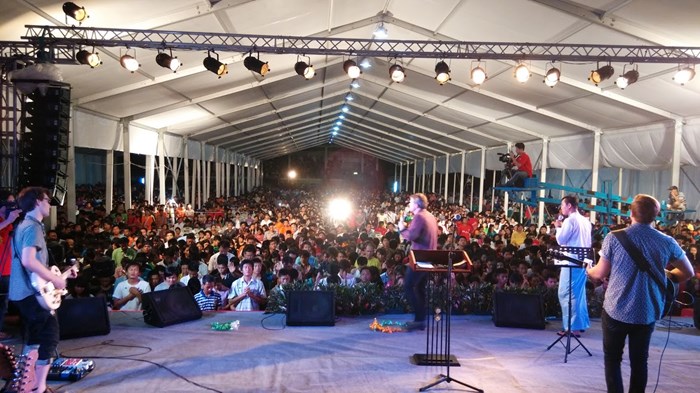 Image: Teen Mania
Last year, Compassion International paid Teen Mania Ministries to promote its child sponsorships during Acquire the Fire events. But after the longstanding youth ministry canceled the events, the Colorado Springs-based nonprofit said that it never received a refund.
In November 2014, Compassion sued Teen Mania for more than $160,000, according to court documents reviewed today by CT.
Teen Mania didn't respond to the lawsuit, and a Colorado court awarded Compassion a default judgment of the full amount, plus court costs and attorneys' fees. The judgment from February remains "unsatisfied," according to court records.
After Teen Mania founder Ron Luce failed to appear at a hearing last month, the court issued a warrant for his arrest. World magazine broke the news today and reports more details.
Citing the ongoing litigation, both Compassion and Luce declined to comment to CT.
Compassion isn't Teen Mania's only creditor. On Acquire the Fire's Facebook page, some would-be attendees have expressed frustration at the challenges of receiving refunds from canceled events.
Since 2012, Charity Navigator has named Teen Mania one of the nation's most insolvent charities, with a working capital of -$5.2 million based on its latest tax filings. In 2014, the organization lost its accreditation with the Evangelical Council for Financial Accountability, and lost its headquarters to foreclosure.
Last summer, Luce and World engaged in a public debate over the cause of the financial troubles. "Since we started Teen Mania 28 years ago, every single month young people have come to Christ," Luce wrote in his rebuttal. "And we have at times been challenged with the mandate to build an organization to keep up with all this."
World has chronicled the financial struggles.
Meanwhile, Teen Mania held its first overseas Acquire the Fire conference in Myanmar in July. More than 13,000 Burmese youth attended the conference in the nation's largest city.
Afterward, Teen Mania said it was considering similar partnerships in northern Myanmar and South Africa; however, the youth ministry has postponed all of its US fall tour dates. (After a Baltimore Acquire the Fire was canceled, a mini version was attempted last month in Virginia.)
CT first noted Teen Mania's decision to head to Myanmar in a March story exploring whether short-term missionaries are a good fit for recently-opened countries.