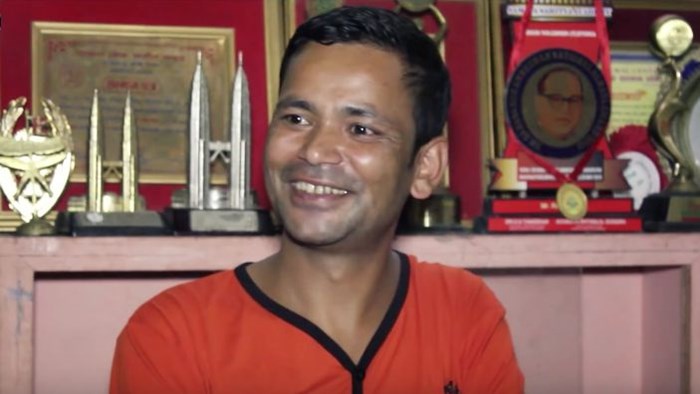 Image: Galaxy Music Nepal / YouTube
The two men share a last name but otherwise come from different worlds: Raju Pariyar, a popular folk singer known as "the Justin Bieber of Nepal," and Bishnu Pariyar, a Christian pastor who runs a children's ministry and orphanage in the tourist city of Bharatpur in the Himalayan country.
They sat next to one another on a flight from Kathmandu, Nepal, to Mumbai, India, in May. During the two-and-half-hour-long trip Pastor Bishnu told the renowned singer about the God who saved him and his family 20 years ago.
"I had a great passion to share the gospel, and he showed interest to listen," Bishnu told CT by email. As he spoke to his seatmate, he imagined the impact on Nepal's music scene if a star like Raju Pariyar came to Christ. In Nepal, only 1.4 percent of the population identify as Christian. Eight out of every ten Nepalese are Hindu, while the rest are Buddhist, Muslim, or followers of the indigenous faith Yumaism.
In early July, about six weeks after the pastor and pop singer met, his prayers were answered. Raju, along with his wife and two children, made the decision to give their lives to Christ. They traveled to Bharatpur, about 150 kilometers west of Kathmandu, to make their public proclamation in Pastor Bishnu's church.
"Jesus has changed me fully," Raju said following his conversion. "I left the previous worldly activities, and I am renewed in the spirit and following Christ as my redeemer."
To date the 35-year-old has recorded 11,000 folk songs; his singles top the charts in Nepal, and he sells out stadiums for concerts. The award-winning musician has also toured in South Asia, the Middle East, and Australia. But despite the widespread adulation, Raju faces a difficult path ahead as a Christian performer in a nation that had been a Hindu kingdom up to 2008.
Last month, Nepal adopted a new constitution that establishes it as a secular country, but still requires the state to protect Hinduism. Four centures after the first known Christian missionary in Nepal, Portuguese Jesuit Juan Cabral, Nepalese Christians remain a persecuted minority. According to Pastor Bishnu, Nepalese Christians regularly face discrimination. "We are hated by the people and even by the government," he said.
Raju is well aware of the religious climate, but has no plans to hide his conversion. He wants to shift to performing worship music. Raju said he wants to be known "as a Christian singer of Nepal, who has decided to become a Christian though we have challenges in Nepal."
He asks for the support of the greater church as he begins speaking out for the faith.
"Please pray so that our faith be strong in the Lord and despite … the challenges," he said by email. "Please pray for my musical career to be smooth and I can make a great change in the lives of the people and my supporters. Please pray that his will be done in my life and in my family, and my life and career will go well, and I can abide in Christ ever and ever."
As CT has reported, the small but growing population of Christian converts in Nepal has pushed for social and political influence over the last several years, including securing rights for cemetery burials (amid a Hindu culture of cremation). Earlier this year, CT also covered the churches destroyed by the earthquake near Kathmandu and Christian involvement in recovery efforts.