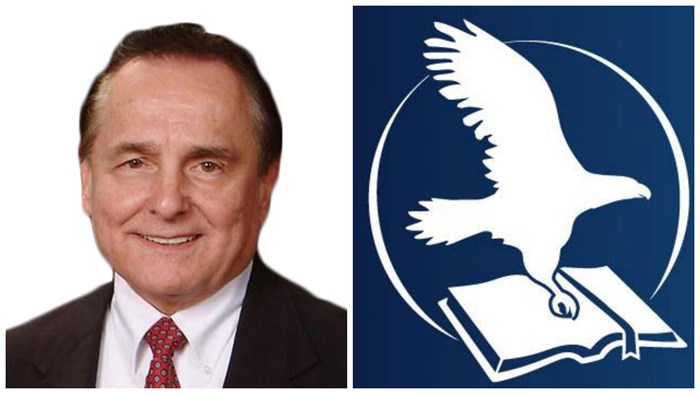 Image: Facebook
Five more women have added their complaints to a lawsuit accusing Institute in Basic Life Principles (IBLP) founder Bill Gothard, now 81, of sexual abuse and harassment.
They join five women who filed suit in October against IBLP, saying the institute ignored and mismanaged their complaints of Gothard's and other staff's behavior. IBLP asked the court to dismiss the lawsuit for lack of supporting facts. Attorneys for the women asked for permission to refile the suit.
They did, this time with twice as many plaintiffs, including one who brings the first accusation of rape against Gothard. His name was also added as a defendant, according to legal documents reviewed by CT.
Lawsuits only tell one side of a story, and Gothard denied the charges. "Oh no. Never never. Oh! That's horrible," he told TheWashington Post, which broke the story. "Never in my life have I touched a girl sexually. I'm shocked to even hear that."
In a "further confession and request" attached to the amended lawsuit, Gothard states he "was very wrong in holding hands, giving hugs, and touching [the] hair and feet" of the "young ladies" whom he selected as his personal assistants (or for other roles at IBLP headquarters). He adds: "I was also wrong in making statements that caused emotional turmoil and confusion."
Gothard asks for the "opportunity to confess my sins" to each woman and ask their forgiveness. He concludes: "I pray sincerely that God will bring healing to each individual that I have so greviously damaged."
In an affidavit attached to the amended lawsuit, Gothard states that he has attempted to contact all the women "in accordance with Matthew 18:15–17," and that he is ready to return to active ministry because he has "fulfilled as far as possible [the] instruction" of Matthew 5:23–24, which guided his earlier resignation. He also states:
The IBLP board has responded to this lawsuit unwisely and not even contacted me for information or assistance. The board is handling the case unwisely as I have the information they need. This is a shameful waste of donors [sic] money.
All of the women were IBLP participants, and eight either volunteered or were employed by the institute. Much of their alleged abuse happened when they were minors, and some while they were supposed to be receiving counseling for abuse, according to the lawsuit.
"The unsupervised counseling received by young women … by patriarchal figures (who were agents and employees of IBLP) was a standard part of IBLP programs and activities," states the lawsuit.
It claims the institute "frequently received reports of the sexual abuse, sexual harassment, and inappropriate/unauthorized touching occurring to certain interns, employees, and participants of its programs," but failed to investigate or report any of it until February 2014.
That investigation led to Gothard's resignation; however, the IBLP board of directors later found that Gothard had acted inappropriately but not criminally, and it critiqued the women's attorney for "us[ing] the media to propagate false and misleading statements" against current IBLP leaders. (According to World, the lead attorney for the women is the son of the attorney that led IBLP's investigation of Gothard.)
During the investigation, the never-married Gothard offered an apology for his behavior.
"My actions of holding of hands, hugs, and touching of feet or hair with young ladies crossed the boundaries of discretion and were wrong," wrote Gothard. "They demonstrated a double-standard and violated a trust. Because of the claims about me I do want to state that I have never kissed a girl nor have I touched a girl immorally or with sexual intent."
He later posted "a further statement" on his website, stating, "God is my witness that I have never kissed a girl, nor touched any young lady in a sensual way." Gothard explains that he never acted out of "sensual love" but had failed to demonstrate "godly love." He noted:
Every offense that I have committed against various people can be traced to a lack of genuine love in my life. The more I have reflected on this painful truth, the more repentant and brokenhearted I have become. I cannot undo my offenses. I can only humbly and sincerely ask each one of you whom I have offended to forgive me for my failure to demonstrate the love of Christ to you. I can also dedicate the rest of my life to living out genuine love and encouraging as many others as possible to do the same. I have now made this my life goal.
Gothard further addresses the allegations via a series of "Did He Do It?" posts in the "Accusations" section of a website established last fall for "allowing discussion" on him and his ministry. The website attempts to share the side of Gothard supporters, counterbalancing a website where Gothard critics have coalesced their complaints.
The institute, which has drawn more than 2.5 million people to its seminars, is struggling financially. Over the past 4 years, IBLP ran a deficit of $15.8 million. Last year, it lost $4.6 million.
The board cited cost savings for why IBLP is relocating from Illinois, where the lawsuit was filed, to Texas.
"With respect to the allegation that the current board members are relocating IBLP operations to Texas in order to 'flee the jurisdiction' of Illinois, this is simply not true," stated the institute in November. "We have openly shared that our reasons for moving are to consolidate our operations to fewer locations in an effort to reduce expenses. We believe that ministry funds are best directed toward ministry efforts and serving others, and not toward the maintenance of facilities and properties that are no longer useful for current needs."
Gothard hasn't been associated with IBLP since March 2014, the institute's directors stated in response to the amended lawsuit. They earlier noted that the lawsuit names them as defendents even though none of the board have served for longer than 4 years, while the accusations focus on Gothard's behavior "some 15–20 years ago or so."
"The Institute takes very seriously any allegations of this nature, and above all else, is interested in determining the truth," stated the IBLP board. "We therefore welcome the structure and integrity of the court process as a means for determining the truth with respect to these allegations."
Gothard concluded his affidavit by stating that "after following Matthew 18:15–17, any unresolved claims between the plaintiffs, the IBLP board, and me should be submitted to binding Christian mediation and resolution."
In addition to covering the initial investigation, its conclusion, and Gothard's response, CT reported how Gothard staffers pushed for reforms in the 1980s, as well as a protracted conflict between Gothard's ministry and a nearby apologetics ministry.
[Photos: Facebook profile pictures of Bill Gothard and IBLP]