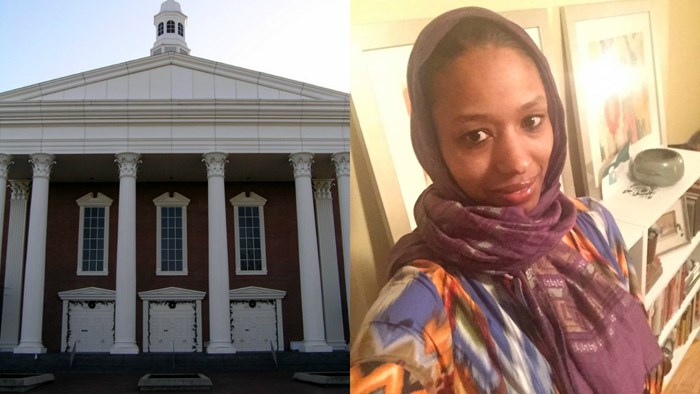 Image: Larycia Hawkins/Facebook, Stevan Sheets/Flickr
Update (Jan. 6): Larycia Hawkins was surprised by Wheaton College's decision to initiate the process of terminating her tenure and employment with the Illinois school [see prior post below].
"I am flummoxed and flabbergasted," she told the press Wednesday at the Chicago Temple in downtown Chicago.
Flanked by roughly three dozen clergy, along with Wheaton faculty and alumni, Hawkins recounted her conversation with Wheaton provost Stanton Jones after she published her "same God" Facebook post.
According to Hawkins, Jones asked her if she affirmed the school's statement of faith and told her that if her theological statements were sufficient, no further conversation would be necessary. She delivered a statement that, according to Hawkins, Jones told her would be accepted by the faculty personnel committee "with little to no revision."
But then Wheaton told Hawkins that if she intended to stay on, her tenure would be removed for the next two years while she and the administration engaged in a discussion about the issues sparked in the incident.
This is the fourth time Hawkins has been asked to affirm Wheaton's statement of faith, the Chicago Tribune reported. Previous incidents include her academic paper on black liberation theology that was interpreted by some to endorse a kind of Marxism, a Facebook photo showing her at a party on Halsted Street at the same time as Chicago's Pride Parade, and her suggestions that the college change some of its language about sexuality.
When asked if her previous meetings with the Wheaton administration affected the current situation, Hawkins said, "I hope not. But those were raised in the documents."
Hawkins's official response to the college, which she posted on her website, quoted part of Wheaton's questions, including a request to "clarify how it is that we worship the same God if Muslims cannot affirm that God is the Father of Abraham, Isaac, and Jacob; or that God the Father is indeed the Father of our Lord Jesus Christ; or that the Father did not spare his only begotten Son; or that the Father, Son and Holy Spirit coexist as a Trinity in eternal and self-giving love?"
It's complicated, Hawkins replied.
"Both Christians and Muslims (as well as Jews) affirm fully that 'that God is the Father of Abraham, Isaac, and Jacob,'" she wrote. "But I also fully understand that on the simultaneous 'no' side, as [Timothy] George notes, while 'Christians, like Muslims, affirm the oneness of God…[Christians] understand that oneness not in mathematical terms (as a unit)' but as a tri-Personal, perichoretic unity."
Hawkins also referenced the Vatican's Nostra Aetate, which says that Christians and Muslims worship the same "one God, living and subsisting in Himself; merciful and all-powerful, the Creator of heaven and earth, who has spoken to men."
That wasn't enough for Jones, who cited her with not providing "reasonable assurances in line with the statement of faith" in his recommendation for termination, she said.
"I presume that when Wheaton says it is commitment to process, it is committed to process," Hawkins said. "I have no hatred in my heart."
Gene Green, a noted Wheaton professor of New Testament, attended the press conference to support Hawkins. His department of biblical and theological studies, intends to discuss the theological questions raised by her "same God" claim, he said.
"Here we have a question that is one of legitimate faith difference," Green told reporters after the event. "I don't think we'll come to consensus. I've talked to enough people in our department to know that we're not all agreed on this issue.
"People should be able to have this as an object of discussion," Green said. "There's no direct violation of the statement of faith. There's only a question of what are the necessary entailments. That should be a matter that under academic freedom we should be able to discuss."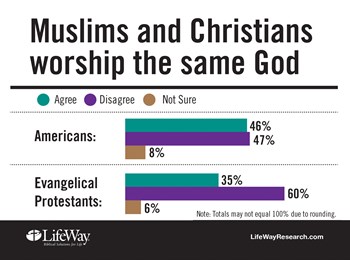 The larger evangelical community is also divided. About 35 percent of evangelical Protestants believe that Muslims and Christians worship the same God, according to a recent LifeWay Research survey, while a majority of 60 percent disagree. Americans overall are evenly split: 46 percent believe that Muslims and Christians worship the same God, while 47 percent disagree.
Among the many reactions, Baylor philosophy professor Francis Beckwith argued that holding incomplete knowledge or a false belief about God doesn't mean Muslims are worshipping a different deity. But Roanoke College religion professor Gerald McDermott says it does, especially since the Islamic understanding of God's character doesn't include his command to love, which is central to the Christian view.
Maybe Christians and Muslims don't have the same God in mind, but a bigger concern is whether all Christians view God similarly, wrote Roger Olson, theology and ethics professor at Baylor University's Truett Theological Seminary.
One Wheaton graduate who lived among Muslims in Morocco applauded Hawkins's donning of the hijab in order to stand in solidarity with Muslims, but said acknowledging differences between Islam and Christianity is crucial to beginning real conversations. Another graduate asserted that Hawkins's stance is in keeping with the college's historical focus on "the biblical call to advocate on behalf of people made in the image of God."
-----
[First published 3:21 p.m. on Tues., Jan. 5.]
Wheaton College has begun termination proceedings against Larycia Hawkins related to her public statements of solidarity with Muslims, the evangelical school confirmed today.
The recommendation by the Wheaton, Illinois-based institution's provost "is not a termination," said LaTonya Taylor, director of media relations. "Rather, it begins Wheaton College's established process for employment actions pertaining to tenured faculty members."
Hawkins, a tenured associate professor of political science, has been teaching at Wheaton since 2007.
Over the past month, Hawkins has posted on her Facebook and Twitter statements including "I stand in human solidarity with my Muslim neighbor," "I stand in religious solidarity with Muslims because they, like me, a Christian, are people of the book," and an assertion that Christians and Muslims "worship the same God."
The statements were part of Hawkins's explanation for why she was pledging to wear a hijab during Advent in support of her Muslim neighbors. But the hijab wasn't the reason she was suspended in December, according to the college.
"Dr. Hawkins's administrative leave resulted from theological statements that seemed inconsistent with Wheaton College's doctrinal convictions," the college stated. It later explained, "While Islam and Christianity are both monotheistic, we believe there are fundamental differences between the two faiths, including what they teach about God's revelation to humanity, the nature of God, the path to salvation, and the life of prayer."
Hawkins told Chicago Tonight that her statements "absolutely" did not repudiate that. "What I said in my post has been affirmed by the Christian church for centuries and has been affirmed by many prominent evangelicals," she said.
Muslims and Christians worship the same God "differently," she said. "In no way did I make a moral equivalency between Jesus and Muhammad or Islam and Christianity. That would be offensive to my Muslim friends and to my Christian friends to pretend that the religions are the same, that they're not different, either in practice or theology."
"It wasn't a theological treatise," Hawkins said. "It was simply a Facebook post inviting people into a bigger narrative about embodied solidarity with Muslims, who are currently being maligned and mistreated for their religious devotion."
A spokeswoman for Hawkins said the professor will "provide information regarding the notification" at a press conference tomorrow morning at the Chicago Temple, and that Hawkins continued wearing the hijab throughout Advent and "maintains Christian support for the Muslim community amidst the ongoing anti-Muslim climate."
The Chicago Tribune reports that Hawkins has been questioned by Wheaton three previous times regarding her support for the college's statement of faith. The Washington Post recalls how Wheaton leaders previously wrestled with how to refer to Islam's relationship to Christianity. (As CT previously noted, former president Duane Litfin signed a 2008 Christian response letter to a statement from 138 Muslim leaders calling for interfaith cooperation. Stanton Jones, Wheaton's provost, also signed the document. Both later dropped their endorsements.)
Hawkins received notice Monday that Wheaton's provost was recommending her termination.
The parties reached an "impasse" when Hawkins declined to further elaborate the theological implications of her statements after an initial written response to Wheaton's questions on December 17, according to the college.
The matter will now be considered within 30 days by a faculty personnel committee, made up of nine elected and tenured faculty members. Next, Wheaton president Philip Ryken will consider the recommendations of both the provost and the committee. The college's board of trustees will then vote on Ryken's recommendation.
Wheaton has posted an FAQ on the situation.
CT broke the news of Hawkins's punishment, and rounded up reactions including by Miroslav Volf, the Yale theologian who has spoken at Wheaton on the topic.
As CT previously noted, Hawkins earlier responded to critics on Facebook, stating:
Whether or not you find this position, one held for centuries by countless Christians (church fathers, saints, and regular Christian folk like me), to be valid, I trust that we can peacefully disagree on theological points and affirm others like the Triune God (albeit there are differences here as well—Athanasian Creed, anyone?), the virgin birth (or Immaculate Conception depending on your persuasion), and the Resurrection. Let there be unity in our diversity of views about all of the above.
Hawkins pointed to a 2011 Huffington Post op-ed from Volf, as well as a 2011 CT interview with Volf on whether Muslims and Christians worship the same God.
Volf defended Hawkins, saying Wheaton's suspension was based more on anti-Muslim bigotry than theology. Northern Baptist Theological Seminary professor Scot McKnight and Scott Alexander, director of Catholic-Muslim studies at Catholic Theological Union, argued back.
"[T]he word 'same' means 'identical' to most," McKnight tweeted to Volf.
"Still 'same' has a range of meanings," Volf tweeted back. "For me same God = not another, but differently (meaning: partly differently) understood."
Author John Stackhouse also weighed in.
"What she could have meant, and what makes sense in the context of her long-time affiliation with Wheaton College, is that she believes that the same God is the object of much and normative Islamic piety as is the target of much and normative Christian piety," he wrote. "When pious Muslims pray, they are addressing the One True God, and that God is, simply, God."
Supporters of Hawkins rallied on Twitter largely around the handle #reinstatedochawk, while supporters of the college rallied largely around #thankyouwheaton.
The debate over whether Christians and Muslims worship the same God is a perennial one. The question topped CT's most-read stories of 2002 and top questions of 2014.
In a 2002 CT cover story, Baptist theologian Timothy George also considered the question of whether Muslims and Christians worship the same God.
"Is the Father of Jesus the God of Muhammad? The answer is surely Yes and No," he wrote. He continued:
Yes, in the sense that the Father of Jesus is the only God there is. … Christians and Muslims can together affirm many important truths about this great God—his oneness, eternity, power, majesty. … But the answer is also No, for Muslim theology rejects the divinity of Christ and the personhood of the Holy Spirit—both essential components of the Christian understanding of God. … Apart from the Incarnation and the Trinity, it is possible to know that God is, but not who God is.
In 2008, CT looked at whether shared monotheism is the best starting place for Muslim-Christian dialogue.
A Tribune editorial earlier praised both Hawkins and Wheaton for showing "remarkable tolerance" during the dispute. "Unravel this situation, which has left Hawkins suspended, and you find more expressions of tolerance than most disputes rooted in religious pluralism include," wrote the paper. "If every disagreement in higher education had stakes this important and voices this thoughtful, then every college diploma would be worth even more than it is."
[Larycia Hawkins image courtesy of Facebook]
[Wheaton College image courtesy of Stevan Sheets / Flickr]