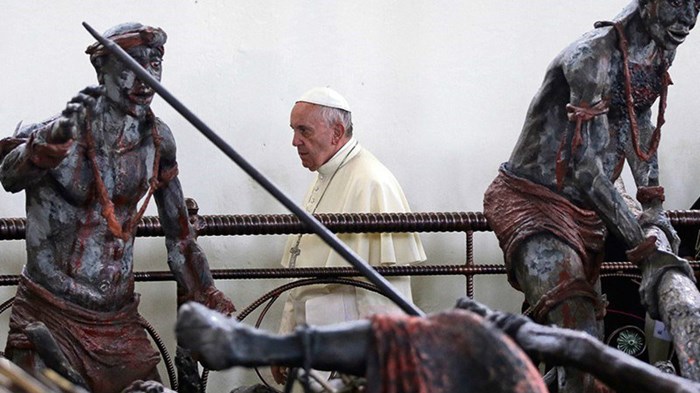 Today tens of thousands of Christians in Uganda will dip themselves and their children into a lake where executioners reportedly washed off the blood of dozens of martyrs.
It's an annual ritual to remember 45 Catholics and Anglicans who were killed by sword or fire by Ugandan king Mwanga between 1885 and 1887. (A Ugandan film released May 30 retells the story.)
Twenty-two of the martyrs were Catholic. Those men were beatified by Pope Benedict XV in 1920 and canonized by Pope Paul VI in 1964. Their shrine in Namugongo can seat 1,000 and has been visited by three popes, including Pope Francis.
Last year, 500 Catholic pilgrims from Kenya spent more than a month walking 300 miles to reach it for the annual Martyrs Day. The June 3 observance draws millions of pilgrims across East Africa.
The other 23 martyrs were Anglican. While there is also a shrine to the Protestant martyrs, it's nothing like its Catholic counterpart.
In fact, the Protestant presence is so small that originally Uganda president Yoweri Museveni said he thought there were only Catholic martyrs. He criticized Anglicans for not popularizing their martyrs more, and told them to follow the example of the Catholics.
"Mobilization and promotion is something that you need to work on. I am sorry, but you do not bring it out very well," he told Anglican clergy last June 3. "I want you to be international. Where I have been (Catholic shrine), it is more exciting and I used three languages because they made theirs international."
As CT reported last fall, the Anglicans are working on it, and one day the swampy site symbolizing religious freedom may prove better than gorillas for Uganda's economy.
The Church of Uganda has expanded its small shrine, adding several buildings and a statue of the executioner, who later became a Christian. There are plans for a three-story museum that will hold artifacts of the history of the Anglican church in Uganda, a retired Anglican archbishop told allAfrica.com. This year, the shrine drew about 200,000 campers, reports the Anglican Communion News Service.
But in general, Protestants don't do religious tourism the way Catholics do. For Catholics, shrines are sacred places which are "by reason of special devotion frequented by the faithful as pilgrims." For Protestants, the term carries implications of worshipping something other than God.
Indeed, when Rebecca Kadaga, Uganda's recently reelected Speaker of Parliament and a Christian, visited a shrine for her ancestors to tell them about her political victory, she was soundly rebuked by the Anglican church.
"We value our ancestors because we are connected to them," Church of Uganda archbishop Stanley Ntgali said in a statement. "But, we must always trust only in God. We no longer need to go through the spirits of the dead because Jesus is our hope and protector."
Kadaga's visit was "confusing" and "might cause others to stumble," Ntgali said.
Kadaga defended her visit as cultural.
"I am a Christian. I was born and raised in a Christian family," she wrote. "I am also very proud to be a Musoga."
Her clan believes that the spirits of the dead continue to reside among the living, and she wanted to "share my success with my ancestors and clansman, and I do not comprehend how that is deemed to have contradicted my standing as a Christian."
However, she also defended her visit as promoting tourism. The site where Kadaga's clan was founded was tapped by the president as a tourism site, she said.
"I also know that there are those to whom the Uganda Martyrs are simply family members," she wrote. "I am sure they too visit the shrines in Namugongo not because they are martyrs, but because they are family/ancestors. Should we criticize them for paying tribute to their ancestors?"
The pressure to make much of religious sites stems from the success of others. The World Tourism Organization estimates that between 300 to 320 million tourists visit religious destinations each year.
Religious tourism has been a boon for the Middle East, with destinations like Jerusalem, Mecca, and Medina. Mecca, the world's most popular religious site, hosted 14 million pilgrims for Ramadan in 2015. Jerusalem was the most popular destination for Israel's 3 million visitors in 2015, and more than half of those tourists were Christians. The Dead Sea and the Sea of Galilee were also in the Top 5 Israeli tourist locations.
Pope Francis' visit to Uganda last year for the 50th anniversary of the canonization of the Namugongo martyrs drew 3.5 million people.
"Tourism is one of the major drivers of developing economies, and faith-based tourism is one of the products we have seen grow in numbers and impact on the Uganda economy," tourism minister Maria Mutagamba told East African Business Week.
Plans for the upgraded Anglican shrine were announced in 2014, the same year Uganda's tourism board unveiled the Martyrs Trail. Visitors can follow a trail of locations where those 45 young men were tortured and killed—from Uganda's first Anglican church to Mwanga's palace to Namungongo, where the Catholic and Anglican shrines stand.
"Tourism is the real oil for East Africa," wrote one analyst for allAfrica.com. "The potential is so huge, and with the proper conservation and management structures it is a resource we can exploit for so many years to come. Religious tourism is an area that has not been taken as serious as wildlife tourism and yet the potential is enormous."
In November, CT reported on Pope Francis' visit to Uganda and how Protestants were following Catholics on martyr tourism.