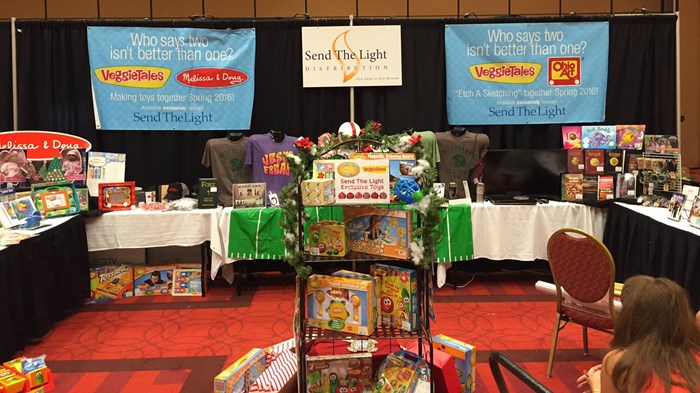 Image: Send the Light Distribution
The largest distributor of Christian products in the United States has announced plans to "wind down operations" due to competition from online retailers and the financial hit from the bankruptcy of Family Christian Stores (FCS), a major client.
Send the Light Distribution (STL)—which shipped to more than 10,000 Christian retailers, mostly US bookstores—will wind down its 42 years of "service to the global Christian supply chain" this summer.
The Tennessee-based company used to ship more than 25,000 Bibles a day. But these days, it's a lot easier—and often, cheaper—to get a Bible on Amazon.
"When companies get creative and find new and better ways to do things, like Amazon Prime … at the end of the day, that kind of thing also destroys the current or past way that business had been done," STL president Glenn Bailey told CT. "That's our basic problem."
While Amazon was one of STL's biggest customers, the majority of its business was conducted with independent Christian retailers.
"They're being put out of business left and right," said Bailey. "Many of our best customers are no longer what they once were."
Christian bookstores have been closing by the dozens in recent years, amid mixed sales trends; sales of Christian fiction have dropped, while nonfiction and Bibles remain strong.
STL's decision comes a year after FCS, America's largest chain of Christian retail stores, filed for bankruptcy and erased the $127 million it owed to creditors such as STL, which was among FCS's 20 largest creditors.
Losing about half a million dollars on the FCS bankruptcy was a "contributing" factor that probably sped up STL's demise by a year or so, Bailey said. The company just moved into a less expensive warehouse space last Memorial Day. It will now have to lay off its 85-person staff.
The route FCS took to stay in business—declaring bankruptcy as a way to shed debt and restructure—isn't an option for STL, Bailey said.
"What Family Christian Stores had going for it was space in 275 locations, and the Christian publishers didn't want to lose that kind of space—they wanted to keep their products in that space," he said. "Our vendors have the option of selling through secular companies like Ingram or a Christian distributor like Anchor. When they write off $1 million to us, they won't come back and extend us credit again."
STL's closing will leave about 150 of its 500 vendors looking for new ways to place their products in the supply chain; the rest already use other distributors, Bailey said.
"What this means for the industry is [there is] one less major distributor to feed the Christian store market," Christian literary agent Steve Laube told CT. "If their demise had been six months ago, I would have made the correlation [to the FCS bankruptcy]. But today it is merely a reflection of the shift in retail buying patterns.
"Ironically, it doesn't mean books aren't selling, when in fact they are. Instead it only means they are being purchased in a different place."
"It's a loss to independent retailers like me to be able to order quickly and to combine a wide variety of products together in one shipment," Lorraine Valk, owner of Parable Christian Store in St. Joseph, Michigan, told Christian Retailing. "That's the reason a lot of stores are still in business, because you need a distributor. It's a huge time-saver."
CT's previous coverage of book publishing and Christian retail includes the many, many, many twists and turns of Family Christian's bankruptcy; a cover story on how to save the Christian bookstore; and Karen Yates discussing the evolution of Christian publishing on Her.meneutics.