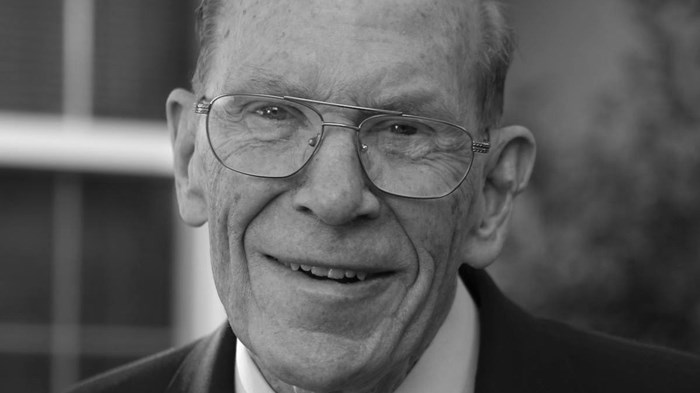 Image: The Navigators
Jerry Bridges, the author who challenged more than a million readers to take seriously God's command for holiness, died Sunday at 86.
The Bible teacher and speaker served with The Navigators discipleship ministry for nearly 60 years, and wrote the popular book The Pursuit of Holiness among many others.
"There was nothing flashy about Jerry Bridges. He was a humble and unassuming man—strong in spirit, if not in voice or frame," wrote Crossway's Justin Taylor soon after Bridges was taken off life support following cardiac arrest this past weekend. "Now we can rejoice with him in his full and final healing as he beholds his beloved Savior face to face."
A Texas native and Korean War veteran, Bridges joined the Navigators in 1955 and held many administrative positions through the decades. He "started writing outside of office hours" in 1986, and published The Pursuit of Holiness in 1988.
"Much to everyone's surprise, including my own, the book became a bestseller," Bridges told Ligonier Ministries in an interview published by Tabletalk Magazine in December 2014. The resulting "invitations to speak at churches and conferences" led him to become a full-time writer and Bible teacher by 1997.
He went on to write more than a dozen titles for NavPress, including The Practice of Godliness, The Discipline of Grace, and a memoir published in 2014.
"Jerry Bridges' books left an indelible mark on my life, and I give thanks to God for his life and ministry," wrote author and blogger Tim Challies in what he called a "too-weak tribute." "He was not a man who was known for his academic credentials or worldly accomplishments. He was a man who was known for his holiness, for his godliness, for his desire to teach others what the Lord had taught him."
Bridges spoke to CT about his ministry in 2004 for the 25th anniversary of The Pursuit of Holiness. He discussed how Christians grow in holiness through the Spirit, God's word, and prayer, stating:
I think that the will is redirected not by just deciding I'm going to redirect it, but by setting my affections on Christ, the love of God in Christ, the glory of God, the reality of eternal life. As I do that, then my will is going to be gradually moved in the direction of wanting to do the will of God rather than doing what my flesh desires.
In 2012, CT offered four different views on Michigan pastor Kevin DeYoung's views on holiness, and in his response DeYoung refutes the idea that Bridges and J. I. Packer were "judgmental and arrogant."
In the 2014 Tabletalk interview, Bridges shared the six "most significant lessons" God had taught him:
In the order that I learned them, the first would be that God's Word, both His precepts and promises, is meant to be applied to specific situations in our lives.

The second is the importance of our union with Christ, both as our representative before God in His life and death, and then as the source of our spiritual life as Jesus taught us in the vine-and-branches metaphor of John 15.

The third is that the pursuit of holiness involves our most diligent efforts, but with a dependence on the Holy Spirit to bless those efforts.

The fourth is my understanding and acceptance of the doctrine of God's sovereign election in our salvation. This is probably the most life-changing of all the lessons.

The fifth is that the gospel is not just for unbelievers and their coming to Christ; rather, all of us who are believers need the gospel every day because we are still practicing sinners.

The sixth is an increased understanding of the role of the indwelling Holy Spirit to apply the work of Christ to us and enable us to grow in the Christian life.
Bridges also served as an elder at Village Seven Presbyterian Church (PCA) in Colorado Springs.
Desiring God has posted the audio from a 2011 interview with Bridges on five faith lessons from his life. Taylor offers links to many of Bridges past works, including this video: