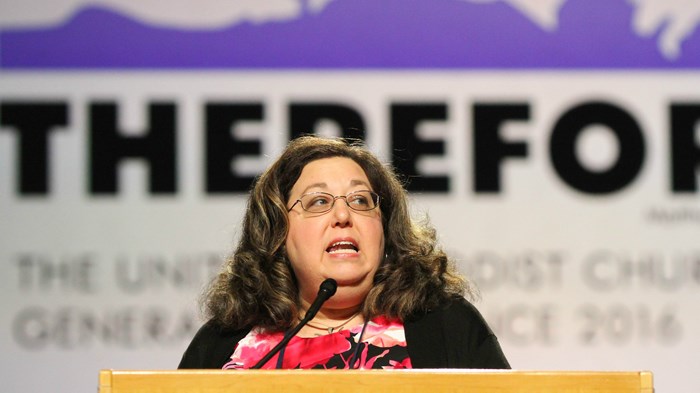 Update (May 21): In one of the last actions of its 10-day General Conference, United Methodist delegates voted 445 to 310 to repeal the denomination's 40-year-old official resolution supporting Roe v. Wade.
Paired with the earlier vote to withdraw from the Religious Coalition for Reproductive Choice (RCRC), the church took "two MAJOR steps in the right direction," tweeted John Lomperis, the United Methodist director at the Institute on Religion and Democracy.
The Book of Resolutions statement in support of legal abortion was adopted in 1976. It reads, in part:
We believe that continuance of a pregnancy that endangers the life or health of the mother, or poses other serious problems concerning the life, health, or mental capability of the child to be, is not a moral necessity. In such cases, we believe the path of mature Christian judgment may indicate the advisability of abortion. We support the legal right to abortion as established by the 1973 Supreme Court decision.
"In our system, resolutions automatically expire after eight years unless a General Conference re-adopts them," Lomperis told CT. "The New York national headquarters of United Methodist Women submitted a petition to this General Conference to not only re-adopt this resolution, but also to amend it to make it even more strongly supportive of abortion."
The resolution was defeated 59 percent to 41 percent.
The quadrennial conference also saw some smaller pro-life victories. Lomperis blogged:
On pro-life issues, we … adopted a resolution decrying sex-selective abortion while describing abortion as "violent" and criticizing those done for "trivial reasons," and allowed the expiration of a 16-year-old official UMC resolution bewailing an alleged "crisis" of some hospitals not offering abortions. While much work remains in more firmly establishing a clear pro-life commitment in our denomination, these were HUGE steps in the right direction.
-----
Evangelicals celebrated the United Methodist Church's decision yesterday to leave a pro-choice advocacy group it co-founded 43 years before.
At its general conference, delegates voted 425-268 to withdraw from the Religious Coalition for Reproductive Choice (RCRC), an interfaith organization whose broad support extends to late-term and sex-selective abortions—a practice that the church's social principles "unconditionally reject."
"This is a necessary and good step towards affirming that the unborn are persons of sacred worth," said John Lomperis, a conference delegate and United Methodist director at the Institute on Religion and Democracy. "This also shows the UMC moving away from other liberal, declining, 'mainline' denominations to embrace a new faithful, global identity."
Lomperis's evangelical colleagues at the conservative think tank praised the decision, as did Southern Baptist leader Russell Moore.
"It's a major victory for all gospel Christians. Let's sing some Wesley hymns in solidarity," the Ethics and Religious Liberty Commission president tweeted.
Members of the United Methodist Church are less likely to support abortion than other mainline Protestants (including mainline Presbyterian, Lutherans, and Episcopalians). According to the Pew Forum, 58 percent believe abortion should be legal in all or most cases, compared to 64 percent of all mainline denominations. (Around 36 percent of evangelicals said abortion should be legal in all or most cases.)
The UMC position on abortion states, "we are equally bound to respect the sacredness of the life and well-being of the mother and the unborn child." The church supports abortion as a legal option in certain cases, but opposes late-term abortion, sex-selective abortion, and abortion as birth-control.
Given its members' disagreement over abortion, the UMC has debated its relationship with the pro-choice coalition for years, including its past three quadrennial conferences. Supporters said retaining membership in RCRC—despite the clash in views between the church, its members, and the organization—allows them to maintain a "voice at the table," the denomination stated.
This year, though, Methodists from Mississippi, Alabama, Florida North Carolina, Indiana, and Pennsylvania petitioned the UMC to finally withdraw from the RCRC, after being involved since 1973, the United Methodist Reporter (UMR) wrote.
The recent vote comes amid a national wave of pro-life furor, including stricter abortion regulations in dozens of states and plummeting abortion rates. The UMR quoted delegate Katherine Rohrs, who urged fellow delegates to vote against the church's involvement:
RCRC refuses to talk about unborn children as just that. They refuse to condemn abortion as a form of birth control or gender selection. They affirm abortion in any way….

I don't speak for all young women who are United Methodist, but as a mother of two, I speak for those who have not been surrounded by the church's support to cheer them on to life.
RCRC membership includes mainline Protestant organizations, Jewish denominations, and groups like Catholics for Choice. United Methodist Women and Methodist Federation for Social Action, an independent network, will remain members even after this week's vote. Individual church members and clergy are also still involved; several spoke out to express their disappointment in the UMC vote and urge others to donate to the pro-choice cause.
At this year's conference, the United Methodist Church failed to come to a decision on same-sex marriage. Days after a committee rejected a series of divestment resolutions, the church also voted to cut ties between its missions agency and the US Campaign to End the Israeli Occupation, which some consider anti-Israel.