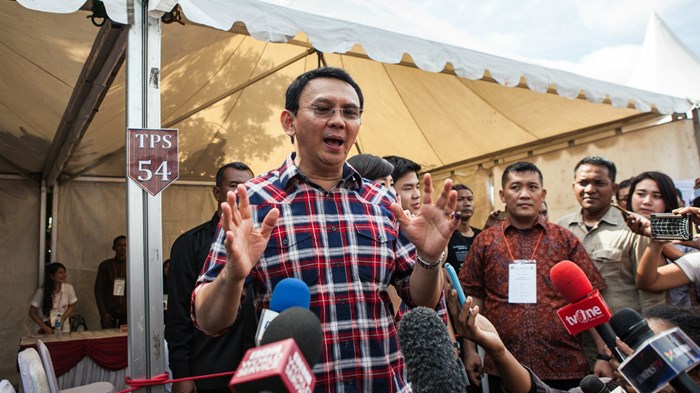 Image: Oscar Siagian / Getty
The blasphemy charges that cost Indonesia's top Christian politician his re-election race won't send him to jail.
Just a day after Basuki Purnama—popularly known as Ahok—conceded the runoff for governor of Jakarta, prosecutors recommended a light sentence of two years probation instead of the maximum penalty of five years in prison.
Ahok, a double minority in the archipelago as a Christian and as an Indonesian citizen who is ethnically Chinese, secured approval ratings as high as 70 percent in the capital region during his campaign. But when the anti-corruption crusader was accused of distorting a Qur'an teaching to convince the nation's overwhelming Muslim majority to vote for a Christian, public opinion shifted dramatically.
Ahok repeatedly denied the claims as a translation error, and accused Indonesia's hardline Muslim groups of coordinating an attack against him. He ultimately conceded Wednesday's election, trailing in the polls by less than 10 percentage points.
But Christians' prayers were answered the following day, when government prosecutors decided to end the trial against him, CBN reported. The official sentencing ruling will come in early May.
"Ahok is very positive. He says that everything is in God's hands and that everything has a purpose," said Lucille Talusan, CBN's Indonesia correspondent. "Even if he is under trial for what is happening in his life, he believes that one day God is going to bring him back to his calling. The first thing in his heart is to serve his people in Indonesia."
The 50-year-old still sees a future for himself in Indonesian politics and hopes to be president. Ahok moved up from deputy governor when Jakarta's former governor, Joko Widodo, won the nation's presidency.
Ahok's defeat and the tone of the campaign, with opposing groups constantly using his faith and ethnicity against him, betrayed Indonesia's reputation for moderate Islam and religious tolerance. (For example, CT reported on a recent Jakarta conference where hundreds of Muslim leaders denounced extremism and pledged to protect Christian minorities.) While hardline groups paraded in Jarkarta streets with banners depicting Ahok behind bars, Nahdlatul Ulama, the country's largest Muslim organization, has wished the Christian governor well.
Though the winning candidate, Anies Baswedan, did not directly engage in the racist and Islamist rhetoric, he did continue to court votes from the clerics and mosques who did. His victory is seen as a reflection of their growing influence and a shift among Indonesian Muslims. The CBN correspondent pointed out that Anies, the country's former education minister, also had corruption allegations levied against him during the campaign.
Many saw this runoff as a low point for modern politics in Indonesia, but US Vice President Mike Pence still gave the country a glowing review during his visit this week.
"As the largest majority Muslim country, Indonesia's tradition of modern Islam, frankly, is the inspiration to the world," he said in a CNN report. "We commend you and your people. In your nation as in mine, religion unifies—it doesn't divide. It gives us hope for a brighter future. And we're all grateful for the great inspiration that Indonesia provides for the world."
The Christian minority, CBN reports, is praying for Ahok as well as for Anies, who they hope will meet the standards his predecessor set and govern in a way that is fair to all Indonesians.
As Anies assumes office in October thanks to the support of Islamist leaders, more Indonesians will be taking their influence seriously—a move that will likely be a good thing for the country's Christians.
"What's more important to me is how this might mobilize the pluralists to get more engaged and push back against this creeping Islamist primordialism," Kevin Evans, a political analyst in Jakarta, toldThe New York Times. "If it energizes the center and left to start thinking seriously on these things, it wouldn't be a bad thing."
Correction: An earlier version of this blog incorrectly stated that Ahok was Indonesia's only Christian governor. CT regrets the error.