Evangelical institutions suing the federal government over the Affordable Care Act's contraception mandate expected that their legal battle would end when President Donald Trump took office.
As of this week, it doesn't look like that will be the case.
Despite Trump pledging to dismantle Obamacare and to defend religious groups against "bullying" by the federal government, his administration has opted to still stand by the birth control requirement in court.
The Washington Post reported that the Justice Department requested on Monday that a federal appeals court continue to negotiate with Christian schools like East Texas Baptist University, Houston Baptist University, and Westminster Theological Seminary for another two months, rather than dropping their case and allowing the schools to continue to not offer contraception coverage per a lower court decision.
The colleges are among many evangelical and Catholic groups—most notably the Little Sisters of the Poor—who challenged the Obamacare requirement that employers' heath plans include emergency contraception, intrauterine devices (IUDs), and other birth control. Some believe that certain methods prevent implantation of an embryo, and others object to all artificial birth control. While exemptions for schools and nonprofits allow them to delegate employee coverage to a third party, theses organizations are requesting the full religious exemption that churches qualify for.
Becket, the religious liberty defense firm representing the two Baptist schools, issued a filing last Thursday requesting the Justice Department drop the cases given the new White House administration's stance.
"This litigation has gone on long enough," it read. "After five losses in a row at the Supreme Court regarding the ill-starred contraceptive mandate, it is time for the Department of Justice to move on, and to allow the court, the universities, and other religious ministries to move on as well."
The plaintiffs' lawyers, Eric Rassbach and Diana Verm, pointed out that even the person the case is now against—the new Secretary of Health and Human Services, Thomas Price—is on their side.
"The petitioners sincerely believe they would be morally complicit if they take the actions HHS requires," Price wrote in a friend-of-the-court brief. "As long as that belief is sincere—and the government admits that it is—the government may not second guess it."
While the Trump administration takes an unexpected course on the birth control mandate case, one-time presidential candidate and Vermont senator Bernie Sanders recently made headlines with a twist of his own. The pro-choice Independent supported a pro-life Democrat in Nebraska, spurring debate over abortion's place in the party's platform.
Sanders (himself a secular Jew) campaigned for Omaha mayoral candidate Heath Mello, who is Catholic and pro-life. Sanders defended his decision, saying, "You just can't exclude people who disagree with us on one issue."
NARAL Pro-Choice leadership and the Democratic National Committee chairman disagreed, arguing that abortion policy is a fundamental, "non negotiable" part of Democratic identity.
But the party itself doesn't stick to a uniform abortion position—and neither do Americans.
"NARAL's implication that the Democratic National Committee should snub all candidates who are not fully pro-choice also creates major complications," wrote Talking Points Memo. "Why? Because Democrats already have people in office who oppose federal funding for abortions and late-term abortion rights, or who define themselves as personally opposed to abortion."
Of US Christians who believe abortion should be legal in all or most cases, nearly 30 percent are on the Left, according to the Pew Research Center's massive Religious Landscape Study. Evangelicals on the Democratic side are split nearly 50/50—with 50 percent saying abortion should remain legal and 46 percent saying it should not.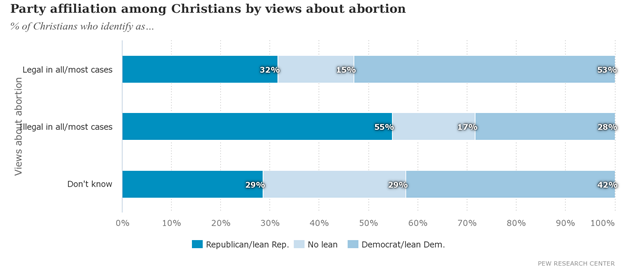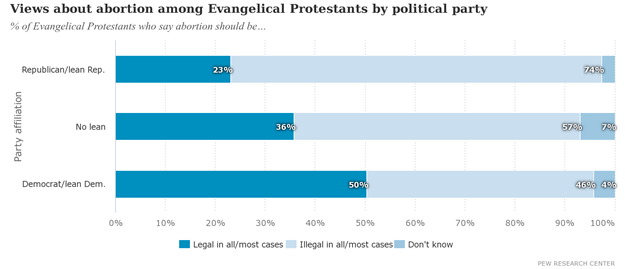 "There are still a significant number of Democratic voters who reject the abortion industry's incessant call for unrestricted abortion on demand, and their party's embrace of that agenda," said Carol Tobias, National Right to Life president, in response to the DNC chair.
During the 2016 presidential campaign, CT noted how candidate Hillary Clinton's pledge to repeal the Hyde Amendment, banning federal funding for abortion, turned off pro-life Democrats.