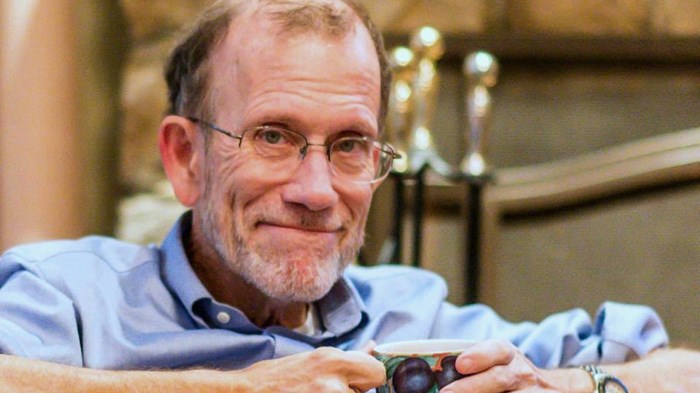 Image: Courtesy of the Cromartie family
Michael Cromartie, a Washington networker who helped rebrand America's image of Christian political engagement, has died of cancer at age 67.
The news of his death was reported Monday on Twitter and confirmed by colleagues at the Ethics and Public Policy Center (EPPC), the DC-based conservative think tank where he served for more than 30 years.
Cromartie brought Christian thought leaders and secular journalists under the same roof at the Faith Angle Forum, held every year since 1999. Through his work as EPPC vice president, he evoked theologians and philosophers as he advocated for thoughtful engagement in public policy and civil discourse.
In a political arena often dominated by competition, power grabs, and culture war debates, Cromartie stuck out by offering a friendlier, humbler approach. It's this attitude that his colleagues remember most and cite as his greatest legacy.
"It can't be said of many people, but everyone Mike touched was influenced for the better," said Michael Gerson, a Washington Post columnist and former speechwriter for President George W. Bush. "His passing leaves a huge gap in American public life and in the lives of his friends.
"Mike was a man of great knowledge who made it accessible to others," Gerson told CT. "He was a man of great faith, who make it real and attractive to others. And he was a man of exceptional decency, who demonstrated how to live with joy and integrity."
Journalists and Christian leaders alike shared their tributes [see CT's Twitter Moment].
"Michael Cromartie was different from what most people think of when they think 'evangelicals and politics.' Thanks be to God," said Russell Moore, president of the Ethics and Religious Liberty Commission, who admired his humble character and effective engagement with journalists.
"After his cancer diagnosis, every time I saw Mike he would say, 'Pray like a Pentecostal.' We did," Moore shared with CT. "Mike now is in the presence of the Lord of Pentecost. We will miss him here, and must pray for more like him."
Michael Wear, a former White House faith adviser under Barack Obama, described Cromartie as "one of Christianity's principal ambassadors in Washington, [representing] Jesus with joyful confidence."
"I've seen the effects of his life and work up close, and both the church and the nation are better off because of him," said Wear. "Michael was a friend whose encouragement I did not deserve, and whose insight has shaped my work, my life, and my faith. In the days ahead, we should look to Michael's example to stoke our imagination for what a faithful public witness can look like in this moment."
Cromartie had surgery last September for stomach cancer. By July, his cancer had spread, and he heard from doctors last week that they had done everything they could, according to Timothy Dalrymple, who profiled Cromartie for CT in 2013.
Dalrymple's feature sums up the "Beltway believer's" story this way:
Cromartie converted to Christianity as a teenager in the Vietnam War era, proclaimed himself a progressive pacifist, and joined a Christian commune. Shortly after joining Chuck Colson's then-new Prison Fellowship, however, he was literally mugged by reality when thieves invaded his hotel room in Denver in 1978 and left him bound and gagged. (Cromartie managed to convince the burglars to leave his new tie so he could still attend his meetings with dignity.) That experience and Colson's influence produced a paradigm shift, and Cromartie went on to work for the conservative Ethics and Public Policy Center, where he is now vice president and director of the Evangelicals in Civic Life project. From his perch on M Street five blocks from the White House, he has served as a consigliere for conservative Christians in the nation's capital.

He has also helped countless journalists, whose only map to evangelicalism reads HERE BE DRAGONS, chart a more finely drawn geography of the American Christian landscape. In fact, the concept for the forums took shape as Cromartie received one call after another from knowledgeable journalists who wanted to know whether all evangelicals hate sex, or whether he could provide contact information for the author and publisher of the Book of Ephesians.
"Grieving with many today over the death of the brilliant and gifted Michael Cromartie—a clear thinker with strong character. RIP," tweeted John Stonestreet, president of the Colson Center. "Cromartie was a voice of clarity and reason, thoughtfulness and moral judgment. Brought people together in the best of ways."
Even before his death, stories and tributes came pouring in on his family's Facebook pages. His son Eric pledged to share the comments with his dad, who was hospitalized at Virginia Hospital Center in Arlington.
"Mike enriched the lives of those who became part of his community with his kindness, his genuine interest in others, his light touch, and his joie de vivre. This was obvious based on the outpouring of affection as his health worsened," wrote EPPC colleague Peter Wehner. This was a man who left a deep imprint on people's hearts and souls."
Cromartie described his faith as "evangelical, reformed, Anglican" and attended Falls Church Anglican. He graduated from Covenant College and American University. A former chairman of the US Commission on International Religious Freedom, he regularly advocated for the cause of religious liberty.
He also served as a senior advisor to the Pew Forum on Religion and Public Life, a senior fellow with the Trinity Forum, and a former advisory editor at CT.
In a Politico feature on his birthday last month, he shared his morning routine: "Pray. Read the news. Then pray all the more!"