It's Official: Fewer Persecuted Christians Find Refuge in America Under Trump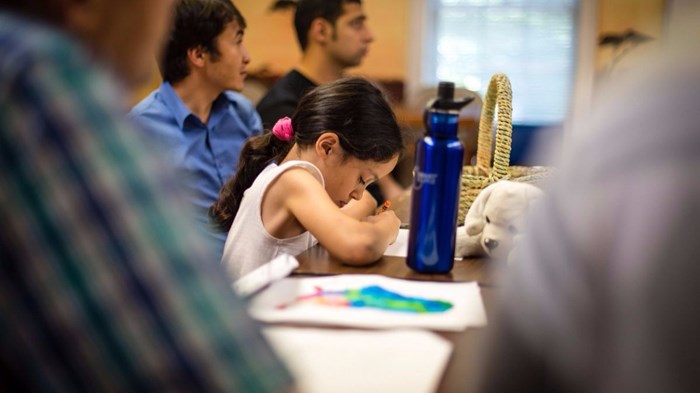 Image: Sean Sheridan / World Relief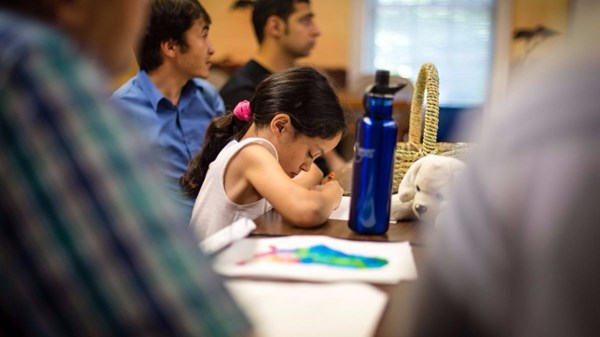 It's Official: Fewer Persecuted Christians Find Refuge in ...
Approximately 14,000 fewer Christian refugees will arrive in the United States this fiscal year, as President Donald Trump's policies lead to the fewest resettlements in a decade.
Today, resettlement agencies hit Trump's new ceiling of 50,000 refugees, three months before the end of the federal government's fiscal year on September 30. And as CT predicted, persecuted Christians fell far short of last year's intake.
"At this point, World Relief expects that the only additional arriving cases after today will be individuals who have a close family member already in the US," Matthew Soerens, US director of church mobilization for the National Association of Evangelicals' humanitarian arm, told CT. ("Close family" means a parent, parent-in-law, spouse, child, adult son or daughter, son- or daughter-in-law, or sibling, according to State Department guidelines.)
A total of 22,637 Christians have been resettled in the US in fiscal 2017, compared to 36,822 in fiscal 2016, according to State Department data.
The total includes 1,795 Baptists, 358 Methodists, and 5 Lutherans, along with believers who simply identified as Christians (7,751), Protestants (2,034), or evangelicals (425).
In fiscal year 2016, the US welcomed 2,363 Baptists, 1,127 Methodists; and 31 Lutherans. About 15,630 refugees identified as Christians; 2,884 as Protestants; and 354 as evangelicals.
The numbers are down across the board: agencies resettled fewer Muslims (21,763 in FY2017, down from 38,533 in FY2016), Hindus (1,080, down from 1,967) and Buddhists (1,520, down from 3,108). There were 403 Jehovah's Witnesses, down from 699 last year.
"Over the past decade, more of those admitted to the US have been Christians than those of any other faith background, so the dramatic reduction in refugee arrivals this year means far fewer persecuted Christians will have the opportunity to rebuild their lives in safety in the US," stated World Relief president Scott Arbeiter.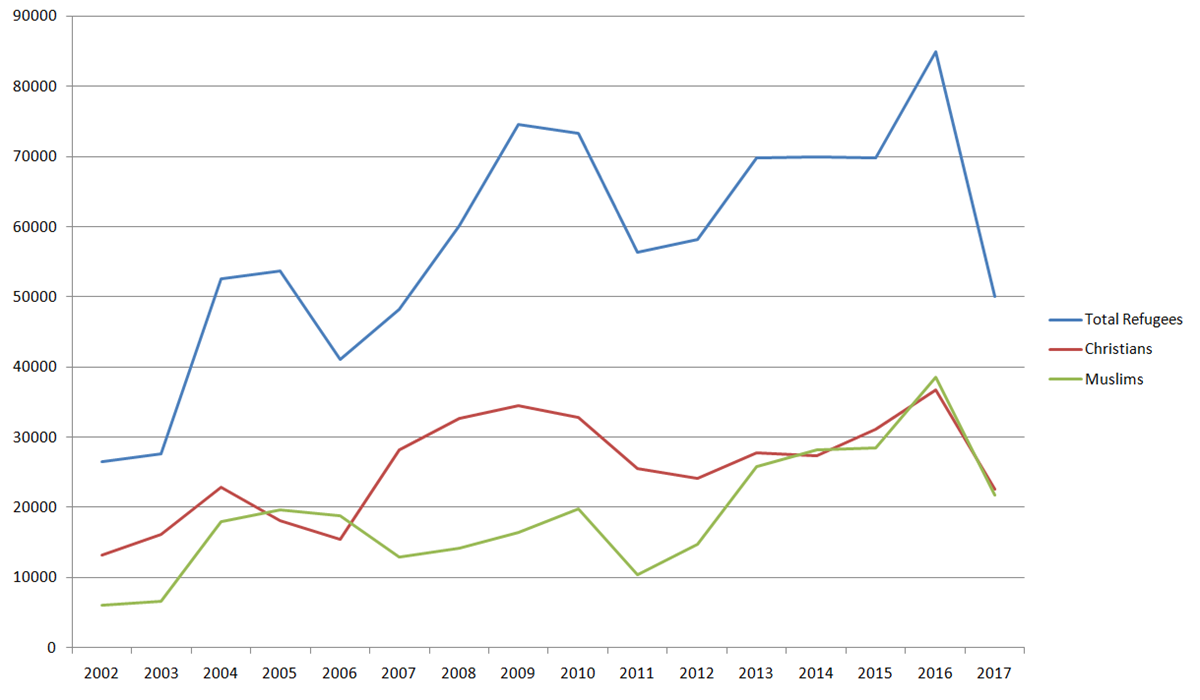 Image: Christianity Today
World Relief, which partners with local churches in its work as one of America's nine resettlement agencies, closed five offices and laid off 140 staff after Trump's executive order lowered the number of refugees.
"We're urging the administration to resume resettlement of carefully vetted refugees at levels similar to recent years once this moratorium is completed," Arbeiter stated.
The refugees were front-loaded this year, since agencies were operating for the first three months on President Barack Obama's previous target of 110,000 resettlements.
As a result, more than 30,000 were already admitted before Trump's January 27 executive order lowering the limit and temporarily banning refugees and travelers from Iran, Iraq, Libya, Somalia, Sudan, Syria, and Yemen. Just under 4,000 Christians had been accepted from those majority-Muslim countries in fiscal year 2016, compared with almost 31,000 Muslims.
In fiscal year 2017, 17,864 Muslim refugees from those countries were admitted to the United States, compared to 30,917 last fiscal year. The number of Christian refugees was also down, though the difference was less pronounced: 3,053 were admitted in fiscal year 2017, down from 3,993 admitted in 2016.
In noting how Christians composed about 44 percent of the 762,000 refugees resettled in America from 2003 to 2015, CT previously examined where Christian refugees came from: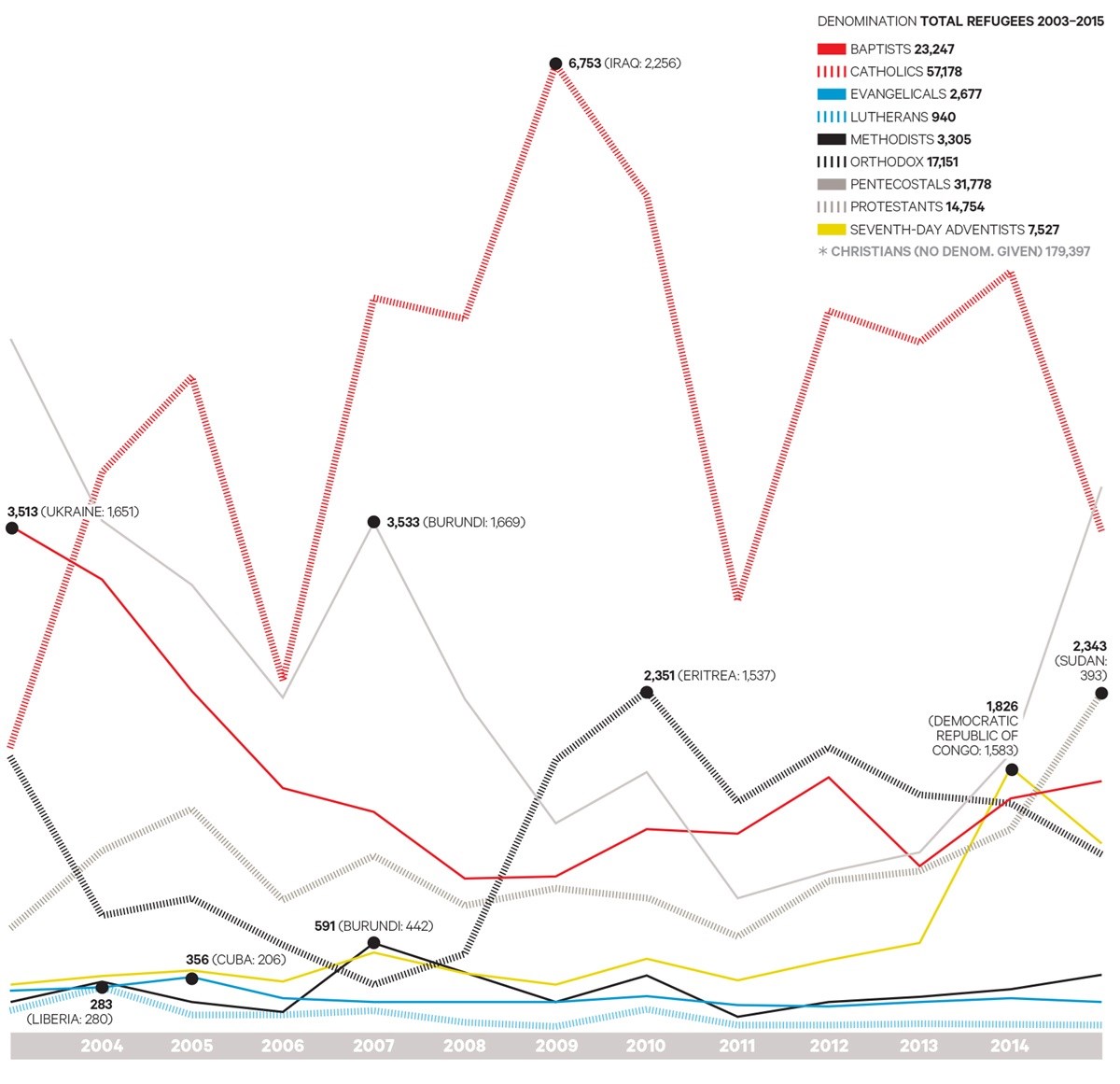 Image: Christianity Today
The tighter cap means that the US will admit its smallest cohort of refugees in a decade. In fiscal year 2007, 48,282 refugees were admitted under President George W. Bush. That was up from 2002, when less than 27,000 were admitted just after the 9-11 terrorist attacks.
Trump's order is meant to protect the US from potential terrorists, and the administration has referenced the FBI's current counterterrorism investigations of about 300 refugees. That's out of about 3 million refugees who have resettled in the US since 1980, when Congress passed the Refugee Act, according to the Pew Research Center.
Evangelicals in the pews are more likely to fear refugees and agree with Trump than many Christian leaders—including Tim Keller and Max Lucado—who have been outspoken in their opposition to the refugee ban.
The US Supreme Court will rule on Trump's revised executive order in the fall. Meanwhile, the refugee crisis is the worst the world has ever seen, the United Nations stated.
In June, the UN Refugee Agency announced that 65.6 million people were displaced because of war or persecution at the end of 2016. One of every 113 in the world is internally displaced (40.3 million), a refugee (22.5 million), or seeking asylum (2.8 million).
Syria has the most refugees (5.5 million), followed by Afghanistan (2.5 million) and South Sudan (1.4 million).
The world's refugees are staying mostly in Turkey (hosting 2.9 million), followed by Pakistan (1.4 million) and Lebanon (1 million).
In fiscal year 2017, the US accepted 6,454 refugees from Syria (down from 12,587 in 2016), 1,260 from Afghanistan (down from 2,737), and 173 from South Sudan (down from 189). In all, 306 were Christians, compared to 301 in 2016.
The US has also accepted refugees from the following countries that top Open Doors' 2017 list of where it's hardest to be a Christian:
2 Christians from Somalia (ranked No. 2, for "extreme persecution")
31 Christians from Afghanistan (ranked No. 3)
62 Christians from Pakistan (ranked No. 4)
219 Christians from Sudan (ranked No. 5)
109 Christians from Syria (ranked No. 6)
1,329 Christians from Iraq (ranked No. 7)
1,394 Christians from Iran (ranked No. 8)
1,361 Christians from Eritrea (ranked No. 10)
By comparison, the US also accepted 278 Christians from the Democratic Republic of Congo, and 218 Christians from Ukraine.
Since President Trump took office in January, more Christian than Muslim refugees have been allowed into the country, the Pew Research Center reported today.
Pew's numbers ran only through June 30, but the conclusion holds through the 50,000 mark reached today. In total, 9,882 Christians were admitted from the time Trump took office on January 21 until today. During the same time period, 7,431 Muslims were admitted.
"In February, Trump's first full month in office, Muslims accounted for 50 percent of the 4,580 refugees who entered the US, and Christians made up 41 percent of arrivals," stated Pew. "By June, Christians (57%) made up a larger share of arrivals than Muslims (31%)."
That reverses the trend under President Obama; in fiscal year 2016, 46 percent of refugees admitted to the US were Muslims, compared to 44 percent who were Christians.

07/12/2017