Image: Salwan Georges/The Washington Post via Getty Images
Nahidh Shaou could be deported any day now.
As a Christian and a veteran of the US military, being forcibly returned to Iraq—a homeland he hasn't seen since he was five years old—could prove to be a death sentence.
Until April of this year, Iraq had not accepted deportees from the United States since 2010. That policy changed when one of President Donald Trump's early executive orders included Iraq on a list of seven countries targeted with a temporary travel ban. As part of the deal to be removed from the list, Iraq agreed to begin taking deportees again.
More than 1,400 Iraqis in America are on the docket to be returned to their country of origin.
Escorted by law enforcement officers, the first of those Iraqis boarded a small plane in Louisiana in April, bound for Baghdad.
Shaou was supposed to be on that plane. But at the 11th hour, he was granted an emergency stay after his lawyer, Richard Kent, filed an appeal to defer Shaou's removal.
With dozens of Iraqi Christians rounded up in Michigan just this past weekend, the situation remains dire.
"Without a final decision on his status, he can be deported at any time," says Tina Ramirez, president of Hardwired Inc., which provides training and education programs to foster religious freedom in countries in conflict.
Shaou's case is divisive for a number of reasons. For one thing, he's a convicted criminal.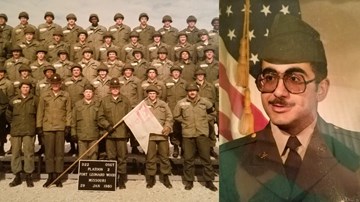 Image: Courtesy of Tiara Shaya
After serving in Korea's demilitarized zone in the early 1980s, during which time his father died, Shaou returned to the US and, suffering from PTSD, was honorably discharged. Soon after, at the age of 20, he shot and wounded a police officer during a robbery near Detroit and was sentenced to 35 years in prison.
He finished his sentence last fall. But instead of being released, Shaou was immediately detained by US Immigration and Customs Enforcement (ICE) and scheduled to be deported on the April flight.
The case is also contentious because of the fate awaiting Shaou if he is returned to Iraq, a country in turmoil and rife with religious persecution. Iraq ranks No. 7 on Open Doors's World Watch List, which calculates the 50 countries where it is hardest to be a Christian.
"He'll be targeted for his Christian faith, his Chaldean ethnicity, his veteran status—that will be seen as traitorous," said Tiara Shaya, Shaou's niece and one of his primary advocates. "The big giveaways will be not being able to speak Arabic and not having an ID."
ISIS's reign of terror aimed at Christians and other minorities in Iraq and Syria—a phenomenon that President Trump, the Obama administration, and Congress have referred to as genocide—is perilous for anyone in its path. With no Iraqi papers, no connections, and an American accent, Shaou's future would be doubly dangerous.
"I see it as a death sentence," said Shaya. "I really don't know how he could survive with the combination of targets on his back."
A legal—and moral—quandary
The US has committed itself to a variety of international treaties, such as the United Nation's Convention Against Torture, that prevent it from returning anyone to circumstances in which they are likely to be persecuted or tortured. However, there are limits to that commitment—especially when someone presents a grave threat or when they have committed a "particularly serious" crime.
"The interpretation of whether or not a crime is considered 'particularly serious' is dictated by the type of relief an applicant is seeking, and can also involve some subjectivity on the part of a judge," said Courtney Tudi, director of immigrant legal services at World Relief.
Hardwired's Ramirez describes Shaou's case as a perfect example of the potential complexity of deportation cases. "Not every case is clear cut, and there needs to be greater discretion for whether the removals are necessary or not in each case," she said.
The moral responsibility accompanying the prospect of deporting 1,400 Iraqis—more than 300 of whom are Chaldean Christians—is perhaps even more complicated than the legal question, says Tudi.
"From a Christian ethical perspective, we certainly believe that God has established governments to enact justice," she said. "But that justice ought to be appropriate to the crime committed. And most Christian ethicists would reject torture as an appropriate penalty for any offense. So in a situation where someone's deportation was likely to result in them being tortured, it seems to me that we should consider other alternatives."
Refugees seeking asylum can be deported if they commit crimes, but those with a credible fear of persecution in their home countries "are eligible for a broader range of waivers to the grounds of deportability than apply to other immigrants," said Tudi.
One possibility is to simply delay deportation until the danger in their country of origin has abated. Tudi points to a number of Cambodian refugees who came to the US decades ago—but were never naturalized—who have been deported recently because of criminal convictions.
There is also a precedent for the US government to simply exercise discretion to not deport individuals at risk of persecution or torture, even if they qualify for deportation under the law.
Justice and mercy
It is no small irony that Vice President Mike Pence and Franklin Graham, popular figures among many Chaldeans in the US, headlined the first ever World Summit in Defense of Persecuted Christians last month at the same time as Shaou lingers in custody in Michigan, still facing imminent deportation. Just last week, the House of Representatives signed off on legislation to assist survivors of ISIS's reign of terror. The Trump administration and its allies have made repeated commitments to the protection of Christians in the Middle East.
And yet, by almost any measure, it is a dangerous time for Christians to be sent back to Iraq. A new report from Open Doors found that more than two-thirds of all Christians from Syria and Iraq have fled their home countries since 2011.
Speaking with Foreign Policy, Kent, Shaou's lawyer, emphasized the importance of the situation in Iraq in weighing the case. "This is about the conditions we are sending people back to. We are imposing a death penalty through the backdoor."
This past weekend, at least two busloads of Chaldean Christians slated for deportation—as many as 80 individuals by some estimates—were picked up by ICE in the Detroit area and moved into custody in Ohio. Michigan is home to the largest Chaldean Catholic community outside of Iraq, with 121,000 members and at least 10 churches.
"This is a deliberate attack on the Chaldean Catholic Assyrian community of Detroit," said Wisam Naoum, a community activist helping coordinate legal assistance for detainees and their families at a Chaldean-focused charter school in the area. "They waited until Sunday when our community would be going to church and gathering with their families."
The Iraqi Christian population is so close that they all feel the impact. "As a community, we are one," said Manuel Boji, rector at Mother of God Chaldean Catholic Church in Southfield, Michigan, a suburb north of Detroit. Some members of his congregation have been detained in the recent raids.
Detroit's Chaldean Catholic bishop, Francis Y. Kalabat, told church leaders the diocese is reaching out to the government, the Iraqi embassy, the local Chaldean foundation, and the US Council of Catholic Bishops (USCCB) on behalf of the detainees, most of whom are "not hardened criminals but for the last decades have been great citizens."
"Today was a very strange and painful day for our community in America. With the many Chaldeans that woke up this morning and were picked up by [ICE] agents, there is a lot of confusion and anger," he said, going on to discourage members from heated public demonstrations. "Prayers and patience are desperately needed. This will take a lot of effort but acting in a disrespectful ways in front of the federal building only brings harm and not good."
Protesters gathered Monday outside Detroit's federal building; the day before, some assembled to try to block the buses taking the men to detention, according to local social media reports.
The Chaldeans now in custody are in the same quandary as Shaou: awaiting Homeland Security to decide their fate, if they are not deported first.
"We're not supposed to be feeding people into the death camps that are being built for them," said Kent.
He expressed deep concern about the sudden roundup over the weekend. "They would not be doing this if they were not dead serious about sending people back."
Shaya, Shaou's niece, says justice has already been served for her uncle: a sentence from which he was released early and served as a model inmate. She calls his potential deportation a second punishment, not a policy.
His options, like those of so many Christians slated for deportation, are limited, says Ramirez. Shaou's congressman can introduce a bill to grant permanent stay; he could receive a presidential pardon; or the court could determine deportation would betray conventions on torture or treaty obligations under the Inter American Convention on Human Rights.
"It's entirely appropriate that an individual who is convicted of a crime face the appropriate penalty, such as a lengthy jail sentence," said World Relief's Tudi. "But if that has happened, there is no significant concern that the person remains a threat to others within the US. And the possibility of harm is so significant for a religious minority being deported to Iraq right now, these cases could be carefully assessed to consider if they are cases where mercy could be extended by the federal government as an exercise of discretion."
Despite remaining in jail and facing expulsion to a war-torn country he hardly knows, Shaou is hopeful. He believes he has served his time.
In a recent telephone call with his niece, Shaya, he told her that he just wants to show people he has changed. "He wants to contribute," said Shaya. "He wants to be with his family in the only country he knows."
Additional reporting by Kate Shellnutt.