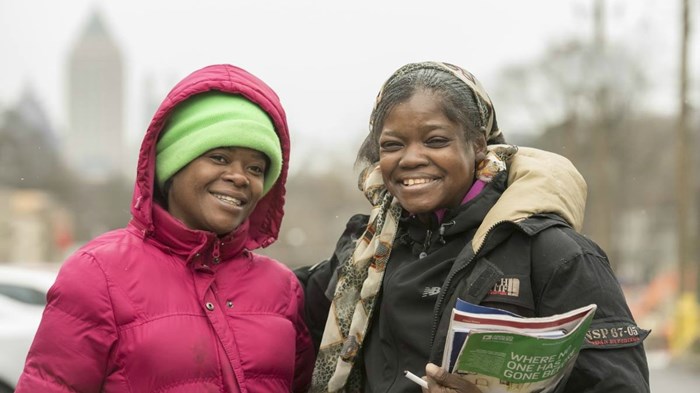 Image: Atlanta Mission
When it comes to America's homeless, Christian organizations set out to do more than offer a hot meal and safe place to stay. They believe that in order to best serve their needy neighbors, they must get to know them.
"Instead of being a kitchen cook, you'd be out at the tables with the people," said Jim Reese, president and CEO of Atlanta Mission, which serves 1,000 homeless men, women, and children a day in its shelters, programs, and transitional homes. "How do you change lives? It comes from creating a relationship with them and building trust."
Though religious nonprofits in some locales have faced escalating restrictions on homeless outreach in recent years, their efforts are working. Researchers discovered that faith-based organizations' relational approach leads to a deeper understanding of the complexity of homelessness and better outcomes for their clients and cities.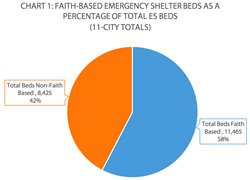 Ministries provide 60 percent of emergency shelter spots available in 11 major American cities, and the more faith-based shelters operating, the smaller its homeless population, according to a Baylor University study published last month.
In the 11 locations studied (Atlanta, Baltimore, Denver, Houston, Indianapolis, Jacksonville, Omaha, Phoenix, Portland, San Diego, and Seattle), faith-based nonprofits were particularly effective at reducing the homeless population, and saved taxpayers an estimated $119 million with their care and training.
"While government programs and public policy address homelessness directly as the problem, the faith community often sees it as symptomatic of more complex personal and societal conditions stemming from relational poverty and family fragmentation," the study concluded, comparing their approach to a Department of Housing and Urban Development program called Housing First. Religious nonprofits were more likely to offer holistic care than to focus exclusively on the issue of housing.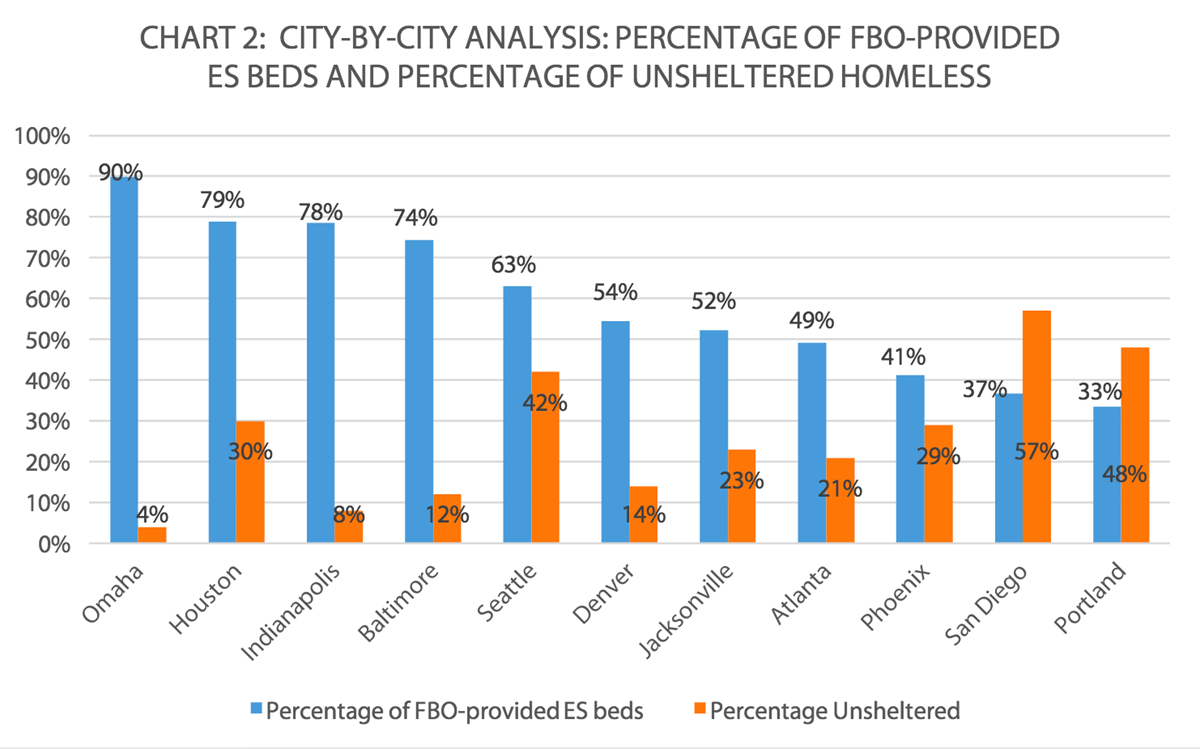 Though the church has ministered to the poor for centuries through missions organizations such as the Salvation Army, shelters, and soup kitchens, today's evangelicals have added "relational poverty"—a concept explored in books such as When Helping Hurts and Walking With the Poor—as a primary concern.
For example, Atlanta's homeless population of 88 people per 10,000 is quadruple the national average. But the city does twice as well as most cities at connecting the homeless with shelters, according to the Baylor study. About half of its emergency shelter beds are provided by faith-based organizations, with Atlanta Mission being the largest. Among the women that enter their shelters, 8 in 10 say they have no meaningful relationships in their lives.
That disconnection reveals they lack a safety net of friends and family to support them when job loss or financial desperation strikes. Their relational poverty—combined with emotional trauma—can make it harder to get or keep a job in the first place, Reese pointed out in an interview with CT. That's why one of the mission's main goals is building sustaining friendships and communities, such as through Bible studies or small groups.
"In most cases, people become homeless due to a range of complex personal and societal factors, not just because they cannot afford a home," stated Byron R. Johnson, Baylor professor of social sciences and the report's lead author. "Our conclusions demonstrate that faith-based organizations are in a unique position to treat the systemic issues that create homelessness to develop sustainable solutions for both individuals and municipalities."
Among the faith-based organizations studied, all were affiliated with a religious tradition and cited it as their motivation for outreach; some required or offered religious activities as well.
In addition to housing the homeless, researchers examined the outcomes from their addiction recovery programs, job training, and family reunification efforts—all markers of personal transformation and government dollars saved. They concluded faith-based organizations are "at the forefront of program innovation" with their approach to helping and healing the homeless population.
"On the one hand, we have a very significant body of empirical evidence showing that the practice of one's faith tends to protect people from harm while also promoting positive behavior for individuals and families," the study's authors wrote. "On the other hand, a review of federally funded studies on homelessness reveals that faith as well as marriage remain largely overlooked as factors that might reduce addiction, abuse, and homelessness. This oversight is unfortunate because it largely ignores interventions or factors that might be helpful, at least in certain populations, in addressing these difficult social problems."
(The social support of a church community and the commitment to family prayer, for example, have been correlated with stronger marriages among African Americans and Latinos, as CT reported last year.)
Yet churches can come up against local regulations as they attempt to minister to their city's homeless. A California church's homeless shelter was condemned by local officials earlier this year over building issues with its electrical system, exits, and fire alarms. The pastor of First Southern Baptist Church in Buena Park is now filing a restraining order against the officials and fighting the decision, Baptist Press reported. The building had been operating as a shelter since 1999 and housed 15 individuals, who now sleep in the church's sanctuary.
Christians have also fought back against local ordinances restricting the distribution of food. In major cities including Los Angeles, Philadelphia, Denver, Dallas, and San Antonio, believers turned feeding the homeless into a religious liberty issue to avoid fines or penalties.
These individual, grassroots efforts also contribute to the wellbeing of a city's homeless population. Eric Bauer, executive director of Portland Rescue Mission, told researchers:
This support is not just in the form of tangible help like shelter meals, clothing and transportation, but also includes homelessness prevention through addictions support groups like Celebrate Recovery, gospel transformation of individuals and families, and other unseen "leaven from heaven." The cumulative impact of these influences, which is no doubt considerable, cannot be adequately represented in a study.