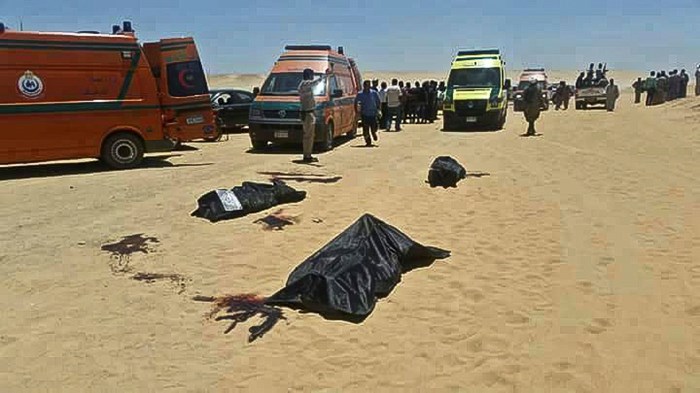 Image: Minya Governorate media office via AP
[Updated at 11:15 a.m. Sunday, May 28]
Terrorists ambushed a Coptic church bus trip on Friday near Minya in Upper Egypt, killing at least 28 and injuring 23, including many children.
Egypt's interior ministry reported that three vehicles of 8 to 10 gunmen dressed in military uniforms opened fire on the Christian convoy, which was on its way to the fourth-century St. Samuel the Confessor Monastery in Samalout, 140 miles south of Cairo.
Reuters reported that the terrorists boarded the bus, stole jewelry from the women, and filmed the executions. They also left behind leaflets celebrating the start of Ramadan, the month-long observance of Muslim fasting and prayer that began that night.
The attack was later claimed by ISIS, and follows church bombings by its affiliates on Palm Sunday and in advance of Christmas. Last week, Egyptian authorities arrested 48 individuals, securing confessions of belonging to an ISIS-linked terrorist cell.
Survivors of the bus attack reported that the terrorists ...
1