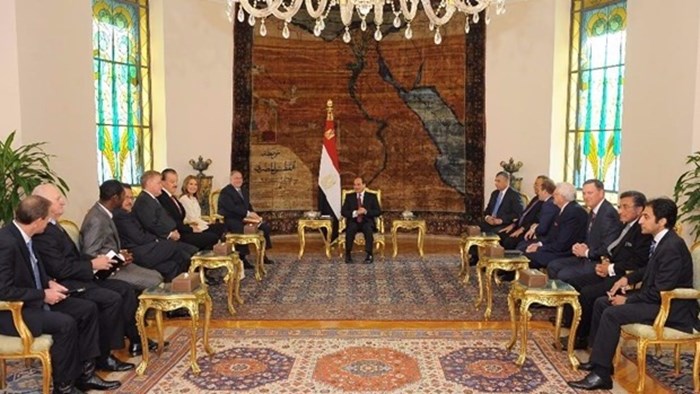 Image: A. Larry Ross
Jim Garlow walked cautiously through the cavernous halls of Egypt's Ministry of Islamic Endowments. He prayed: Why am I here, God? What do you want me to see?
The pastor of Skyline Church in San Diego was part of a 12-member delegation of American evangelicals. Their mission: To offer friendship to the president of Egypt.
But as largely a Who's Who of Christian Zionists and otherwise pro-Israel pastors and ministry leaders, the mission could easily go awry in a majority-Muslim nation where even the Coptic Orthodox Church still officially bans pilgrimage to neighboring Jerusalem.
Mike Evans, founder of the Friends of Zion Heritage Center in Jerusalem, is a lifelong friend of Israeli president Benjamin Netanyahu. Mario Bramnick, senior pastor of New Wine Ministries Church in Florida, is president of the Latino Coalition for Israel. Tony Perkins, president of the Family Research Council, leads tours to Israel. They were assembled by Joel Rosenberg, a Jewish Christian with dual US and Israeli citizenship and author of the fictional The Last Jihad series.
But Rosenberg had recently made a new friend, giving him confidence that this visit might be God's will.
Last year in March, he spent five days in Jordan as a guest of King Abdullah, who had just read his book. Intrigued after noticing himself as a named character in Rosenberg's latest series on the ISIS threat, the Muslim ruler wanted to know more. (Rosenberg assured Abdullah that his character didn't die in the series, which the king went on to finish reading.)
Not long thereafter, God placed on Rosenberg's heart a different Middle East leader: President Abdel Fattah al-Sisi of Egypt.
Invited as 1 of 60 Middle East experts to a forum held during Sisi's state visit to President Donald Trump in April, Rosenberg walked up and boldly introduced himself.
"I'm Jewish," he told CT. "I've got some chutzpah."
Rosenberg thanked Sisi for rescuing Egypt and its Christians from the Muslim Brotherhood. He commended the president for reaching out to Jews and to Roman Catholics.
"But there is one group I don't see: evangelicals," he told Sisi. "It's not your fault; probably we haven't asked. But would you like us to bring a delegation of leaders to come and visit you?"
Seven months later, Garlow was in Cairo.
"Each step of the way I learned so much," he said. "There were insights I had never known."
Rosenberg wanted the delegation to listen, and not just push an agenda.
Offering something tangible to Sisi, 6 of the 12 delegation members were informal or frequent evangelical advisors to Trump's White House. And they took what they saw to heart.
Mukhtar Gomaa, Egypt's minister of Islamic Endowments, spoke with conviction, attendees recalled. "If Egypt is to move forward, the Muslim Brotherhood must be rejected," he told the group. He then distributed a booklet prepared by the ministry to show how Islam must defend churches.
Garlow expressed astonishment at how comfortable these Muslim leaders were with evangelicals, especially Sisi. It recalled his earlier surprise, when he first met Trump.
Garlow was greatly encouraged to see the Egyptians speaking so forcefully against terrorism. But Egypt also touched him at a deeper level.
"We drove past the pyramids and saw miles of high-rises, home to 22 million people," he said. "My heart was broken for the city, and I need to shed some tears."
Johnnie Moore, co-chairman of Trump's unofficial faith advisory board, described similar emotion in Sisi.
"His heart looked broken. He had to tell the story about rebuilding the churches destroyed by the Brotherhood," Moore said.
"But he was also like a lion with his mane out, vowing it would never happen again."
The evangelical delegation also heard what many were eager to hear.
"There is a coalescing between us and Egypt in religious freedom, combatting radicalism, and the relationship with Israel," said Bramnick. "To us, these are very important."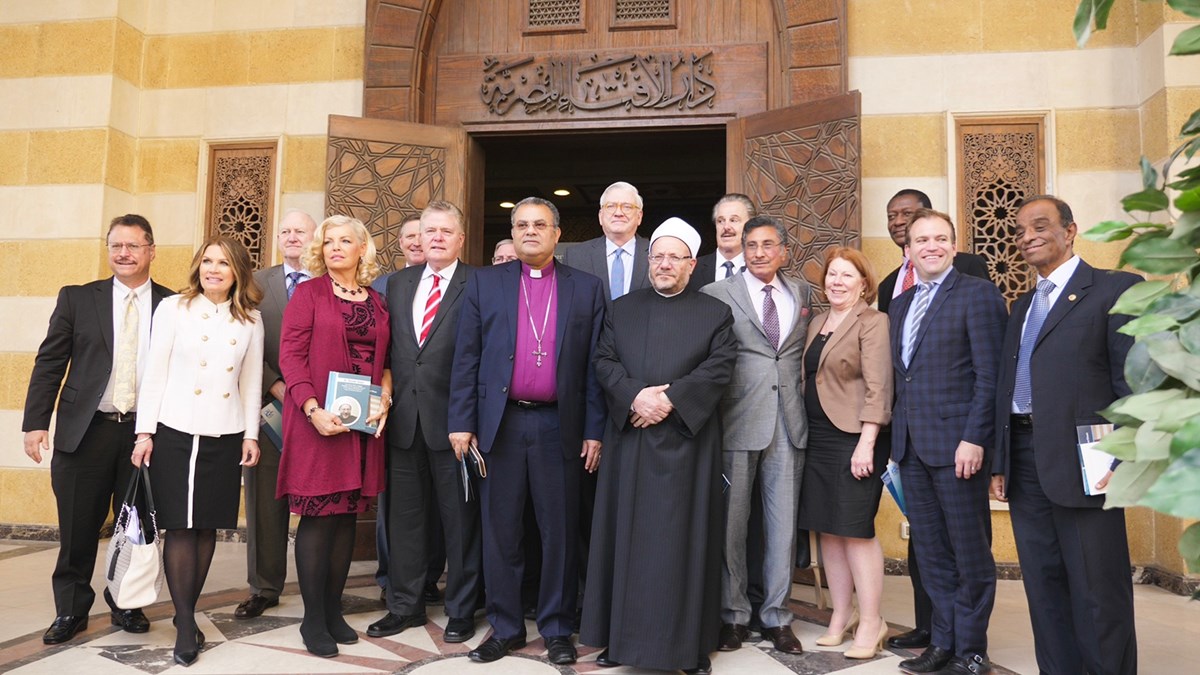 Image: A. Larry Ross
Rosenberg emphasized the delegation was a personal initiative of all involved. There was no official link to Trump or the US government.
"Meeting with this delegation is not an endorsement of us or our views, but an opportunity for [Sisi] to advocate Egyptian interests to an important American constituency," said Rosenberg. "To be effective in Washington, he needs buy-in and trust from pro-Israel people."
But with the Americans the whole time was a somewhat nervous Egyptian.
"When I heard the key organizer lives in Israel," Andrea Zaki, president of the Protestant Churches of Egypt, told a subsequent meeting of influential colleagues, "I was shaking a lot."
But Zaki checked with friends, and queried Rosenberg's dispensationalism and prophetic theology. Differences exist, but he was satisfied.
"I was blessed by these meetings," said Zaki, "and I never saw the president so open and comfortable." Scheduled for one hour, the conversation with Sisi stretched to nearly three.
Egypt has maintained a peace treaty with Israel since 1979, but there is much support for the Palestinian cause. The delegation also visited Jihan Sadat, the widow of President Anwar al-Sadat. He paid for the treaty with his life, assassinated six months later.
Putting Zaki at ease was Rosenberg's somewhat unusual commitment.
"It bothers me that too many US evangelicals are either-or toward Israel and the Arab world," Rosenberg told CT. "They are good people, but sometimes they don't realize you can love both without violation of your core convictions.
"It hurts God's heart if we show such disdain to one side or the other."
It also assured Zaki that the delegation was coming to listen, and wanted to help Egypt.
"If I don't help advance the interests of Egyptian evangelicals, I won't consider the trip a success," said Rosenberg. "We come and we go, but this is their country."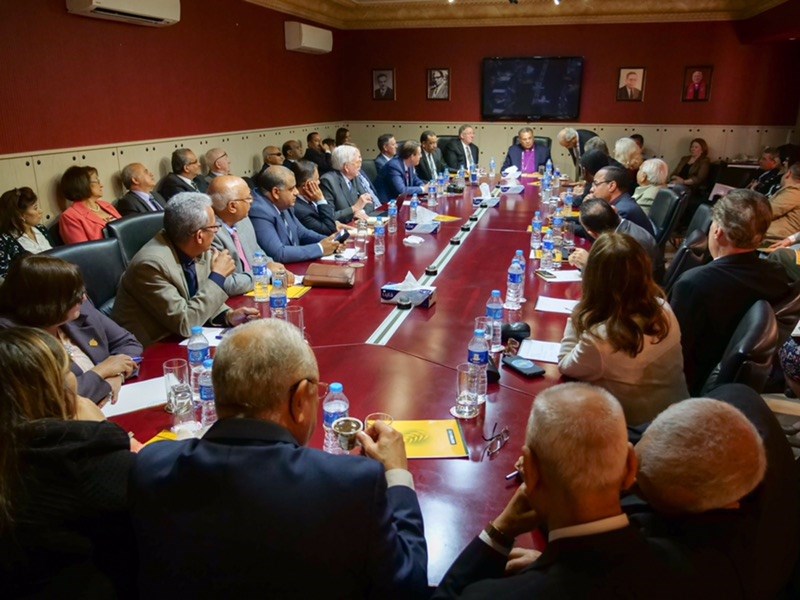 Image: A. Larry Ross
The subsequent meeting with about 40 leading Protestant pastors, ministry leaders, and political figures was a highlight to many. Stuffed into a tight meeting room, they heard not only what God is doing in Egypt, but also their respect and appreciation for President Sisi.
"The feeling in Egypt is that we are not being listened to in the West," Ramez Atallah, head of the Bible Society of Egypt, told CT. "Any sympathetic ear by a Western leader is gratifying."
Ekram Lamie, chairman of the media committee of the Presbyterian Synod of the Nile, told CT of the Sisi meeting's benefit. He was recently selected to teach Muslim clerics-in-training about Christianity at Zagazig University.
"They are close to Trump, and this is the first time the evangelical church here can have relations with Sisi directly," he said. "But we must have wisdom, and only go to Trump hand-in-hand with the Orthodox."
Though there are no reliable statistics, Zaki counts Egypt's Protestant community at 2 million, and its Christians overall at 15 million. A meeting had been arranged to have the delegation meet with Coptic Orthodox Pope Tawadros II, but the pope fell ill.
And while Zaki is keen to remain balanced between evangelical and mainline churches in America—he also accompanied the National Council of Churches to visit Sisi in September—he emphasizes a conservative theology.
The "sweet spirit" of the believers was appreciated by the US delegation. Garlow was encouraged to learn that nearly all Egyptian Protestants are evangelical.
"The [US] capitulation of liberals, or of evangelicals weakening their moral stance, is not what we see here in Egypt."
But like some evangelicals in America, many Egyptians express a deep concern about the mingling of religion and politics. After all, this was the way of the Muslim Brotherhood; thus Christians—like many Muslims—are wary.
"I worry about church involvement in politics," said Nadia Henry, one of four Protestants serving in Egypt's parliament. "There is a big question mark: is this interference in politics, or part of the role of the church to pray for leaders and peace in the world?
"I'm not sure where this delegation falls," she told CT after attending the pastors' meeting.
However, Henry is confident that Zaki does not want a political church. And Zaki said he did not receive negative feedback from his colleagues. The visit was reported positively in the Egyptian press.
But given the political role that government officials and Christians themselves sometimes want to thrust upon church leaders, Zaki emphasizes an important distinction.
"The church and church leaders should be politically active in encouraging participation," he told CT, "but not in directing any political choices.
"The visit of the delegation falls on the right side of increasing awareness."
It was the Americans—and the state—that invited Egyptian Protestants into conversation, Zaki said. He welcomes them as fellow evangelicals, and salutes them for being advisers to Trump.
But it was their initiative to come to Egypt, not his. Zaki's role was to give them a clear picture of Egypt—with the positive emphasized, but also the concerns.
"The president was clear that he is pro-religious equality and pro-freedom of worship," said Zaki of Sisi. "But it was not just a meeting to say that all is fine, not at all."
The conversation focused on human rights, economic development, the US-Egypt relationship, the peace process between Israel and Palestine, regional terrorism—and the Coptic issue.
Despite what is seen in the media, Zaki said, most Egyptian communities do not suffer from sectarian incidents. But sometimes, in some cases, local authorities are not in line with the state in applying the law.
The most recent US international religious freedom report criticized Egypt for using reconciliation sessions instead of prosecuting crimes against religious minorities. Contempt of religion lawsuits are also selectively applied, though the State Department report praised the new church building law.
Egypt ranks No. 21 on Open Door's World Watch List of the 50 nations where Christians face the most persecution.
"Our discussion focused on issues of coexistence and how it must be promoted," Zaki said. "But no one denied that there are problems."
Yet despite the problems, what most impressed Perkins of the Family Research Council was the evident friendship between Zaki and Egypt's religious leaders. He has a picture of Zaki and Gomaa, laughing.
"It encapsulates the entire visit for me," he said. "The practice of peaceful coexistence is possible here. It is not perfect, but it is peaceful."
After the picture, Garlow made his way out through the same dimly-lit corridors. His heart was changing, but he wanted to be sure.
Pulling Zaki aside, Garlow asked, "Do you trust him [Gomaa]?"
"Yes," Zaki replied. "'I do."
It was the promise of peace that drew Rosenberg, in a spirit of reconciliation and solidarity.
"Can you believe it," he told his family after meeting Sisi the first time. "On the eve of Passover, a Jewish man asks the leader of Egypt, 'Let my people come.'"