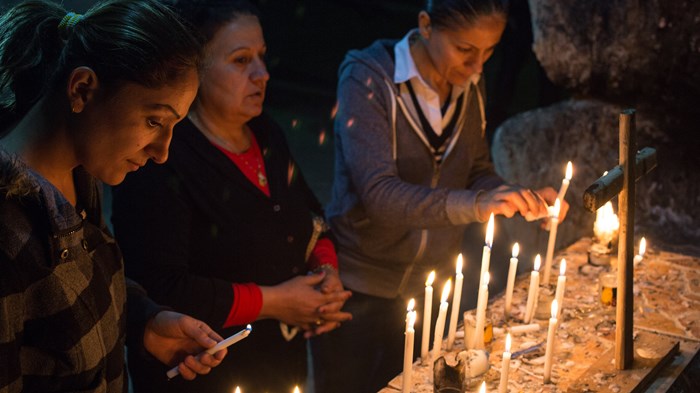 Image: Matt Cardy / Getty Images
When Haitham Jazrawi started working at Kirkuk Presbyterian Church in Iraq in 1991, there were 72 families. Today, there are still 72 families—but only two of the originals remain. During his 26-year tenure as caretaker and then pastor, Jazrawi has seen a turnover of more than 300 families due to emigration.
Such an outward flow has been the norm in churches across the Middle East. In Iraq and Syria, countries ravaged by years of war and the terror of the Islamic State, roughly two-thirds of Christians have fled.
Among Jazrawi's congregants, 50 percent are internally displaced from elsewhere in Iraq. "They come as refugees from inside our country," said the Kirkuk pastor, "from the Nineveh Valley, from Nineveh, from other villages and cities."
Soon, they may also come from outside of Iraq. With the Trump administration threatening to deport more than 1,400 Iraqis, hundreds of whom are Christians, a rare irony may present itself: the forced movement of Christians into the Middle East.
This summer, hundreds of Iraqis were behind bars in holding centers around the United States, slated for deportation to Iraq. The majority were Christians, and most were rounded up in Detroit in a massive June raid executed by Immigration and Customs Enforcement (ICE).
"Not only would they be breaking up families that have been here for decades," said Nathan Kalasho, a local advocate for the detainees, "but they would be sending an already targeted minority to a country that no longer welcomes them."
Pressured by politics, violence, and discrimination, the movement of Christians out of the Middle East is nothing new. But now a global surge in anti-immigrant sentiment puts Arab churches in a peculiar position. How will they receive believers who didn't want to return home?
"It will be beneficial for their own faith, strengthen the church, and counter the depopulation of Christians from the area," said Ashty Bahro, a pastor in Dohuk, Iraq, and former chairman of the Evangelical Alliance in Kurdistan. "But churches will have trouble offering sufficient help with housing, employment, and living expenses."
Even if deportees can return to the few churches remaining in their home areas in Iraq, those with criminal backgrounds may face a split reception.
"Whatever shame they suffer would affect their general reputation," Bahro said, noting new neighbors might reject them. "But only for a time. Certainly they will not be neglected, and the churches will seek to help them to repentance and a virtuous life."
Atef Barnaba, a pastor at Kasr el-Dobara Evangelical Church in Cairo, said true Christians would not live in violation of the laws of their adopted countries. He also weighs the shame of their deportation more heavily than Bahro, though he agrees that Arab churches have no option but to help.
"It is not an honorable thing to admit they came back because of a crime, so [a deportee] will make up a story," he said. "Otherwise, he will lose his reputation."
The deportation of Christians from the West isn't likely to change the dynamic of displacement in the Arab world. Even if hundreds are forcibly returned to the Middle East, those leaving the region are measured in the hundreds of thousands.
Still, any influx of now-Westernized Christians brings new challenges. One is whose voice to heed. One prominent Christian leader in Egypt, who asked not to be named, suggested that people living in their home nations are the best judges of the situation, and the diaspora can become jaded toward their homeland and overplay issues of persecution.
His middle- to upper-class congregation in an upscale district of Cairo suffers no persecution, yet he knows of members who have sought asylum to find a better life abroad.
"Some Christians must leave their country because of persecution," he said. "But those who abuse the system jeopardize those who definitely need it and jaundice immigration officers toward the legitimate cases."
It is unclear if this factored into the Trump administration's decision to round up the Iraqi Christians. Back in Detroit, many Chaldeans suspect it was no accident that ICE conducted its largest round-up on a Sunday, when many would be on their way to church.
If deported, their whereabouts in Iraq won't be too difficult to surmise either. They'll claim seats in the emptying churches of the Middle East.
Jazrawi, the pastor in Kirkuk, already plays host to newcomers of all stripes. His church helps to pay rent, buy furniture, and provide for basic needs of the displaced until they get settled, he said. "We are in a time when many chairs in the church are being taken by people we never evangelized."