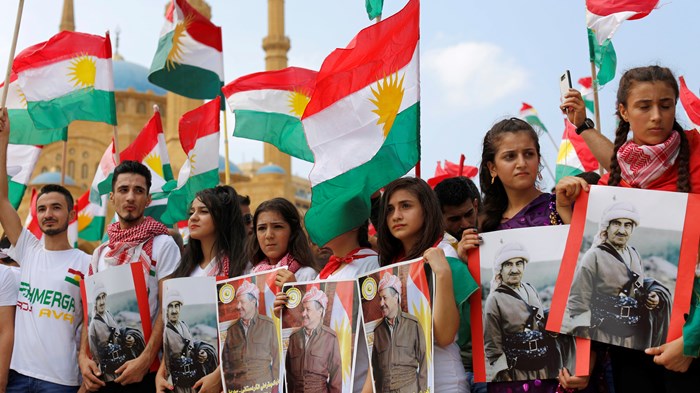 Image: Hassan Ammar / AP
Despite intense opposition, a referendum that could lead to the establishment of an independent Kurdish nation appears set for Monday, September 25.
Upwards of 35 million Kurds—a majority-Muslim community and the fourth-largest ethnic group in the Middle East, spread across Turkey, Iran, Iraq, and Syria—are on the verge of setting their century-old dream of a homeland on the path to reality.
Victimized by the Ottomans during the Armenian (and Kurdish) genocide of the 1910s and regularly persecuted since, the Kurds have long been a marginalized population. Ironically, the recent upheaval in the Middle East has presented them with an opportunity. Many are moving to take advantage of regional mayhem and political malfeasance, filling a void of security and governance with self-determination.
The idea of a free Kurdistan isn't popular among non-Kurds. Turkey has openly fought with its Kurdish population in a decades-long conflict that has killed between 30,000 and 40,000 since 1984; the Syrian regime readily repressed Kurdish rights; and Saddam Hussein's Iraq murdered tens of thousands of Kurds in the country's north.
But as war has ravaged Syria and Iraq, and as ISIS swept from Raqqa to Mosul and nearly to Baghdad, the Kurds are not throwing away their shot.
Kurds in Syria have declared autonomous enclaves collectively called Rojava. In neighboring Iraq, where Kurds have claimed a level of autonomy since 1970, the recent turmoil has given Iraqi Kurdistan new territory and greater autonomy. It has also given Iraqi Kurds momentum to finally push the long-desired referendum.
Christians in the Middle East share a bond with the Kurds, both being minorities. That doesn't mean they're always political bedfellows, but they often share common interests.
Whether an independent Kurdistan is among those interests is a point of dispute.
"Everyone has a different opinion," says Grady Pickett, an American pastor in Erbil, the capital of Iraqi Kurdistan, who has lived in the region for more than a decade. "Usually what we hear is, 'Baghdad has done nothing to help us the past three years. The Kurds welcomed us and helped us. We would rather be under Kurdish rule.'"
Local politicians like Romio Hakkari, leader of an Assyrian Christian party in Iraq, echo that sentiment. "We support the referendum, and we also have a plan for post-independence in Kurdistan," he told Kurdistan24 last year.
There are 200,000 to 250,000 Christians left in Iraq, many of whom fled from Mosul and the Nineveh Plains to Kurdish-controlled territory in the wake of ISIS's rampage. Many Iraqi Christians don't view themselves as loyalists to the Kurdish cause, but see Kurdish governance as an alternative to the corruption and dysfunction in Baghdad.
"The problem is not the Kurds or the Arabs," says Haitham Jazrawi, an evangelical pastor in Kirkuk, a city officially controlled from Baghdad but effectively governed by Kurdish leaders and defended by Kurdish militias. "The problem is our central government in Baghdad. They are very weak. They cannot protect the ministers, so how can they protect me?"
Jazrawi emphasizes the great need Christians have for law and order. As a dwindling minority, they are dependent on the government and police forces for safety.
"Who will defend me?" Jazrawi asks. "At least the Kurds are stronger than the central government. They are governing the three major cities of their own—Erbil, Dohuk, and Sulaymaniyah—in a very good way. So we prefer, at least in this period of history, to be under the Kurds."
But the pro-Kurdish perspective isn't the only one among Iraqi Christians. Some have a vision for a single united Iraq—one in which Christians are free to travel wherever they please. Other Orthodox and Catholic Iraqis have a bolder dream: their own autonomous region.
Ashty Bahro, a pastor based in Kurdish-controlled Dohuk and past chairman of the Evangelical Alliance in Kurdistan, says the Christian political parties oppose Kurdish liberation because adding another country to the Middle East mix may dash Christian dreams.
"The [Christian] parties and their supporters do not want [Kurdish] independence because they believe it will end their hopes of a future state for Christians," Bahro says.
A group of Christian fighters in Iraq called the Babylon Movement issued a statement in August calling for the Nineveh Plains, the traditional homeland for many Christians, to be left out of any referendum. "We respect the will of the Kurdish nation in their decision to exercise their self-determination right … but this should not be imposed on the Christians," the group stated.
Many religious freedom advocates have argued for the creation of a "safe haven" for minorities in the Nineveh Plains. For example, Chris Seiple, president emeritus of the Institute for Global Engagement, has argued for a buffer zone to balance the ambitions of Arabs, Kurds, and other ethnic and religious minorities.
Specifically, Seiple encouraged the creation of a province in the Nineveh Plains for the protection and autonomy of minority communities like Iraq's Christians. "Iraq's recognition of this province would provide the distinct, indigenous nations/communities with some measure of self-governance and self-defense," he wrote.
It's a popular view among Iraqi Christians and some of their backers in the West. The plan doesn't jive, however, with the grand vision of Kurdish independence.
In the last month, Kurdish authorities have removed a pair of Assyrian mayors from office, a move critics said was intended to repress pro-Christian politics. One of the mayors was replaced by a fellow Assyrian, but one loyal to the Kurdish cause.
Perhaps the only clear thing is this: The Kurdish referendum, wrapped up as it is with ambitions of autonomy among Christians and other minorities, is a complicated affair. Approaches stretch far beyond a simple pro-Erbil or pro-Baghdad dichotomy. Racism between Arabs and Kurds—and a history of violence between Iraq, Iran, Turkey, and their Kurdish populations—muddy the waters of any shifts in governance.
Pickett, the Erbil pastor, has heard some Shia militiamen say after they defeat ISIS, they will move on to fight the Kurds. Other Iraqis, especially those in the south, far from the sandy borders of Kurdistan, say the Kurds have a right to self-governance.
As with so much of Middle Eastern politics, a host of factors—history, ethnicity, geography, and religion—all tend to convolute the issue.
"The independence vote could spawn 10 different wars," says Pickett.
In general, the relationship between Kurds and Christians in Iraq is cordial. Minorities make good allies.
Bahro points out Christians in Iraqi Kurdistan are mostly respected by their Kurdish neighbors, though he acknowledges instances of hostility. Living all his life in the Kurdish regions, he says he has never encountered opposition from Kurdish authorities.
"On the contrary," he says, "everything we have asked for as a church or institution has been accepted by the Kurdish government."
Jazrawi also speaks amicably of the Kurds, who pay visits to the churches on Easter and Christmas, he says. "They will give us their greeting." (Exchanging holiday greetings as social custom is refused by some conservative Muslim sects as validating false belief.)
But Kurdish cordiality won't spare the referendum from causing disruption and resistance.
The vote, while not an official declaration of independence, could start a multi-year process toward an independent country. If that happens, the highway to sovereignty will face roadblocks. Will the Kurds pave their own way? Will Baghdad or Ankara pick a fight? Will Kurdish allies—including the United States—stick around?
Already this month, the Iraqi parliament and supreme court have rejected the referendum. Turkey has promised to oppose Kurdish statehood, vowing retribution if the vote passes. And the US may cut ties with the Kurdish government, including the peshmerga—Iraqi Kurdistan's military wing and America's close partner in combatting ISIS—if the vote happens. So far, only Israel has publicly supported the Kurdish independence effort.
After 15 years of violence, Iraqi Christians expect more of the same: more war.
Their hope is in God, says Pickett; but also in the US, which has built up significant military bases in northern Iraq. "Their hope is the American presence will be a guarantee of peace in Kurdistan."