Trump Tells Nigeria's President Church Attacks Must Stop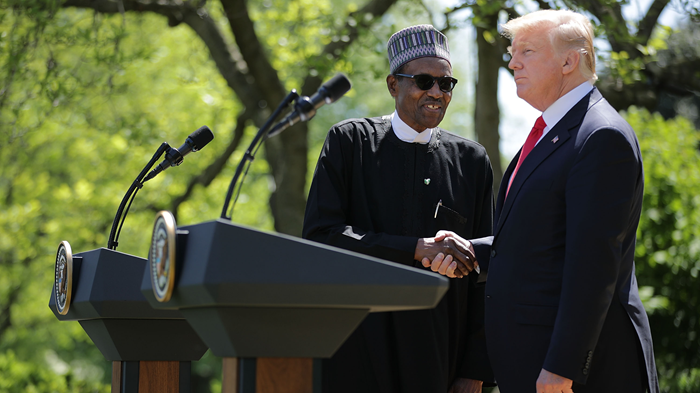 Image: Chip Somodevilla / Getty Images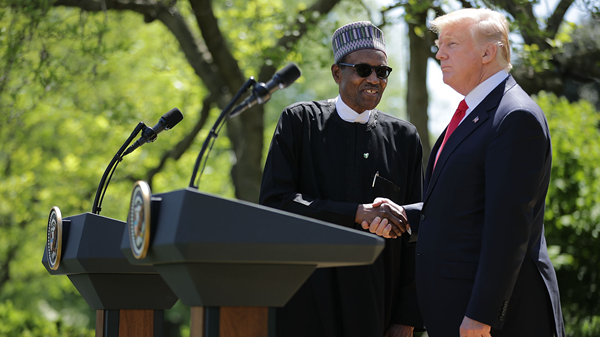 Trump Tells Nigeria's President Church Attacks Must Stop
President Donald Trump repeatedly spoke up for beleaguered Christians in Nigeria at a White House meeting today with the country's president, Muhammadu Buhari, who's currently under fire for not doing more to stop ongoing sectarian attacks by militant Fulani herdsmen.
"We are deeply concerned by religious violence in Nigeria including the burning of churches and the killing and persecution of Christians. It's a horrible story," Trump said in a joint press conference.
"We encourage Nigeria and the federal state and local leaders to do everything in their power to immediately secure the affected communities and to protect innocent civilians of all faiths including Muslims and including Christians."
The President praised Buhari's efforts to fight ISIS and Boko Haram in the West African nation, but Fulani herdsmen have recently outpaced both as the deadliest terror force in Nigeria.
Officials believe the nomadic majority-Muslim herders are responsible for last Tuesday's attack that killed 19 people during a Catholic mass and destroyed dozens of homes. The violence in Benue state continued last week with fatal late-night attacks on Christians' homes and another church, where Christians were taking refuge. Hundreds have been killed so far this year.
Trump's meeting with Buhari comes just one day after the Christian Association of Nigeria (CAN) organized national protests "asking the federal government and the security agencies to stop the unending killings and bloodshed in the country."
Christian leaders have accused Buhari—who is Muslim and whose family is Fulani—of failing to prevent or prosecute the ongoing attacks, which the Nigerian president recently called "vile, evil, and satanic." None of the suspected perpetrators have been punished.
Nigeria's Catholic bishops have accused Buhari of ineffective leadership and recently asked him to resign, saying, "Whether this failure is due to inability to perform or lack of political will, it is time for him to choose the path of honor and consider stepping aside to save the nation from total collapse."
The bishops have specifically called out security agencies for failing to protect churches and Christian villages. Leaders of the Methodist Church in Nigeria as well as other denominations have likewise criticized Buhari's response.
Nigeria, the most populous nation in Africa, is roughly split in half between a majority-Christian south and a majority-Muslim north, and the Fulani violence is concentrated in the "middle belt" or center region where the two halves meet. The US Commission on International Religious Freedom designated Nigeria as 1 of 16 "countries of particular concern" in its 2018 report, released last week.
David Curry, president of Open Doors USA, had called on Trump to leverage Monday's meeting with Buhari "to insist upon meaningful protection for Christians who continue to be violently attacked."
The President didn't mention the Fulani by name, but he did acknowledge the recent violence.
"We've had very serious problems with Christians who have been murdered, killed in Nigeria," said Trump. "We're going to be working on that problem and working on that problem very, very hard because we can't allow that to happen."
The Jubilee Campaign, a Christian human rights group, praised the President's remarks from Monday's press conference, when Trump brought up the continued efforts to rescue and assist victims of the Chibok schoolgirl kidnappings.
"He also spoke strongly of the need for Nigeria to push back on Boko Haram, ISIS, and the other expressions of radical Islam," the group wrote in an email to supporters. "We hope and pray that this will motivate the Nigerian government to provide security for all of its citizens include Christians."
Open Doors has closely followed the plight of Nigerian Christians facing attacks from Boko Haram and the Fulani. Curry wrote in a recent USA Today op-ed:
In the past year alone, Open Doors received reports from its in-country sources of at least 611 deaths in the latest spike of militant Fulani unrest. These attacks played out in more than 50 incidents, where churches and homes were burned and residents were violently murdered, raped, and kidnapped.

The situation is now growing even worse, with 497 more deaths already reported to Open Doors in the first four months of 2018.

Yet, unlike Boko Haram, the ongoing and wide-sweeping violence of the militant Fulani herdsmen has gone relatively unnoticed.
The head of one of Nigeria's largest Christian groups, the 10 million-strong Evangelical Church Winning All (ECWA), declined to officially participate in the CAN-organized protest on Sunday, which had already been declared a day of prayer for another national issue—the release of a female Christian student kidnapped by Boko Haram, Naija Church News reported.
Still, ECWA leaders like Joshua Tuwan in Jos protested. Ahead of next year's presidential elections, the Goodnews Church pastor called the administration "clueless about governance" and said, "We stand to oppose and to tell the world that this government must rise up to its responsibilities and ensure that the culprits behind the killings are arrested. We want them to be prosecuted, if this government means serious business or else since 2019 is coming, Nigerians should show them the way out."
Buhari is the first leader from sub-Saharan Africa to visit the Trump White House.

04/30/2018