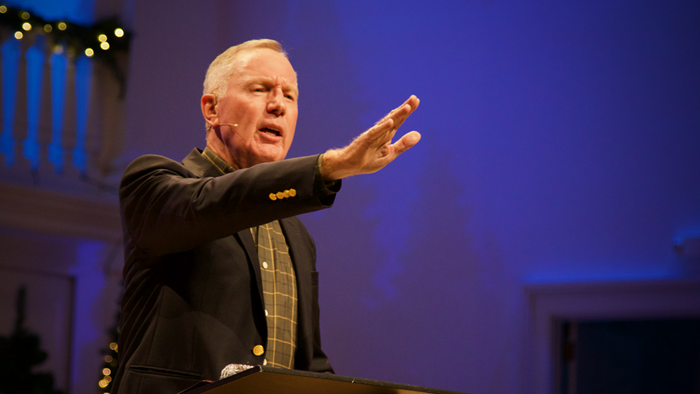 Image: Brendan Jones
[Editor's note: This post has been updated with comments from afternoon speakers, including Max Lucado, Nancy Beach, Ed Stetzer, Jeanette Salguero, and Laurel Bunker.]
"I am a survivor. My home was my unsafe place. My church was my harbor."
Growing up as a victim of abuse, Bible teacher Beth Moore was grateful that she could escape to her church. But in retrospect, she wished it could have done more.
"I have often wondered what a difference it would have made if that same harbor had not only been a place to hide, but a place to heal," Moore said during a summit held Thursday at Wheaton College to address the evangelical church's response to abuse in the wake of the #MeToo and #ChurchToo movements.
The Southern Baptist ministry leader has repeatedly spoken out on the issue over the past year, joining a wave of evangelicals calling on churches to more explicitly condemn, prevent, and help the victims of sexism, harassment, and abuse.
"What if I had heard my pastor or my teachers express what I was going through? Call it what it was? Tell me that I wasn't to blame and not be ashamed? What if they shared a safe place I could go and tell what I endured? What if I had known I wasn't alone? What if I had known that there was help? What if tens of thousands of us had?"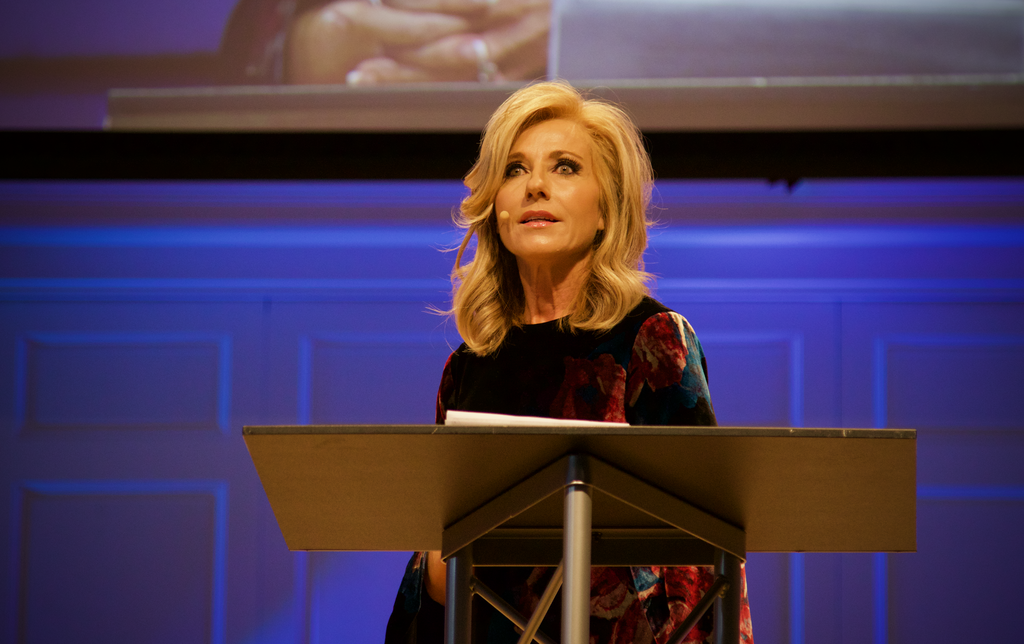 Image: Brendan Jones
Today, Moore joined major evangelical leaders—including Australian evangelist Christine Caine, bestselling author and San Antonio pastor Max Lucado, and Seattle pastor Eugene Cho—for a Billy Graham Center event called Reflections: A GC2 Summit on Responding to Sexual Harassment, Abuse, and Violence.
The event represents the largest inter-denominational response to sex abuse since #MeToo took off last fall.
More than 500 people registered to attend the event, with 40 sites live-streaming online. Organizers set out to "bring together Christian leaders today to address what the Bible says about this tragedy, the destruction of silence, how to protect those who are vulnerable and victimized, the role of accountability in leadership, and much more," the website stated.
This is the third event organized by GC2, which stands for Great Commission/Great Commandment. Previous summits have explored the topics of refugees and mass incarceration.
Moore, who has long alluded to her own experiences with abuse in her Bible study materials, penned an open letter this spring decrying the sexism she experienced in her denomination, and spoke to SBC leaders in June (following Paige Patterson's ousting) about pastoral responses to abuse.
At Thursday's summit, she raised similar concerns: "For mind-numbing numbers of women and girls, men and boys, the church has been an unsafe place. Should that not change with all we know? With all that has been revealed? With all we've seen and heard? God help us, for judgement begins with his house."
Moore noted that everywhere from Time magazine to the Academy Award-winning Spotlight had brought attention to the reality and prevalence of sexual abuse. She read the recent acceptance statement from 2018 Nobel Peace Prize winner Denis Mukwege, the Christian doctor who treats victims of rape in the Democratic Republic of the Congo: Through this prize, the world is listening to you and refusing to remain indifferent. The world refuses to sit idly in the face of your suffering.
"But shall the church stand idly?" she asked.
Moore emphasized Jesus' admonition to be the light of the world. "What better news is there to the abused than the fact that Scripture is adamant [that] Jesus has no dark side?" she said.
And for those who harmed others, she said, "no transgression exceeds the power of Christ. In him is repentance, the forgiveness of sins. In him, there is transformation. In him, there is restoration."
Caine, founder of the anti-human trafficking ministry A21 and the Christian women's leadership program Propel, also addressed the difficulty of bringing abuse cases to light in the church.
"If we keep one thing in the dark, we are better at keeping lots of things in the dark," said the Australian preacher, who survived sexual abuse at the hands of family members.
"The challenge is that when you know something, you can no longer unknow it and you must choose what you're going to do with with what you know," she said. "In those early years [of A21], I found that people did not want to have their lives disrupted by knowing what was really happening, nor did they want to be personally inconvenienced by having to do something with what they knew."
The founder of the anti-poverty organization One Day's Wages, Cho repeatedly urged leaders to partner with women in ministry, saying that during his time as lead pastor at Quest Church, the women around him shaped his own teaching on these issues.
"As we're speaking about this, it's really important that we're not abdicating our responsibility to women," said Cho. "I would not have known this had it not been for the female pastors on staff who lovingly challenged me, 'Why aren't you speaking about this more?'"
He noted that several congregants pointed out to him that they had never heard a pastor address issues of domestic violence or sex abuse.
A LifeWay Research survey conducted this year found that among Protestant pastors familiar with #MeToo, 40 percent say it has helped them better understand issues of sexual and domestic violence, and 41 percent say they are more inclined to preach on the topic as a result. (In 2014, a bulk of pastors said they rarely or never mentioned sexual or domestic violence in sermons.)
Jeanette Salguero was sexually abused as a child—something she did not begin to heal from until she connected with the woman who became her mother-in-law. Through that relationship and ministry work—Salguero is an associate senior pastor and chief operation officer at Calvario City Church in Orlando—she has developed an understanding of just how complex restoration is.
"As a Pentecostal pastor, I know about the laying on of hands and the sprinkling and the handkerchiefs and all that good stuff," said Salguero. "But it's a lot more than that. … We cannot link hands and say, 'Woman you are healed go.' 'Man you are healed, go on your merry way.' This is a process."
For Salguero, personal restoration also meant seeking professional help.
"I'm not denying the power of the Holy Spirit, but I do know, as a thriving victim, that therapy is a must," she said.
Also speaking at the event was One Million Thumbprints founder Belinda Bauman, who helped launch last year's #SilenceIsNotSpiritual campaign, which called on evangelicals to speak up and act on behalf of victims of gender-based violence.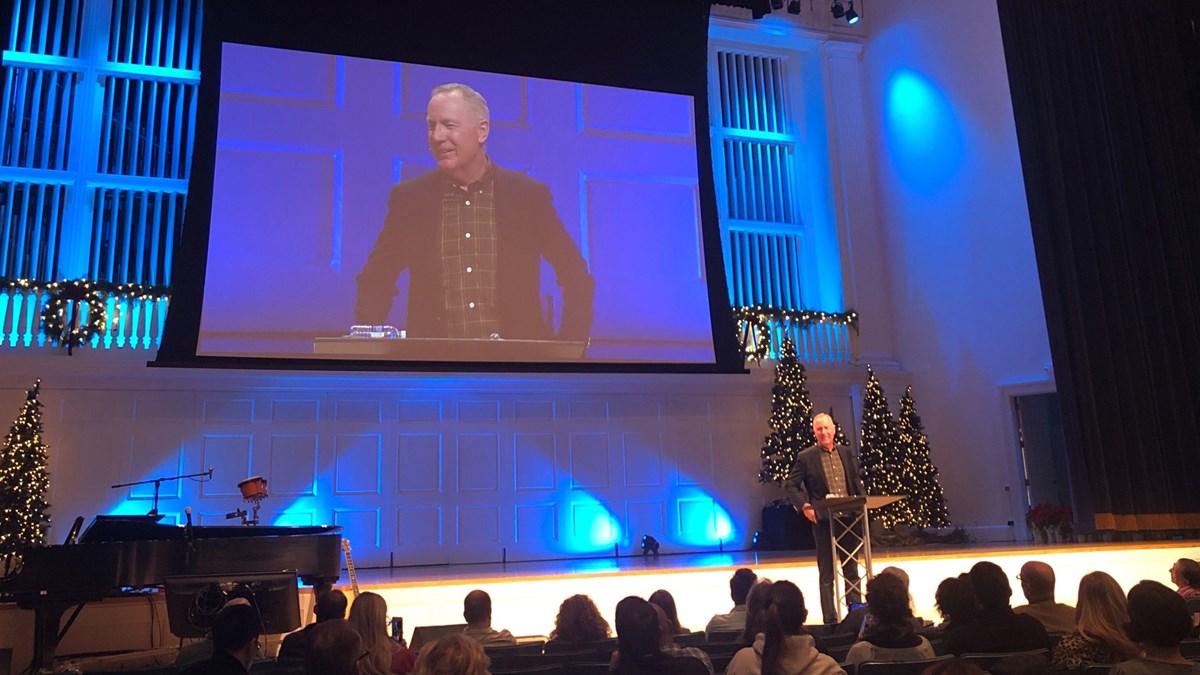 Image: Morgan Lee
Several of the evangelical leaders who attended the summit revealed that they, too, had been the victims of sexual abuse or harassment. This included the last speaker of the day: Lucado.
"My name is also on the list of those who have been sexually abused," said the bestselling author. "As a young man, in my boyhood, not by a church member or a family member but by a community leader."
This was the first time the Texas pastor has ever revealed this publicly.
Lucado said he accepted the invitation to speak at the conference because of his firsthand experience with and understanding of the difficulty of "regaining a balance, having gone through this type of situation."
But he also attended the summit to listen and learn.
"I'd also like to add my name to the list of those who have sensed today some desire for increased personal repentance," said Lucado. "In listening, I thought, "I had a conversation with her, I could have done better." Or remembering the locker room banter from my football days many, many years ago. And just condescending attitudes that I as a senior pastor have employed. So I seek the Lord's forgiveness."
Lucado concluded his talk by expressing his concrete desires for expanding his empathy for women.
"Now is the time for across-the-coffee-table conversations that begin with the words, 'Help me to understand what it's like to be a female in this day and age,'" he said. "'Help me to understand what it's like to never go on a jog without carrying a canister of mace. Help me to know what it's like to overhear guys chuckling about weight or bust size. Help me to understand what it's like to always be outnumbered in the boardroom. Help me to understand what it's like to be hugged chest to chest, unable to break free. Help me to understand what it's like to fear filing a workplace complaint because my supervisors are all male. Help me to understand what it's like to be the brunt of catcalls, whistles, and dirty jokes. Help me to understand.'"
The latter half of the summit explored unhealthy church leadership dynamics.
"There is no one around here that would affirm abusing power, but the systems [nevertheless] make it possible," said Ed Stetzer, executive director of Wheaton's Billy Graham Center. "You can't have a conversation about safe churches without accountable pastors."
Part of that relies on having frank conversations about the way power works, said Stetzer.
"Pastors don't often recognize the extent of their power," he said. "Pastors often have less accountability on their power, and others don't recognize or are unaware of the pastors' power in their lives and in others'…. If the structure of your church does not have pastoral accountability, you need to question the structure of that church."
One speaker with firsthand experience of unhealthy church dynamics was Nancy Beach, the first female teaching pastor at Willow Creek Community Church. She worked closely with its founding pastor, Bill Hybels, who resigned earlier this year following allegations from Beach and other women. She described the last year as one of "heartbreaking pain, strained relationships, a lot of fear, but also a year of tremendous growth."
Beach said, "We wonder and despair: can men and women work together without falling to sexual sin?"
She described one dynamic that she saw foster an unhealthy work environment: an inner circle of leaders that were complicit in enabling the primary leader's bad behavior because members of the group directly benefited from this leader's power.
Beach acknowledged that she was part of this inner circle while at Willow, and said the realization of her own complicity prompted her to ask, "Why did so many of us accept what should not have been accepted?"
"While the time I was employed I didn't know about the sexual sin, but I did see abuse of power," said Beach. "While I spoke to it at times, it was nowhere near enough. The irony was that I knew that this leader was responsible for opening up doors of opportunity for me."
As the evangelical church confronts the revelations revealed by #MeToo and draws conclusions about where and how to proceed, "it's easy to prefer the simplicity of extremes," said Beach.
"Our fear of potential moral failure may well drive us to conclude that the answer is to go back to our safe comfort zones, to separate the genders as much as possible, to not invite women to the leadership table, and also to establish 20 more rules—we can't be in the same elevator or anywhere near one another so that no one will have the opportunity to sin," she said. "I believe any overcorrection along those lines would be a huge mistake, a tragic loss for our communities of faith."
All of the #MeToo conversations must keep millennials and Generation Z—the most populous generation ever—in mind, said Laurel Bunker, the dean of campus ministries/campus pastor at Minnesota's Bethel University.
"Here's what I love about these Gen-Zers and these millennials. They've learned something in our brokenness. They've learned something in our failings. They've learned something in our holy hand-raising but our problematic behaviors," said Bunker. "They've learned something about holiness and rightness. They've learned something about the need to lift up a voice to decry. They've learned something about lament."
Bunker warned that this generation would easily see through any façade.
"For this generation, this is what matters: Do you live the gospel you profess?" she said. "Do you say it or do you believe it?"