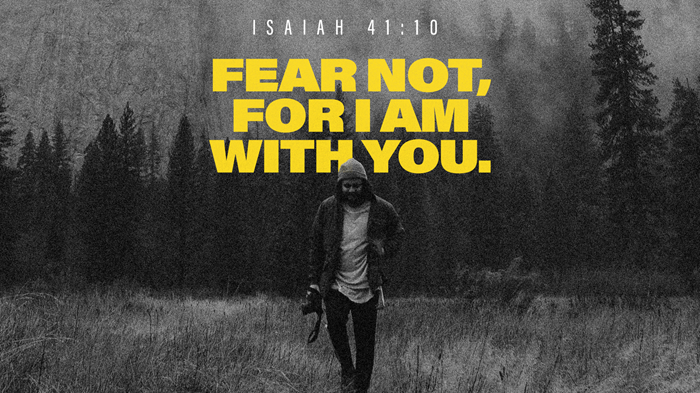 Image: Courtesy of YouVersion
Do not fear.
It's a charge that extends back to the earliest parts of Scripture, gets repeated from the lips of Jesus, and resonates the modern world. It's also the message of the most popular Bible verse of 2018 on YouVersion, the world's most-downloaded Bible app.
"So do not fear, for I am with you; do not be dismayed, for I am your God," reads the year's top verse, Isaiah 41:10. "I will strengthen you and help you; I will uphold you with my righteous right hand."
That exhortation from the Old Testament prophet Isaiah was shared, bookmarked, and highlighted more than any other passage by hundreds of millions of YouVersion users.
The year's top honor at Bible Gateway comes from another Old Testament prophet. The most-read verse on the Bible website was the familiar Jeremiah 29:11: "'For I know the plans I have for you,' declares the Lord, 'plans to prosper you and not to harm you, plans to give you hope and a future.'"
On the leading Bible website, either Jeremiah 29:11 or John 3:16 have topped the annual list every year. (The oft-quoted line from Jeremiah has come to be considered one of the most frequently misinterpreted Bible verses.)
The rest of Bible Gateway's top 10 come from Psalm 23 (verses 1, 4, 6, and 6), Romans (Romans 8:28 and Romans 12:2), and Matthew (6:33).
YouVersion's top verse, Isaiah 41:10, ranked thirteenth on Bible Gateway. Bible Gateway's top verse, Jeremiah 29:11, also spiked to No. 1 in several countries worldwide, according to the YouVersion data.
The two Bible platforms' lists end up being pretty different from one another each year, evidence that users tend to look up different verses online than they highlight or share during their study time on an app.
This year, Bible Gateway ranked popular verses based on 920 million searches across versions of the site. YouVersion's picks stem from more than 1.7 billion highlights, bookmarks, and notes on more than 350 million devices.
Previously, YouVersion's verse of the year award has gone to Joshua 1:9 (2017), Romans 8:28 (2016), and Proverbs 3:5–6 (2015). This year marks a shift to a prophet, but continues the theme of biblical reassurance to digital readers.
"This year's data shows people worldwide are continuing to turn to the Bible in search of comfort, encouragement, and hope," said Bobby Gruenewald, pastor and innovation leader for Life.Church and YouVersion founder.
While Isaiah 41:10 was the app's most popular verse overall in 2018—and the top pick in the United States, France, Italy, the Netherlands, and Spain—several others were ranked as No. 1 in various countries.
Joshua 1:9, the global favorite in 2017, remained the most popular verse in the Central and South American countries of Argentina, Brazil, Colombia, and Mexico. John 3:16 took the lead spot in Bangladesh, Nepal, and Turkey. 1 Peter 5:7 topped the list in Egypt, India, and Iraq, and Matthew 6:33 was most popular in Thailand and Vietnam.
Not only was Jeremiah 29:11 the most popular verse of the year on Bible Gateway, it also claimed the YouVersion top spot in countries in the developed West (Australia, Canada, Japan, and the United Kingdom) and the Global South (Ghana, Indonesia, Nigeria, the Philippines, and the United Arab Emirates), spanning demographics in a way that other verses didn't.
At Bible Gateway, top searches for passages included Psalm 91, Psalm 23, Genesis 1, Romans 8, and Matthew 6. Its leading keyword searches of the year were "love," "peace," and "faith," respectively ("amor," which means love, was the top keyword in Spanish, too). "Holy spirit," was the eighth-most searched word, "forgive" ranked 15th, and "truth" came in as the 19th most commonly searched term.
And with the help of an emoji-based search on YouVersion's Bible App, which allows users to tap images corresponding to various emotions, individuals conducted more than 18 million searches to find what the Bible might say to them in the midst of their emotional highs and lows.
YouVersion celebrated the 10-year anniversary of the app in July. In the decade since it originated as one of the Apple App Store's first 200 applications, the Bible App has grown to include more than 1,800 versions of the Bible in more than 1,250 languages. Across the globe, via the Bible App, 27.2 billion Bible chapters were read in 2018; there were 4.2 billion audio chapter listens; more than 400 million verses were shared; and nearly a billion days of Bible plan readings were completed.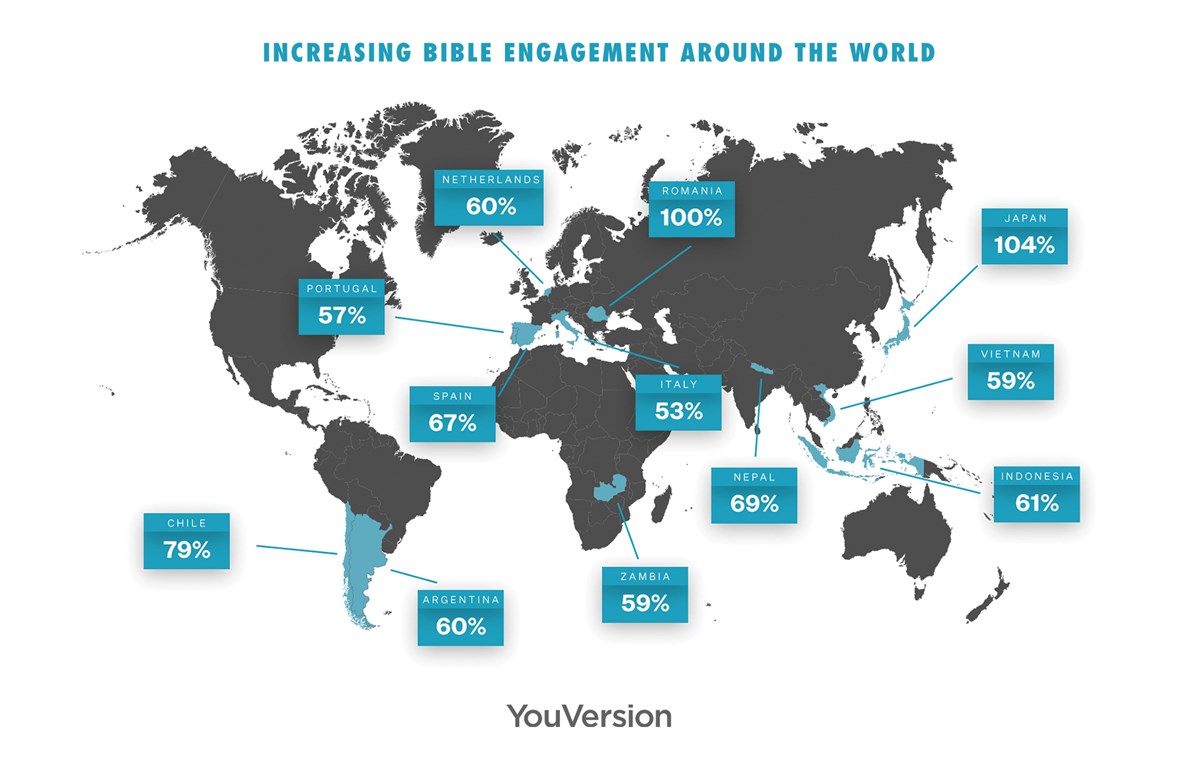 Engagement with God's Word rose across continents. In Asia, Japan led the way in increased use of the Bible App, doubling over 2017, largely due to the addition of a new Japanese translation of the Bible within the app. Nepal (69%), Indonesia (61%), and Vietnam (59%) also saw big boosts in digital Bible engagement.
European countries like Romania, Spain, the Netherlands, Portugal, and Italy amplified their use of the leading Bible application, with increases of 100 percent, 67 percent, 60 percent, 57 percent, and 53 percent, respectively. South American countries also contributed to rising overall engagement, with use in Chile increasing by 79 percent and in Argentina by 60 percent.
"Many of us grew up with the ability to read the Bible in our heart language, but countless people around the world don't have that privilege. That's why we're passionate about making the Bible available in more languages through the app," said Gruenewald.
Overall Bible engagement on the YouVersion platform reached a new pinnacle this year, featuring a 27 percent year-over-year increase in daily use from 2017. The group's Bible App for Kids, which launched in 2013 and is now available in 42 languages, saw an increase of 55 percent in installations in the last year, reaching 27 million devices worldwide.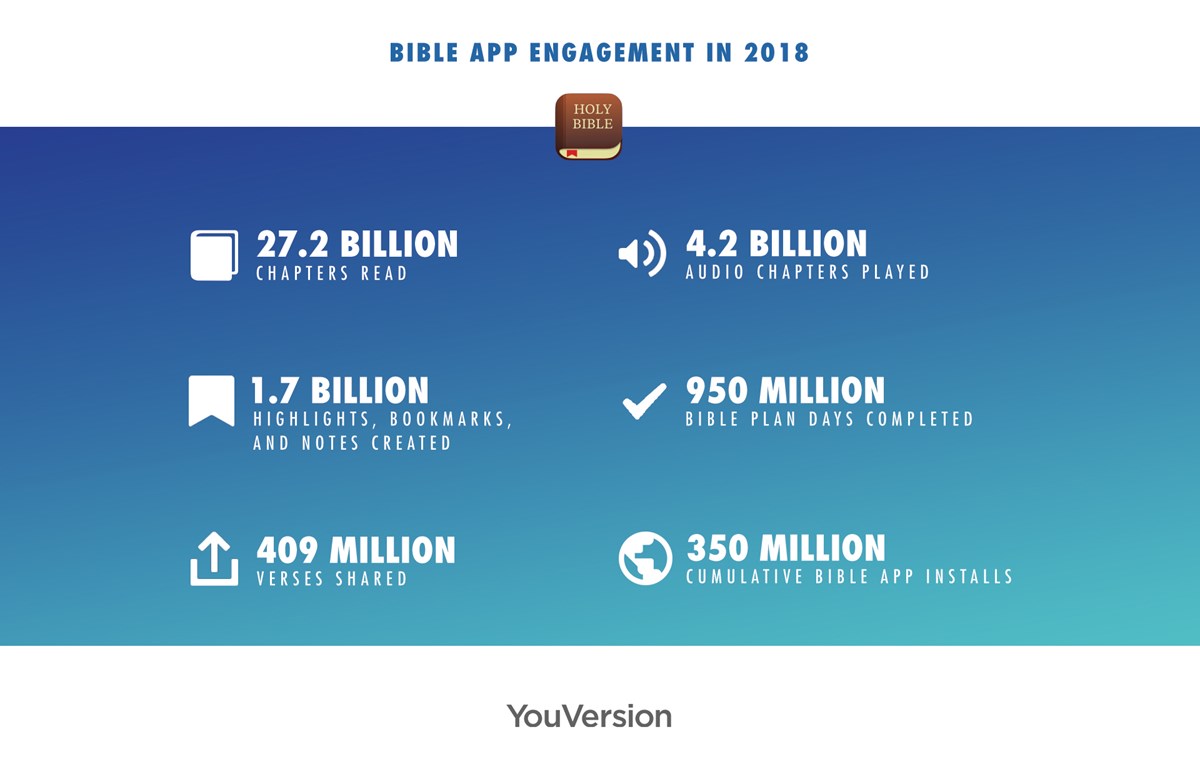 "This generation is on pace to become the most Bible-engaged generation ever, and we believe the Church should keep investing in new technologies to help adults and children connect with the Bible," said Gruenewald. "We're honored to be a part of how God is reaching people around the globe through his Word, and we're eager to see how Bible-engaged people make a difference in this world for decades to come.
Bible Gateway celebrated its 25th anniversary this year. The popular Bible directory is and "the Internet's most visited Christian website," according to HarperCollins Christian Publishing. Though most of its users continue to access the site via desktop (followed by mobile and table), Bible Gateway launched a new Bible Audio App this year.
The site has become popular among millennials and younger generations, with more users aged 25-34 accessing Bible Gateway than any other age group. The site reports that 44 percent of users come from outside the US, and 2018 saw visitors from over 240 countries and territories.
Top Bible Verses of 2018
| | | | |
| --- | --- | --- | --- |
| Citation | Verse | Countries where it ranks No. 1 on YouVersion | Overall ranking on Bible Gateway |
| Jeremiah 29:11 | "For I know the plans I have for you," declares the LORD, "plans to prosper you and not to harm you, plans to give you hope and a future." | Australia, Canada, Ghana, Indonesia, Japan, Nigeria, Philippines, Singapore, United Arab Emirates, United Kingdom | 1 |
| Isaiah 41:10 | So do not fear, for I am with you; do not be dismayed, for I am your God. I will strengthen you and help you; I will uphold you with my righteous right hand. | Chile, France, Italy, Netherlands, Peru, South Africa, Spain, United States | 3 |
| Joshua 1:9 | Have I not commanded you? Be strong and courageous. Do not be afraid; do not be discouraged, for the LORD your God will be with you wherever you go. | Argentina, Brazil, Colombia, Germany, Mexico | 15 |
| John 3:16 | For God so loved the world that he gave his one and only Son, that whoever believes in him shall not perish but have eternal life. | Bangladesh, Nepal, Turkey | 2 |
| 1 Peter 5:7 | Cast all your anxiety on him because he cares for you. | Egypt, India, Iraq | 40 |
| Proverbs 4:23 | Above all else, guard your heart, for everything you do flows from it. | China, Russia | 71 |
| Matthew 6:33 | But seek first his kingdom and his righteousness, and all these things will be given to you as well. | Thailand, Vietnam | 10 |
| Romans 8:28 | And we know that in all things God works for the good of those who love him, who have been called according to his purpose. | Ukraine | 4 |
| Proverbs 16:9 | In their hearts humans plan their course, but the Lord establishes their steps. | Korea | Not in top 100 |