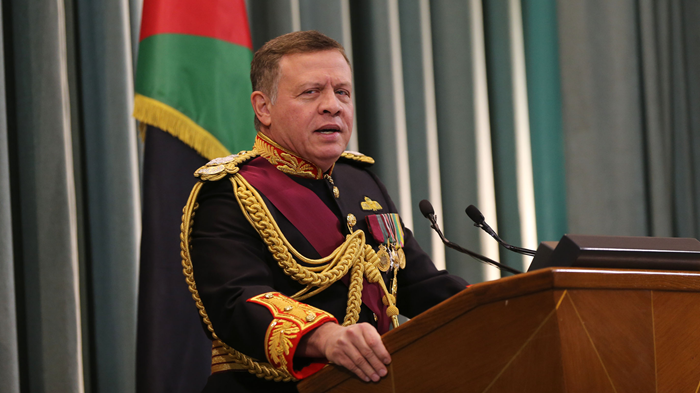 Image: Jordan Pix / Getty Images
For his lifelong commitment to religious peace, King Abdullah II of Jordan recently became the second Muslim ever to win the prestigious, $1.4 million Templeton Prize. And Jordan's Christian minority is celebrating with him.
"I believe in our king," said Imad Shehadeh, president of the Jordan Evangelical Theological Seminary, following Wednesday's announcement. "He is a kind, wise, loving, humble, and effective leader."
Established in 1973, the Templeton Prize is awarded for exceptional contributions to "affirming life's spiritual dimension." First given to Mother Teresa, previous winners range from Billy Graham to the Dalai Lama. More recently, Christian philosopher Alvin Plantinga and Jean Vanier of L'Arche have won the prize.
But this year, Abdullah was honored as a ruler who has done more to promote inter-Islamic and interfaith harmony than any other living political leader, Templeton said.
Islam is the official religion of Jordan, and the constitution guarantees freedom of religion for minorities such as the roughly 2 percent of the population that's Christian (mostly Greek Orthodox). The Protestant community has commended their king's efforts for religious unity, though some wish his commitment went even further.
Since assuming the throne in 1999, the 56-year-old son of the beloved King Hussein has rallied scholars against declaring apostasy against fellow Muslims. In 2006, he sponsored the Common Word initiative, inviting Christians worldwide to join Muslims in their joint commandments to love God and love their neighbor. Abdullah is responsible for launching World Interfaith Harmony Week in 2010, generally acknowledged as the first and only UN declaration to cite belief in God.
"Our world needs to confront challenges to our shared humanity and values," said Abdullah in videotaped remarks accepting the prize. "They are the very ground of the coexistence and harmony our future depends on."
For Christians, Abdullah has been a key partner in the Middle East. His Hashemite family has been custodian of Muslim and Christian religious sites in the Holy Land since 1924.
Abdullah provided personal funds to restore the Church of the Holy Sepulchre in Jerusalem in 2016 and donated land to build churches at the traditional east bank site of Jesus' baptism in the Jordan River. The Muslim king has also supported efforts to safeguard Christians and their historic churches against the threat of ISIS in Iraq and Syria.
The Templeton Award recognized also Jordan's history of welcoming refugees. Whether early waves of Palestinians or more recently Iraqis and Syrians, tens of thousands of Christians have found asylum in the country.
"Jordan is very tolerant society and is protective of all its citizens," said Daoud Kuttab, an award-winning Christian Palestinian journalist who has lived in Jordan for 20 years. "It provides a comfortable and secure haven for Christians and others, despite their small percentage."
Despite their small presence in Jordan's population overall, Kuttab said Christians are well-represented in political and economic circles. Nine of 130 parliament seats are reserved for Christians, though according to the US International Religious Freedom Report, they may not run for the remaining 121. Four Christians served in last year's 29-member cabinet.
Other Christians are more cautious in their praise, shifting focus from religious rights to the political. An evangelical researcher and political consultant, Philip Madanat notes the king has diminished the role of Islamists. Yet if Christians are tempted to gloat, Madanat warns that a lack of political opposition will strengthen the security hand of the state.
The regime—though less so the king—is also irked by secular political development, he said. Madanat cited the difficulties faced by the Civil Alliance, a nascent party seeking registration, which includes the former deputy prime minister Marwan Muasher, a Christian. "Christians are good," Madanat said, "as long as they stay within their accustomed alliances."
Christians believe too readily that the Hashemites, Jordan's ruling family since the British Mandate of 1921, are the only refuge from radical Islam, he also said.
As king, Abdullah is the 41st direct descendent of the prophet Muhammad. Promoting religious harmony is part of the king's legacy, Madanat believes, but also his international legitimacy.
"The king's objective is to portray himself as an advocate of tolerant Islam," Madanat said. "But he is reforming without upsetting society."
Still, the top-down initiatives do not sufficiently influence the street, he said, though seminars do try to reach the youth. Abdullah has also paved the way for a contested curriculum reform in Jordanian schools, removing verses that speak ill of non-Muslims and adding references to Christian contributions in the Islamic era.
Heather Dill, granddaughter to John Templeton and president of the foundation, positively celebrated these reforms. "King Abdullah offers the world the true definition of a spiritual entrepreneur," she said, "who holds both the belief and free expression of religion as among humankind's most important callings."
Madanat has reservations about tolerance, lest a Western-style multiculturalism creep into Jordan, contradicting his biblical worldview. But he agreed with Dill in regard to freedom of belief, as persecution of converts to Christianity tends to be social rather than official. Jordan also tests a Christian before allowing conversion to Islam to make sure he is sincere.
Jordan ranks number 21 on Open Doors' World Watch List of Christian persecution. The country assigns personal status to religious courts, which do not recognize conversion from Islam, and may revoke the family rights of apostates.
Even so, Shehadeh advises Christians to be thankful for the privileges Jordan affords their community and to be patient in seeking rights they find lacking. Under Abdullah, the religion field was removed from official IDs in 2016, though it remains in government records.
King Abdullah II will be formally awarded the Templeton Prize in a public ceremony in Washington, DC, on November 13.
"Our king has been the first to protect Christians and deserves this prize," Shehadeh said. "Congratulations to his majesty."