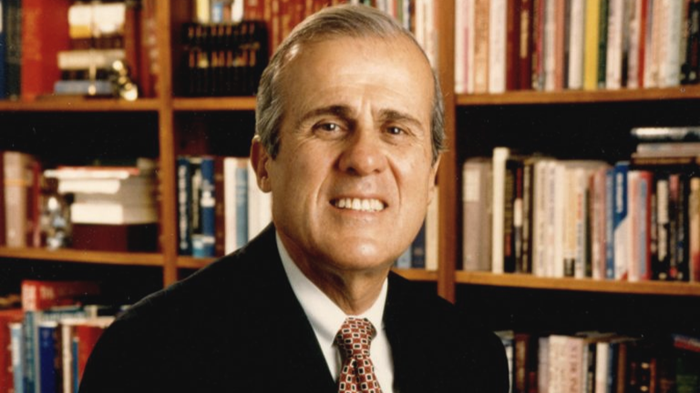 Image: HarperCollins Christian Publishing
Longtime Thomas Nelson Publishers CEO Sam Moore, who went from selling Bibles door-to-door to running one of the biggest Bible businesses in the world, died Friday at age 88.
Moore led Thomas Nelson—now a division of HarperCollins Christian Publishing—for 47 years, expanding it to become the top publisher of Bibles and Christian books.
From when he bought the company in 1969 to his retirement over a decade ago, Thomas Nelson and its imprints published more than 300 million Bibles as well as popular titles by Christian leaders such as Jerry Falwell, Billy Graham, Max Lucado, and Charles Stanley.
"Sam was a unique man who embraced God's plan for his life every day with courage and enthusiasm," said Mark Schoenwald, president and CEO of HarperCollins Christian Publishing. "He dedicated his life's work to preach and teach the good news of the gospel. Sam impacted and changed the lives of countless people with his time, effort, and resources."
As one profile described him, Moore viewed the Bible both as a believer and as a businessman. He prompted Thomas Nelson's multimillion-dollar launch of the New King James Version (NKJV) of the Bible in 1983, inspired by his young son's confusion over the traditional KJV text.
By the mid-'80s, Thomas Nelson had grown its profits by more than a quarter a year for over a decade, moving Moore's company from 10th in religious publishing to the top spot. As CEO, he had an ambitious vision for what the company could offer Christian customers.
"My dream is to package that product in as many beautiful covers, to put as much helps, illustrations, and the most beautiful typeface, so you can take this book and love it and read it and cherish it," he told the Associated Press in 1985.
His dream came true. Moore expanded the scope of Christian resources sold by Thomas Nelson to the range of products today's evangelicals have come to expect from major publishers.
By the early 1990s, Newsweek reported that Thomas Nelson "publishes seven of the nine major translations of the Bible and presents them in more than 650 different styles—including study Bibles, bride's Bibles, giant-print Bibles, gift Bibles, and even a baby's Bible called Precious Moments." To counter dampened growth in the Bible market, Moore then focused on an inspirational line sold at Walmart, Zig Ziglar's business books, and Amy Grant records.
Born in Lebanon as Salim Ziady, Moore moved the United States at 19 in the 1950s and sold Bibles door-to-door to pay for his tuition at the University of South Carolina. Several years later, the young entrepreneur established his own company in Nashville, where he connected with the city's most promising businessmen to build on its early success and employ area college students as a sales force just like he had been.
By the time British publisher Thomas Nelson and Sons approached Moore in 1969 about a job heading its US division, he was able to buy them outright. He dropped the "and Sons" and set the company on a trajectory for acquisitions and growth.
"People here in this company love God, too, and they have a mission to do a good return to the shareholders' equity, to honor God in their lives and to help humanity," the former CEO said in 1985. "When you believe in what you're doing, you get fired up."
Moore went on to become friends with Jerry Falwell Sr. and a major supporter of Liberty University's business program.
Moore's HarperCollins Christian obituary cited Romans 8:28 as his life verse, quoting the NKJV translation he made a reality: "And we know that all things work together for good to those who love God, to those who are the called according to his purpose."