Global Religious Freedom Takes Its Biggest Hit in Over a Decade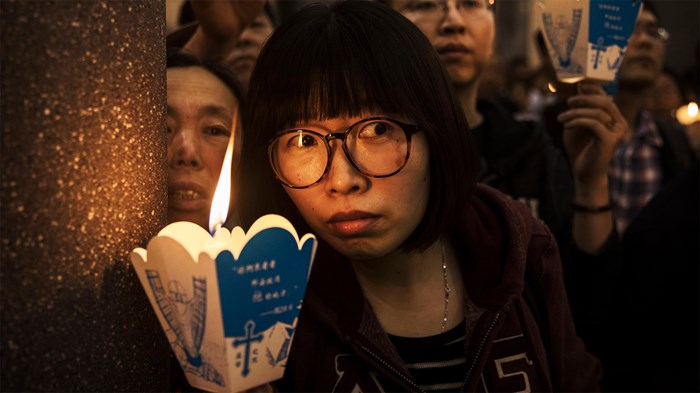 Image: Kevin Frayer / Getty Images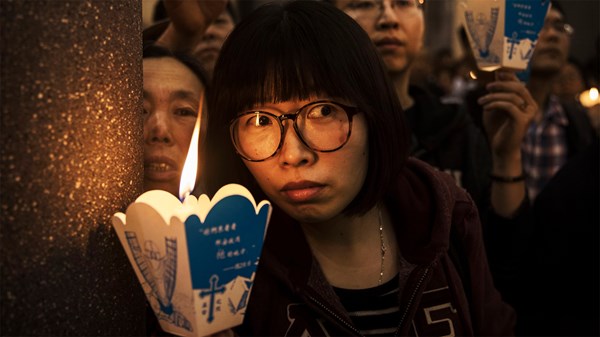 Global Religious Freedom Takes Its Biggest Hit in Over a Decade
Christians around the world face mounting political and social pressure over their beliefs, as government restrictions, nationalist parties, and harassment aimed at minority faiths continues on a global upswing.
Religious antagonism saw its biggest surge in over a decade in 2016, with the world's two biggest faith groups—Christians and Muslims—ranking as the top victims of political restrictions and social hostility, according to a new Pew Research Center report analyzing religious freedom in 198 countries and territories.
Christians reported incidents of harassment in more places worldwide than any other tradition: 144 countries in 2016, compared to 128 countries in 2015 and 108 in 2014. Incidents include discrimination, verbal assault, physical attacks, arrests, and the destruction of religious sites.
Islam, the world's second largest religion, is close behind Christianity: Muslims suffered harassment in 142 countries in 2016, up from 125 in 2015 and 100 in 2014.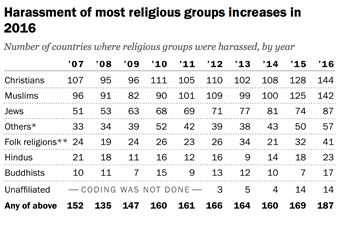 Image: Pew Research Center
The Pew report comes just weeks after the US State Department reviewed an annual assessment of religious freedom across the globe.
"The state of religious freedom is dire," said Sam Brownback, ambassador-at-large for international religious freedom, last month. "We have work to do. We must move religious freedom forward—we must defend it in every corner of the globe."
Religious restrictions ramping up
Pew's overall findings correlate with Brownback's disappointment: Religious repression is pervasive and rising.
"When combining measures of government restrictions and social hostilities, more than four-in-ten countries (42%) had high or very high levels of overall religious restrictions in 2016," the researchers stated.
Because some of the most restrictive countries are also the world's largest—think China and India—a majority of the global population (83%) lives in places with "high" or "very high" religious restrictions, mostly targeting religious minorities.
According to the analysis, of the 25 most populous countries in the world, Russia, India, Indonesia, Turkey, and Egypt are the biggest offenders for government restrictions and social hostilities against religion.
Russia, which implemented laws restricting Christian evangelism in 2016, and Turkey, where "anti-Christian conspiracy theories" have led to ongoing imprisonment of an American pastor, are other major offenders. (Russia has also ranked among the world's most egregious violators of religious freedom by the United States Commission on International Religious Freedom in both of their last two annual reports.)
Pew puts China as the worst country for government obstructions. The rigidly atheist Communist regime banned the online purchase of Bibles earlier this year, following efforts to raze churches and remove Christian symbols from home years prior. The Communist Party of China's "control over religion is to be exerted not only through law, but also by reconciling religious doctrine with the party's socialist values," wrote Brent Fulton in a 2016 analysis for CT.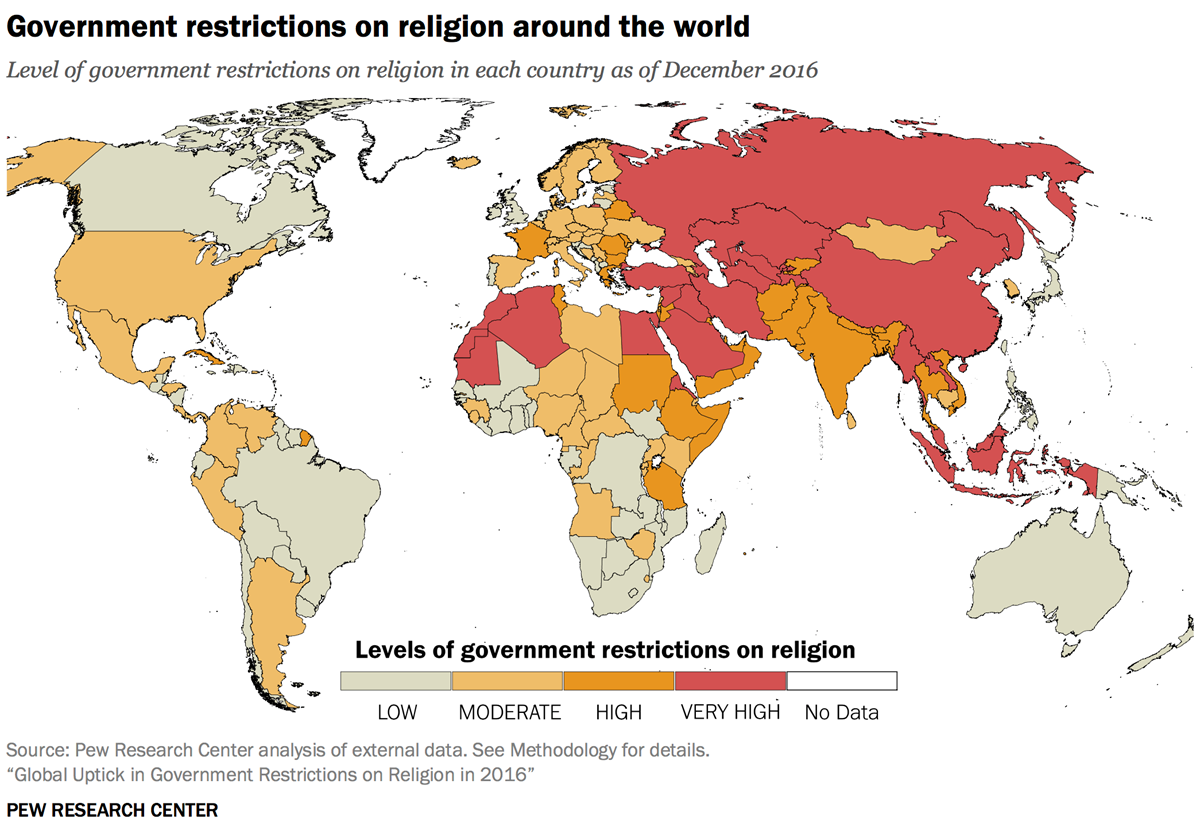 Overall, the Asia-Pacific region places more limits on Christianity than any other part of the world. The region contains about a third of countries where Christians were harassed by governments, and over a quarter of those where they were harassed by social groups, according to Pew. In 2016, nationalist parties and politicians in India, Nepal, Sri Lanka, and the Philippines targeted Christians, researchers found.
Intensifying Hindu nationalism in India has led to a rise in attacks against Christian and Muslim minorities in recent years. Working in step with the party, adherents seek to create a Hindu nation and define Indian identity in terms of religion and culture. The country now ranks at No. 11 on Open Doors International's World Watch List, up from No. 15 last year. Some Christian leaders in the country perceive its religious nationalism leaves "no room for Christians."
The Pew report also points to Uzbekistan—where authorities have raided the homes of Christians, imposed fines, and seized religious literature—and Nepal, where obstacles to Protestant churches accessing their land are rising and religious conversion was made illegal last year.
Rising challenges to religious freedom—including in America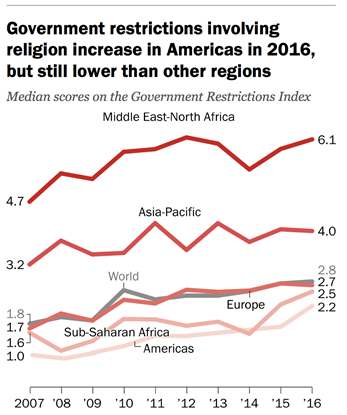 Image: Pew Research
Government restrictions and social hostility tend to be more severe in the Middle East and North Africa than in the Asia-Pacific region, but repression there is often aimed at varying branches of Islam and Judaism, Pew found.
In Europe and the Americas, too, hostility toward Muslims, both from governments and social groups, has jumped dramatically, though it's still not as bad as in other regions of the world.
Pew reported last year that half of Muslims in the US said they had experienced incidents of bias and prejudice, and that Americans were more than twice as likely to see Muslims (75%) as the target of religious discrimination than they were to see evangelicals as facing discrimination (29%).
"Europe and the Americas were the only regions to experience increases in median levels of social hostilities involving religion, with Europe seeing the sharpest increase," the authors of the new study wrote. "The Middle East-North Africa region continued to experience a decline in its median score, although it remained the region with the highest levels of social hostilities."
Overall, religious restrictions around the world keep trending upward. In 2016, 53 percent of countries saw growing government restrictions on religion. Barely a quarter of countries experienced decreased restrictions, and one in five experienced no change.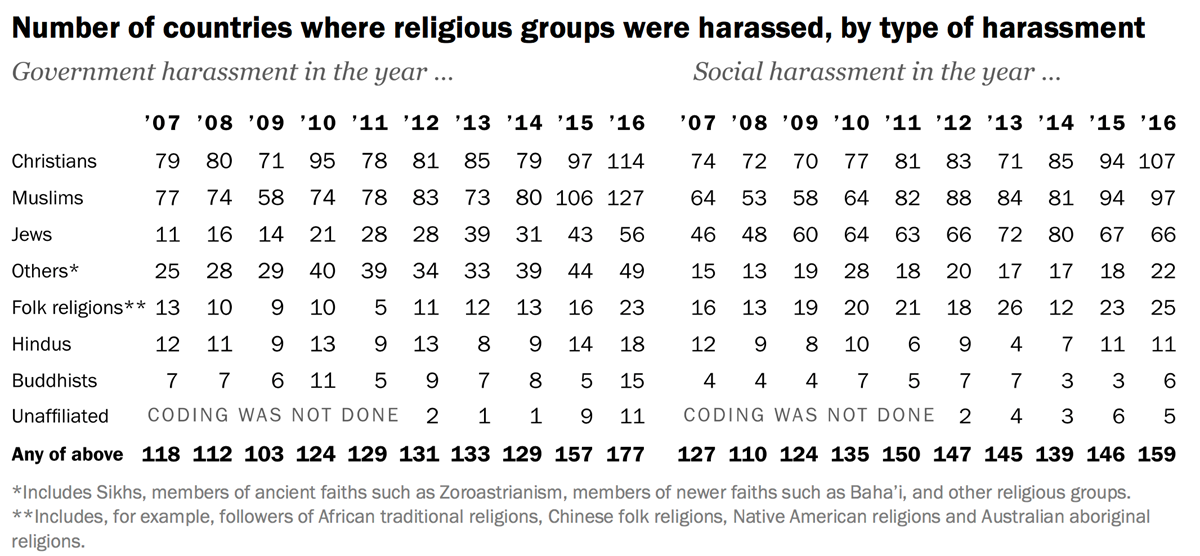 Image: Pew Research Center
CT has previously reported on why global religious freedom matters to US Christians and regularly covers Christian efforts to defend religious freedom around the world.

06/21/2018