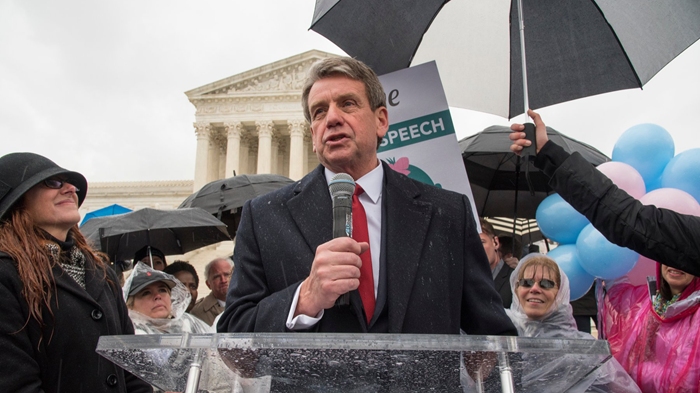 Image: ADF Media
Pro-life clinics offering pregnant women alternatives to abortion won a major free speech victory today.
The Supreme Court ruled 5-4 to block a California law requiring pregnancy centers post referrals to state-funded abortion providers and birth control resources, forcing them to promote services that violate their beliefs.
In National Institute of Family and Life Advocates (NIFLA) v. Becerra, the court ruled that the state's 2015 Reproductive Freedom, Accountability, Comprehensive Care, and Transparency (FACT) Act "targets speakers, not speech, and imposes an unduly burdensome disclosure requirement that will chill their protected speech."
Christian and pro-life groups celebrated the decision, which follows several similar local and state-level reversals across the country in recent years.
"We applaud the US Supreme Court for sending a clear statement today that pro-life Americans cannot be discriminated against and targeted by government," stated Penny Nance, CEO and president of Concerned Women for America.
"To be clear, this case was not about abortion. Malicious abortion politics definitely were the motivation behind it, but the case centered on the inappropriate mandate of the state compelling pro-life clinics to promote abortion in violation of their consciences. The case was about forced speech."
The president of the religious liberty law firm Becket, Mark Rienzi, summed up the ruling this way: "When it comes to important issues, the government doesn't get to tell people what to believe, and it also doesn't get to tell people what to say about it."
Most of the 3,000 pregnancy clinics (also called "crisis pregnancy centers") in the US are run by evangelicals who oppose abortion due to their religious convictions. These centers outnumber abortion clinics three to four times over.
The NIFLA network at the center of this case represents 137 of California's roughly 200 pregnancy centers. Under the FACT Act, all facilities offering pregnancy services, licensed or not, had been required to display and/or distribute a notice about abortion and contraception, which the state argued was appropriate form of regulated speech to ensure public access to medical services.
Instead, Justice Clarence Thomas wrote in the opinion of the court, "It imposes a government-scripted, speaker-based disclosure requirement that is wholly disconnected from the State's informational interest."
The required message read:
California has public programs that provide immediate free or low-cost access to comprehensive family planning services (including all FDA-approved methods of contraception), prenatal care, and abortion for eligible women. To determine whether you qualify, contact the county social services office at [insert the telephone number].
The biggest issue pro-choice critics raise over pregnancy centers is that their marketing is "deceptive." As CT previously reported, this negative perception undergirds the FACT Act; a legislative committee deemed it unfortunate that such centers "aim to discourage and prevent women from seeking abortion."
Thomas's ruling, with John Roberts, Anthony Kennedy, Samuel Alito, and Neil Gorsuch concurring, has reversed the Ninth Circuit court decision that upheld the state act and sends the case back for further proceedings.
"Today is a victory for more than just the dedicated volunteers who staff pregnancy care centers; it is also a victory for the thousands of women who go to the centers seeking life-affirming care and support," said Catherine Glenn Foster, president of Americans United for Life.