Billy Graham Is in Heaven. His Funeral Guests Got a Glimpse of It.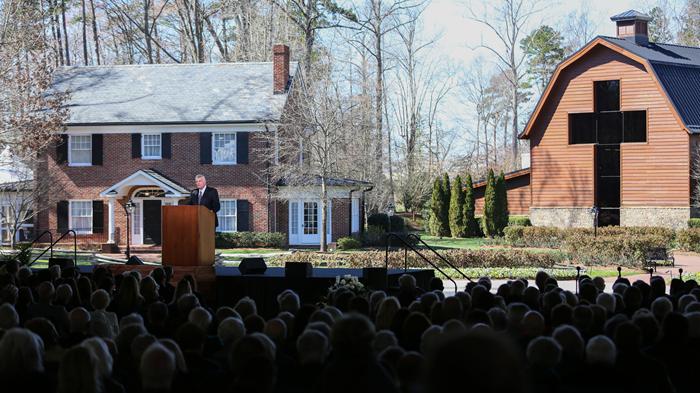 Image: Logan Cyrus / Getty Images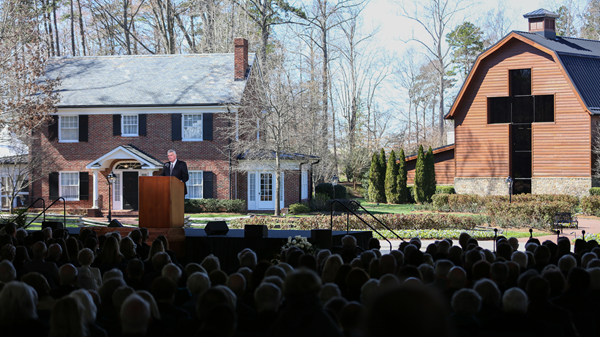 Billy Graham Is in Heaven. His Funeral Guests Got a Glimpse of ...
Billy Graham, the famed evangelist remembered for his straightforward Bible preaching and his spirit of Christian unity, once again brought Christians together—literally under one big tent.
After spending his life traveling the world to rally millions for Christ, Graham returned Friday to his hometown of Charlotte, North Carolina, where he was laid to rest following a celebratory and gospel-infused ceremony deemed his final crusade.
More than 2,000 guests—including 200 members of Graham's family, Christian leaders from 50 countries, and dignitaries such as President Donald Trump and Vice President Mike Pence—gathered at the funeral. Graham himself planned it out more than a decade ago, hoping that even his death could continue to point people to Christ.
Facing the Billy Graham Library's giant glass cross façade, the crowd packed into a 28,000-square-foot white tent meant to evoke the "canvas cathedral" where the evangelist held one of his first crusades in 1949 in Los Angeles.
The roof of the tent rippled in the midday wind as thousands listened to tributes and sung together. The bittersweet feeling that typically comes at a Christian funeral skewed toward a spirit of commemoration and inspiration: These guests were people whose lives, careers, and spiritual journeys were shaped by Graham's message of hope in Christ—one that Graham himself gets to experience in heaven and they celebrate here on earth.
It took less than 15 seconds into the ceremony before Jesus was mentioned; the Savior's name came up about a hundred times before the 90-minute event concluded.
"Everyone who spoke was clear in their message. They honored his wishes by making this less about Billy and more about Jesus," Southern Baptist pastor Jonathan Falwell, who watched Graham and his father, the late Jerry Falwell Sr., discuss ministry over the years, told CT.
The ceremony comes over a week after Graham's death at his home in Montreat, North Carolina, last Wednesday at age 99, and follows multiple days of public memorials in both Charlotte and Washington, where the evangelist became the fourth American in history to lay in honor in the US Capitol.
The funeral participants, both family members and ministry partners, reflect Graham's booming legacy.
Graham's children—Gigi, Anne, Ruth, and Ned, who have all gone on to lead ministries of their own—shared their favorite memories of their father. Anne Graham Lotz recalled reading the Bible to her father in his final years, just as he taught her growing up, and Ruth Graham teared up as she described his comforting welcome following her divorce.
Franklin Graham, president of the Billy Graham Evangelistic Association (BGEA) and Samaritan's Purse, gave the eulogy message from the podium his father used for crusades during the 1990s.
He quoted John 3:16, saying, "This message was probably in every message my father preached because it demonstrates the love of God. It gives hope to the world." The eldest Graham son also emphasized his father's belief in Christianity as the only way and truth, and in the existence of both heaven and hell.
"When I think of him, I think of John 3:16," Nick Hall, an evangelist mentored by Graham, told CT. "The times I spent with Reverend Graham, it was always about more time with Jesus. When I asked questions about my marriage, how to be a better leader, how to be a better friend, how to prepare a message, it was always about more time with Jesus."
True to the style of his father's crusades, and the festivals he continues to hold, Franklin Graham invited anyone listening to pray to accept Christ. "What better time" to invite the Savior into your heart, he said, than Billy Graham's funeral?
"Billy Graham never did anything without the gospel being preached," Rick Warren, senior pastor of Saddleback Church, told CT. "He will preach that message one more time, through his son."
By Friday evening, already 1.1 million people had watched the funeral on the BGEA website, in addition to the millions who saw news coverage from the 400-plus media in attendance.
"When I pulled up to the parking lot, I thought that it was so fitting that all the satellites and trucks were here. It would have been exactly what he wanted: that the Word would go out and people would hear the name of Jesus today," Bible teacher Beth Moore, one of dozens of influential Christian leaders gathered under the funeral tent, told CT.
The breadth of the crowd reflected the scope and span of Graham's 60-plus years in ministry and continued influence.
"As I walked around the room and saw Brian Houston, Max Lucado, Joel Osteen, Jack Graham, Robert Jeffress, I thought, 'Who else would have such a broad connection to people like these?,'" evangelist Greg Laurie, who was mentored by Graham and models his Harvest America events after his crusades, told CT. "It made me think of heaven. It was like a great family reunion."
Leaders from Catholic and Eastern Orthodox churches joined evangelicals of all stripes under the funeral tent.
"Up until Billy Graham, people mostly identified as Protestant, Catholic, Lutheran, Presbyterian; and what happened across America was millions of people said, 'I believe what Billy Graham believes,'" Leith Anderson, president of the National Association of Evangelicals, told CT. "He was an ecumenical movement of his own."
Several attendees described the tone like a reunion, an unprecedented gathering of Christian leaders who all owe some part of their story to Graham's influence.
"Even in the time before the service, there's a tremendous sense of celebration. It's partly the love the people in this room have for one another, their connections in various forms of ministry," Wheaton College president Philip Ryken told CT.
The funeral also drew political leaders: seats were reserved for public figures including former New York City Mayor Rudy Giuliani, former Alaska Gov. Sarah Palin, Cabinet member Ben Carson, former North Carolina Gov. Pat McCrory, and commentator Greta Van Susteren, according to the Charlotte Observer, in addition to the White House guests.
Franklin Graham is an adviser to President Trump, whom his father met once at his 95th birthday party in 2013. Trump, along with congressional leaders, also celebrated the elder Graham's legacy at a ceremony in DC on Wednesday.
"Billy himself realized the dangers of getting too close to political people. My hope is that there are enough leaders here across the board that President Trump won't suck the oxygen out of the room. This is Billy's day, not his day," John Huffman, the former board chairman for Christianity Today who once served as pastor to President Richard Nixon, told CT before the ceremony began.
"My prayer is that there not be a hijacking of this event by a political agenda. Franklin and Billy are very different people, but this is not the day for politics."
Billy Graham advised a dozen presidents, and both Bill Clinton and George W. Bush came to Charlotte earlier in the week to pay their respects. The late evangelist heard Clinton, along with George H. W. Bush and Jimmy Carter, praise his ministry career when they attended the dedication ceremony for the Billy Graham Library back in 2007. "I feel like I'm at my own funeral," Graham said at the time.
At his actual funeral today, speakers Billy Kim, a South Korean pastor who served as Graham's interpreter at a 1973 crusade in Seoul; Sami Dagher, a Lebanese church planter who spoke at several BGEA conferences; and Robert Cunville, an Indian-born evangelist, represented Graham's reach across the globe.
Musicians who accompanied Graham at countless crusades filled the memorial tent with his favorite hymns, including pianist John Innes, who served as BGEA staff musician since 1965, and choir director Tom Bledsoe, who has a 30-year history with the ministry. Other performers included Michael W. Smith and Linda McCrary-Fisher, both of whom visited Graham in his home to play for him in his final years.
The only things missing from the ceremony Graham envisioned for himself were the beloved ministry partners who preceded him in death. When he initially planned the ceremony with his best friend and longtime music director Cliff Barrows, Graham had indicated that Barrows would lead the music and George Beverley ("Bev") Shea would sing, according to family spokesman Mark DeMoss. However, Barrows died in 2016 at 93, and Shea in 2013 at 104.
Following the ceremony, Graham was buried beside his late wife Ruth in a prayer garden fully in bloom, alongside the rustic, barn-style library erected in the evangelist's honor.
As Ruth approached her death just weeks after the library opened more than a decade ago, the Grahams debated where they would be buried and ultimately decided on Charlotte over their longtime home outside Asheville, North Carolina.
Franklin Graham this week quoted his father as saying, "For the Christian, death can be faced realistically and with victory because he knows that 'neither death nor life … will be able to separate us from the love of God' (Rom. 8:38-39). But thanks be to God, who gives us the victory through our Lord Jesus Christ" (1 Cor. 15:57).
As he reminded the crowd at the funeral, "My father preached on heaven, told millions how to find heaven, wrote a book on heaven, and now he's in heaven. His journey is complete."

03/02/2018