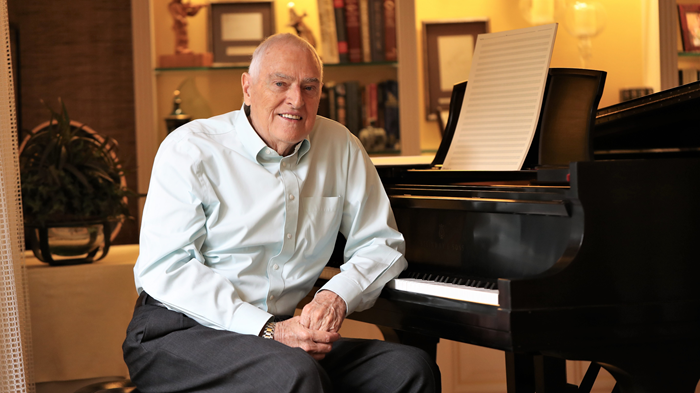 Image: Robert Rogers / Baylor University
Composer Kurt Kaiser, whose popular songs "Pass it On" and "Oh How He Loves You and Me" became staples at Christian camp sing-alongs and youth revivals, died Monday.
The 83-year-old musician wrote more than 300 copyrighted tunes, released more than a dozen albums of his own, and accompanied the late George Beverley Shea on piano during Billy Graham's crusades.
Kaiser passed away in Waco, Texas, the city where he'd lived for 59 years and helped launch Word Music and Dayspring Baptist Church.
"For more than five decades, Kurt Kaiser enriched the world with a Christian message of hope as a pioneer of modern church music," said Baylor University president Linda A. Livingstone in a tribute this week.
At Word Music, Kaiser had an ear for signing hit artists, moving up from director of artists to vice president. During his career, he went on to work with dozens of popular singers, ranging from Mahalia Jackson to Wayne Newton.
Kaiser and fellow Word pioneer Ralph Carmichael—known as the father of contemporary Christian music—brought a pop sensibility to worship music for the sake of evangelism.
Together, they "convinced evangelicals and fundamentalists that Christian pop music could draw youth to outreach events and revivals," including through their 1969 musical "Tell It Like It Is," which sold half a million copies worldwide, wrote researcher Wen Reagan, now a music and worship professor at Samford University.
Reagan quoted Kaiser as saying, "Kids have been inundated with the same kinds of [rock music], and nowadays it's everywhere. I just think it's a very sensible way to reach kids. I can't imagine any evangelist who's interested in reaching kids going with any of the twentieth-century hymn writers."
Kaiser's approach worked into the 1970s and beyond. Following his death this week, many Christian leaders remembered the musical's hit song "Pass It On" from youth group.
"He was a remarkable combination of musical excellence that could not be challenged, and heart and an ear for what the youth of American churches wanted to say," Terry York, professor of Christian ministry and church music at Baylor University's Truett Seminary and a fellow member of Dayspring Baptist, told the Waco Tribune-Herald.
"Kids would hear a song, have tears in their eyes and then whistle it for the rest of their lives."
Kaiser, a native of Chicago who took to the piano as a child, was in awe of how popular his music had become. During a Laity Lodge interview, he shared how struck he was to hear "Pass It On" being sung at the Cotton Bowl one year.
"The feeling that comes to me, being able to write something that's so universally accepted, is, Isn't that amazing what will happen when you allow God to use your gifts?" the late pianist remarked.
Kaiser was also involved with Baylor—where his four children attended—as the former director of the Baylor Religious Hour Choir as well as the Waco Symphony Orchestra.
A graduate of the American Conservatory of Music in Chicago and Northwestern University, Kaiser was honored with a lifetime achievement award from the American Society of Composers, Authors and Publishers in 1992 and was inducted into the Gospel Music Hall of Fame nearly a decade later.