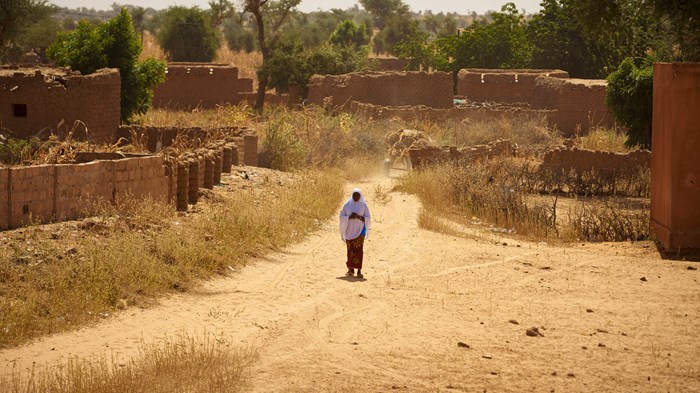 Image: Michele Cattani / Contributor / Getty
[Updated Dec. 3 with SIM and FEME statements]
The president of the West African nation of Burkina Faso has confirmed that 14 people were killed in an attack on an evangelical church in the country's east.
Going on Twitter, President Roch Marc Christian Kabore said Sunday that he condemned "the barbaric attack" in the town of Hantoukoura. He offered his "deepest condolences to the bereaved families and wish a speedy recovery to the wounded."
Henri Yé, president of the Federation of Evangelical Churches and Missions in Burkina Faso (FEME), told CT that details were still emerging from the attacked church, affiliated with SIM, an evangelical missions organization, and located near the nation's northeastern border with Niger. "Access to the village is difficult, [with] barely one road leading to [it].
"It is a small new church, with less than 30 members," he told CT. "Most of them are young men and girls between 10 and 14 years old. Only one of them is reported to be over 40 years old.
"There was no pastor there, just someone who was leading the worship," said Yé. "Women and girls were kept inside the church. Only men were driven outside the church and killed.
"Among the martyrs, some are very young: 10, 12, and 14."
Yé believes the attackers crossed the border on their motorcycles to Niger.
SIM Burkina Faso (SIMBF) later released a statement [Dec. 3] regarding the EE-SIM Church, its partner denomination:
The attack occurred at the end of the service as the members were leaving the church. There were approximately 12 attackers that created a circle around the members and separated the men from the women. The men were ordered to get down on the ground. Their heads were covered with a cloth and then they were killed one by one. 14 were killed but their identities have not been able to be confirmed.
"Prior to the attack, the churches in the region were not overly fearful," stated SIMBF director Matthew Walsh, "but due to increasing violence in the country and previous attacks targeting Christians, everyone was sensitive to the possibility."
"May God help us not to be overwhelmed by fear of men carrying weapons," stated the EE-SIM president, asking for prayer. "Let instead our fear be in God, the one who can destroy both soul and body in hell."
Islamic extremists have been active in Burkina Faso since 2015. Jihadists have attacked police stations and churches across the country's north but also recently have struck in the east.
In November, gunmen generally believed to be Islamic extremists attacked a convoy carrying employees of a mining company in that region, killing at least 37 people.
The US State Department warns against travel in most of Burkina Faso, stating that terrorists may attack places of worship and other targets.
Responding to an announcement from the region's governor, Burkinabes shared their condolences and called on God, the government, and their fellow citizens to fight for justice on behalf of the victims.
"God is good, but he is also a God of justice as much he is good and patient as he will render justice to the height of the crime," one commenter wrote. "Let us be vigilant and redoubled all efforts at all levels so as not to leave any fault to the enemy."
CT reported on a wave of similar church attacks in April and May.
This year's upswing in terrorist attacks in Burkina Faso is "totally new and traumatic for Christians. They are not prepared to deal with this," said Illia Djadi, Open Doors' senior analyst for sub-Saharan Africa.
Though a majority-Muslim country, Burkina Faso has long considered itself to offer a culture of tolerance to other faiths. To see young people become radicalized, turn violent, and attack Christians and other civilians is a dramatic about-face—and a "direct result" from instability spilling over from neighboring Mali, Djadi told CT.
"Hundreds of Christians have been forced to flee the affected regions, to run away," leaving their homes for safer regions in the center or south, he said. "They have lost everything.
"Pray that they would remain firm in their faith and that they would not give in to the temptation to retaliation," he said, "because that's part of [the terrorists'] strategy: to divide people with violence."
The terrorist activity threatens to make conditions in an already poor and fragile country even worse. Already, 2,000 schools have been forced to close in the north, and as the government funds further military efforts, federal resources are diverted away from education.
"What started as security issues can become a major humanitarian crisis," Djadi said.
The violence also has led Western countries, including the US, to issue warnings against travel to Burkina Faso, which can hamper missionary efforts and foreign aid. Some US missionaries and diplomats have already evacuated their children, and most have now confined their movement and activities to major cities like Ouagadougou, the capital.
In addition to urging prayer to strengthen and comfort the vulnerable Christians across the region, Djadi—himself a native of neighboring Niger—urged prayer for SIM and other missionary agencies supporting churches in dangerous areas. "Pray for this missionary agency. Don't abandon that church. Don't abandon that area. Don't give up."
Yé told CT that Catholics and evangelicals in Burkina Faso are "closer together than before, because we face the same attacks, the same threats, the same hardships."
"We can only continue to pray," he said. "We are telling our church members that prayer is our only weapon. Church members need to be cautious, but there is no self-defense.
"We would like Christians aroud the world to join us in prayer," said Yé. "There is no need for the church in Burkina Faso to be fearful; no need to be angry nor to complain.
"Just pray that the Lord, the Prince of Peace, rescues Burkina Faso from terrorism—from threat and fear," he said. "The Lord will give us victory over those who oppress us."
Yé asked churches to "use fasting and prayer as first weapons," in an official FEME statement [Dec. 3].
"Once again, our values of tolerance, forgiveness, and love were violated. The freedom of worship enshrined in our Basic Law has been trampled on," he stated. "However, it is in the love of God and our neighbour, in unity and solidarity, by ridding ourselves of all spirit of fear and revenge, that we will eventually overcome.
"As Christmas approaches, our hearts beat to welcome the Prince of Peace who comes to make peace first between man and his God, then between men themselves, so that all men can say together: 'Glory to God in the highest heaven, and on earth peace to those on whom his favor rests [NIV].'"
Additional reporting by Jeremy Weber.