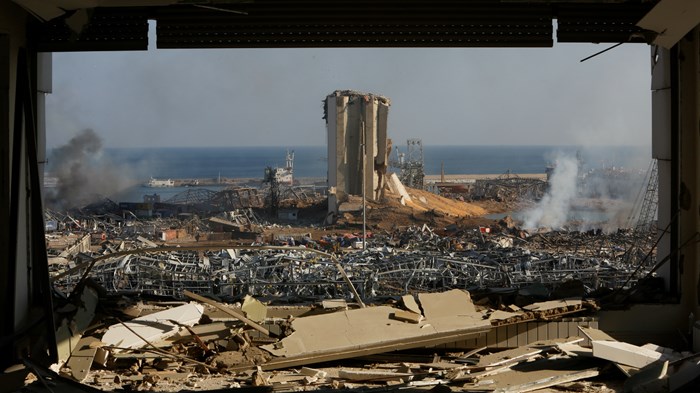 [Updated with details from more ministries and links to their emergency response efforts]
One hour later at work, and Sarah Chetti might have been one of thousands in a Beirut hospital.
Director of the INSAAF migrant worker ministry in Lebanon, Chetti's colleagues described shards of broken glass flying through the air, and the metal frames of doors ripped from their hinges.
It was a similar experience for the one staff member inside the Youth for Christ youth center not far from the blast. To avoid the "colossal damage," he ducked to the floor. Re-welding was necessary just to lock up the next day.
Peter Ford was fortunate. Working quietly in his faculty office at the Near East School of Theology near downtown Beirut, the first small reverberations stirred his curiosity to investigate the problem.
Moments later, the huge blast blew in his window and spewed the glass across his desk.
Miraculously, the dozen evangelical churches and ministries in Lebanon contacted by CT reported no deaths and few serious injuries caused by the massive explosion. The official national tally is now over 100 dead, with over 5,000 injured.
If they had, there would be nowhere for the bodies to go.
Habib Badr of the historic National Evangelical Church was forced to conduct the burial of two elderly members (whose deaths were unrelated to the explosion) as Beirut's hospitals and morgues were all full.
Two Filipinos, however, were killed in the blast. And amid the ongoing economic suffering of Lebanon, several migrant domestic workers have been abandoned by families no longer able to pay for their services.
"They are distraught, worried, and scared," said Chetti. "Problems are piling up one after the other. I'm reaching out to each one individually and praying for them, assuring them things will be okay."
But migrants are not the only foreigners who are suffering.
"Many of our youth are Syrian refugees, so this is churning up all that stuff for them," said Scot Keranen, director of operations for Youth for Christ. "We're just checking in on them, and that is really tough right now."
Lebanese trauma goes further back in history. But this explosion was incomparable.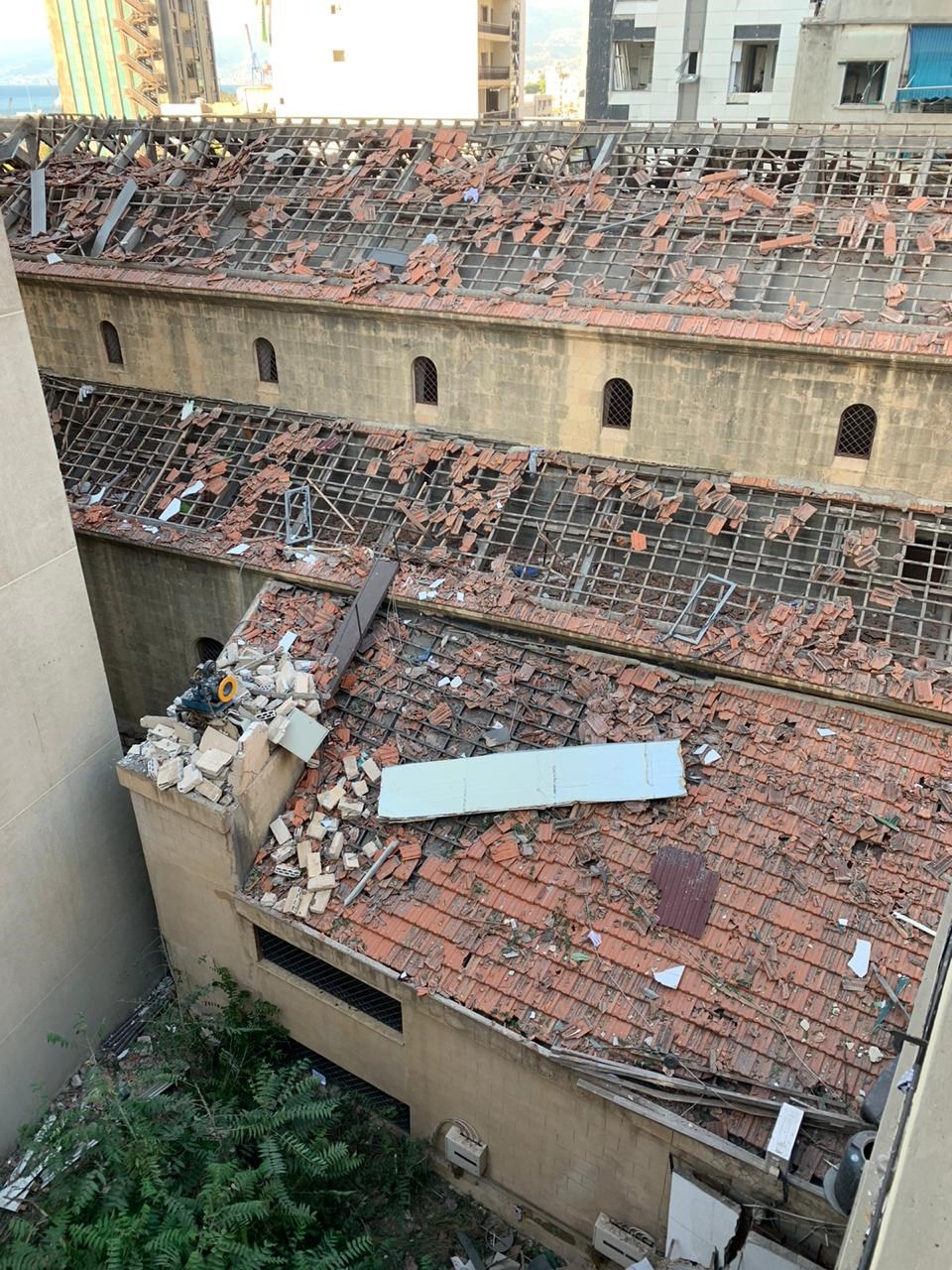 Image: P. Clarkson
"Throughout the whole civil war [1975–1990], we never experienced anything like this blast," said Tony Skaff, pastor of Badaro Baptist Church in Beirut.
"But this incident made us remember, triggering many very sad memories within our community."
His members suffered only minor injuries, though the church itself has much exterior damage. The tragedy is bringing everyone closer together to jump at the chance to help, he said.
Though charity efforts are underway, it is not their primary currency.
"More than anything else, the Lebanese people need hope," said Skaff. "They lost it in their politicians, in the health situation, in everything.
"The church has the calling to answer this need, by standing firm and continuing its ministry."
Many evangelical ministries are answering this challenge.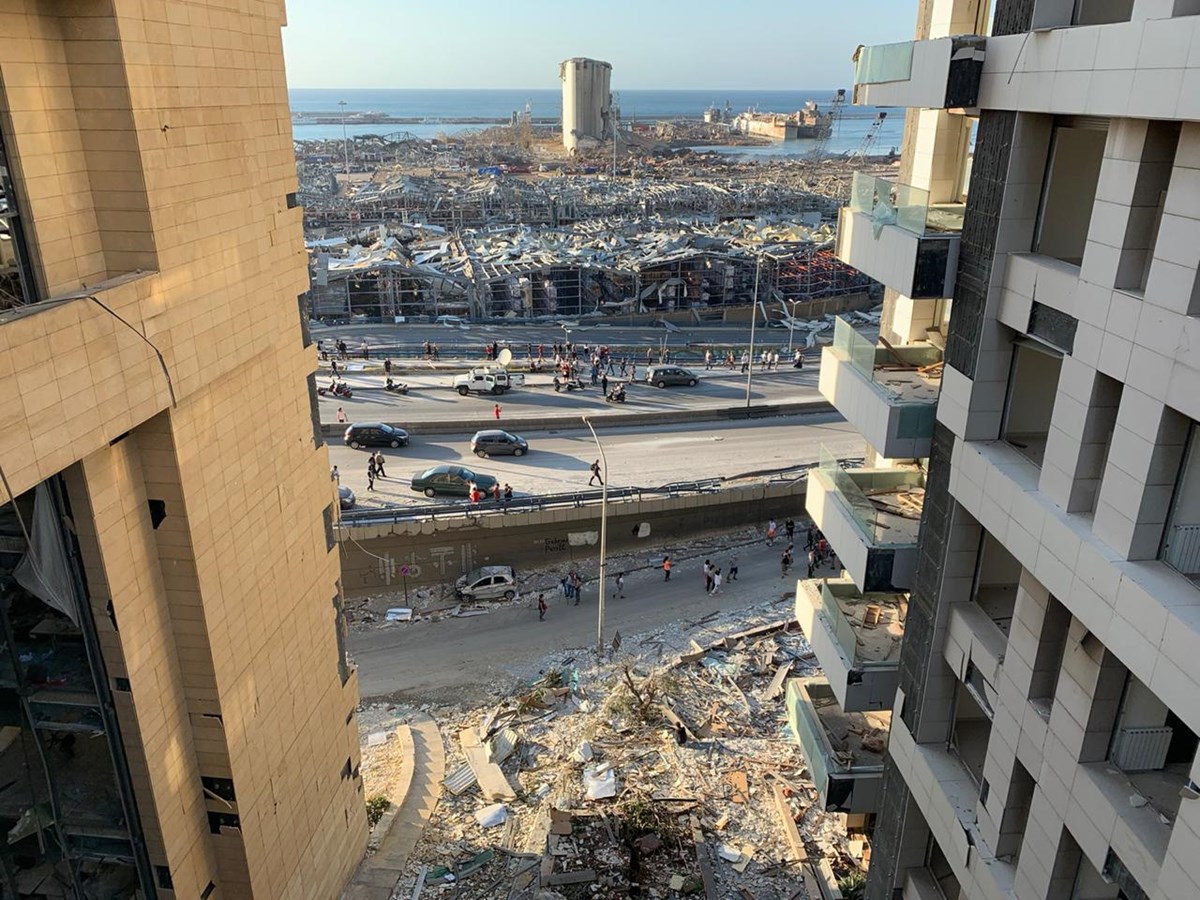 Image: P. Clarkson
Arab Baptist Theological Seminary (ABTS), located in the mountains overlooking Beirut, was spared the worst of the emanating shockwaves. Having lost its students due to COVID-19, it had already opened its dormitories to frontline health workers.
Now, in cooperation with the "Our Home, Your Home" ministry, the seminary is welcoming a fraction of the 300,000 Lebanese displaced from their homes.
"It's terrible, horrible. We won't have empty rooms when there are people on the streets," said Elie Haddad, president of ABTS.
"At least it is something, and I'm not sure what else we can do."
Resurrection Church of Beirut had many member families suffer damage to their homes. So it has organized a furniture drive, and sent volunteers downtown to clean up the mess—for their community, and others.
"Now is the time for the wounded church to rise again," said pastor Hikmat Kashouh, "and be a healing agent of God's restoring presence in a practical and caring way."
But it is not the only way. Andrew Salame, district superintendent for the Nazarene Church in Lebanon, picked up the phone.
"We are devastated and angry with the government because of what happened," he said. "I reached out to our [Protestant] member of parliament to get an answer from those in authority.
"And I asked him to resign his position, and stand with the people."
Located one mile from an epicenter that would comparably include all five boroughs of New York City, Salame's Beirut church suffered more damage than others.
He described a "night of horror," with his whole house shaking and his son momentarily missing. He eventually located him with the neighbors, unhurt.
Jean Moussa attends the Evangelical Free church, which escaped mostly unhurt. He thanked God for their protection.
But he also put questions to the government, which stated the 2,750 tons of explosive material had been stored at the port since 2013.
"Who permitted this boat to make a delivery of so much ammonium nitrate?" asked the coordinator for evangelical church outreach of the Lebanese Forces political party. "How could anyone comprehend it would be left in a civilian area for so long?"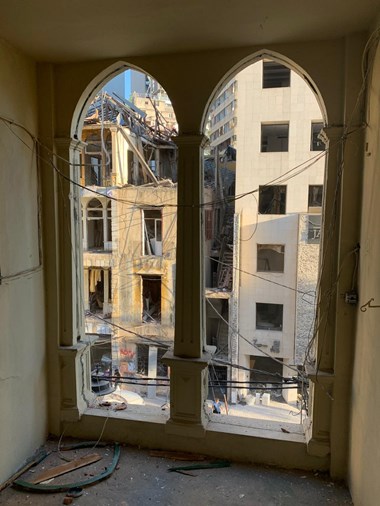 Image: P. Clarkson
Lebanon's Christians, however, are not united over the source of national danger. In a nation roughly divided into thirds between Christians, Sunni Muslims, and Shiite Muslims, their community is given the national presidency. (Egypt's Coptic Christians, by comparison, compose only about 10 percent of its population.)
Ralph Zarazir, the representative of the Free Patriotic Movement to the national dental board, puts questions to the West.
So far, all aid has been conditional upon economic, and—perhaps less formally stated—political reform.
"Despite the presence of certain groups disliked by the West, we are a country with the biggest percentage of Christians in the Middle East, and a large evangelical community," he said.
"We have something special. But when we get squeezed, the Christians are the first to leave."
This is not a good strategy, Zarazir added, though he is not sure the West cares at all. He hopes the explosion will result in Western countries helping Lebanon get back on its feet.
Whether or not other governments do, Lebanese evangelicals can only trust that God will—at least in their individual lives.
"We pray for those who lost loved ones," said Raymond Abou Mekhael, pastor of Christ Bible Baptist Church in Keserwan, undamaged and far from the site of the explosion.
"We ask the Lord to use these circumstances to bring people back to the word of God, to seek his will in their lives."
As for the nation, like for Lebanese in general, it is a moment of collective despair.
"We have hit rock bottom as a country. Other things could go wrong, but the worst-case scenario cannot be any worse than this one," said Charlie Costa, pastor of Ras Beirut Baptist Church.
"Is there any glimmer of hope? Only that God is sovereign."
UPDATE (August 6):
A few evangelical ministries responded after publication, sometimes with apologies that they were overwhelmed yesterday.
Lighthouse Arab World is temporarily shifting its media ministry to facilitate help to those on the street. Near East Organization was able to feed 250 people yesterday, aiming to continue this service for at least three weeks.
And some had to attend to personal difficulties.
Joseph Nejm, pastor of the Free Evangelical Church of Beirut, needed to take care of his mother. She suffered a brain hemorrhage and broken hands in the blast.
Camille Melki's mother, meanwhile, played the piano as volunteers cleaned up the debris in her family home. The video went viral within Lebanon.
"It is a symbol of our resilience," said Melki, "and our hope in Christ."
Melki heads Heart for Lebanon, which began serving Lebanese displaced by the Israeli invasion in 2006, and now ministers to Syrian refugees.
Their 60 volunteers have split into 5 teams to secure homes and clear broken glass.
"It's a mess. It's a total mess," he said. "But they have to be made safe to be lived in again."
One church must be rebuilt to be made safe at all.
City Bible Church was the closest congregation to the blast, only a quarter mile away. In a video, pastor Marwan Abou-Zelouf showed the massive structural damage to his church which had been built by the community's own hands.
"The people here feel forgotten," he told The Gospel Coalition. "They feel cursed because Lebanon in recent months has been ravaged. It seems unimaginable that something like this could happen right now.
"[But] Beirut's greatest hope isn't a stable economy or honest politicians, but blood-bought believers who carry with them the hope and power of the gospel. So, we're praying and trusting that the church of Jesus Christ in Lebanon will be a shining light amid all the darkness and destruction."
Damage was also suffered by the Beirut Baptist School and the Gateway Bookshop.
"We as Lebanese people find ourselves in a prison with walls made of economic crisis, COVID outcomes, and explosion disaster," Lina Raad, a vice president for the Baptist World Alliance, toldWord&Way.
"The only way that can help us is prayers from the Earth to get rains of mercy from above."
The walls of this prison may not hold back Christians from emigration.
Julie Tegho told CBN she thought she would die as the building shook and glass broke all around her.
"This is what death looks like," the Philos Project researcher recalled thinking. "For many Christians who were thinking about leaving, yesterday's explosion may be the reason they were waiting for."
But for now, with the airport operating at limited capacity, few will be able to migrate. In the meantime, Horizons International is providing free food and medical aid as well as plastic sheeting to cover broken windows.
"We pray that before the rainy and cold winter comes people can find better solutions, but plastic will have to do for now," said executive director Pierre Housney.
"Our hearts are very heavy with a considerable amount of survivor's guilt. But we are pushing past it to do our best to help."
Andrew Salame clarified that his message to the Protestant member of parliament, Edgar Traboulsi, was sent in electronic discussion with other evangelical church leaders. While respecting the help he offers in defense of evangelical pastors, Salame did not wish Traboulsi's good name tainted by continuing in office with the political class.
But Traboulsi, also the pastor of the Lebanon Baptist Church in the mountainous Metn region overlooking Beirut, views his political role as part of his spiritual responsibility.
"I am not the type of pastor who will abandon my role and be unfaithful to my calling, during a time of calamity and need," he said.
"My constituency is my flock, as much as my congregation."
And in times of calamity, even the wounded must keep serving. Abbas Sibai, multi-area projects coordinator with World Vision Lebanon, crawled under the fallen wall that had smashed against his back in the blast. It was all he could do to shield from the falling debris.
Eventually he staggered into the emergency room, surprised at each step how terrible the situation was becoming.
"I suffered so much less than others, it makes me feel guilty," said Sibai, who was hospitalized for his injuries. "Especially in that I can't help others, and have no idea what to do next."
He is trying. World Vision is putting together a fundraising campaign for food, medicine, and housing supplies, as its Beirut warehouse was severely damaged in the explosion. Sibai hasn't slept well for the past two nights, but is pitching in as he can.
Just like his mother. A chief X-ray technician, she is back working in the hospital despite being injured herself.
"I always told my colleagues: We have chosen this track in life, so we are doomed to be hopeful," Sibai told CT.
"That doesn't sound right. But in the ministry sector we have to support others, no matter how much we are suffering ourselves."
In an earlier CT interview, Joseph Kassab, president of the Supreme Council of the Evangelical Community in Syria and Lebanon, described the work of the Compassion Protestant Society.