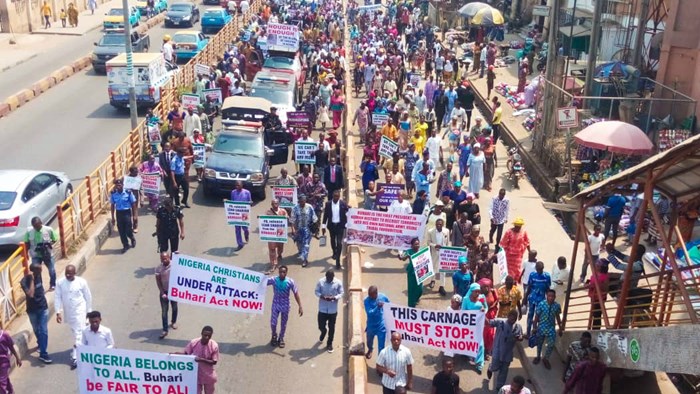 Image: Courtesy of CAN
Having finished his Sunday sermon from Psalm 18 on God as a stronghold who delivers his people from their enemies, Enoch Adeboye then led them to a cemetery.
It was an ironic yet appropriate choice.
Wearing a bright green tuxedo, the General Overseer of the Redeemed Christian Church of God (RCCG) in Lagos, Nigeria, marched three miles yesterday holding a placard that declared: "All Souls are Precious to God."
Adeboye and his congregation, one of the largest in the world, answered the call issued by the Christian Association of Nigeria (CAN) for a three-day fast this past weekend, concluding in a prayer walk. Based on reports from its state chapters and local media, CAN estimates 5 million people marched in 28 of Nigeria's 36 states on Sunday.
"Though we have protested before, this event took a new dimension," CAN president Samson Ayokunle told CT.
"With one voice, we said 'no' to killings, 'no' to security negligence, and 'no' ...
1