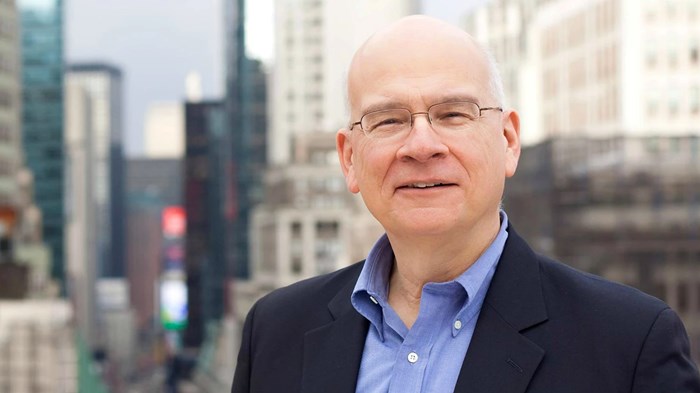 Image: Tim Keller
Tim Keller meminta pengikutnya untuk berdoa ketika ia memulai kemoterapi untuk kanker pankreas.
Penulis dan pendeta Kristen populer mengumumkan berita tentang diagnosanya dalam pembaruan berita di Instagram dan Twitter Minggu pagi [7 Juni].
"Kurang dari tiga minggu yang lalu saya belum tahu saya menderita kanker," tulis Keller. "Hari ini saya menuju ke National Cancer Institute di [National Institutes of Health] untuk satu kali pemeriksaan lagi sebelum memulai kemoterapi untuk kanker pankreas minggu depan di New York City."
Keller, 69, mengatakan dia merasa Tuhan hadir dan merasa kuat secara fisik ketika dia menjalani tes awal, biopsi, dan operasi. Dia melihatnya sebagai sebuah intervensi Ilahi ketika dokter menemukan kanker tersebut.
"Saya memiliki dokter, seorang manusia yang hebat, tetapi yang paling penting saya memiliki Tabib yang Agung dan DIA sendiri yang merawat saya," tulisnya.
Keller mengundurkan diri sebagai pendeta senior di Redeemer Presbyterian Church di Manhattan pada 2017 setelah 28 tahun pelayanan di sana. Dia terus menulis, berkhotbah, dan bekerja sama dengan Tim Gereja Redeemer untuk gerakan penanaman gereja dari Kota ke Kota. Keller meminta doa agar ia dapat melanjutkan pekerjaannya meskipun ada efek samping dari perawatan yang dia terima.
Dalam beberapa minggu terakhir, Keller telah membagikan seri Gospel in Life tentang Injil dan ras dan mempromosikan Uncommon Ground , buku tentang kesaksian Kristen di tengah-tengah perbedaan yang ia sunting bersama dengan John Inazu.
Keller didiagnosis menderita kanker tiroid pada tahun 2002, yang ditulisnya dalam bukunya Walking with God Through Pain and Penderitaan . Dia sekarang memiliki wajah yang akrab di NIH: sutradara Francis Collins. Keller berbicara dengan Collins, seorang rekan Kristen dan ahli genetika pemenang penghargaan, bulan lalu selama percakapan online tentang iman di tengah pandemi coronavirus. Collins telah memimpin NIH dalam penelitian bersejarah seputar imunoterapi kanker, termasuk pengembangan untuk pengobatan pankreas, prostat, dan kanker payudara.
Kanker pankreas dapat menjadi bentuk kanker yang sulit didiagnosis dan agresif, terhitung sekitar 3 persen dari diagnosis kanker di AS dan 7 persen dari semua kematian akibat kanker.
Dalam dekade terakhir, sesama pemimpin injili termasuk teolog Dallas Willard dan mantan presiden InterVarsity Christian Fellowship Steve Hayner meninggal setelah berjuang melawan kanker pankreas.
Keller mengakhiri pengumumannya dengan merujuk pada Ibrani 12: 1–2: "Berlomba dalam pertandingan disediakan bagi saya dengan sukacita, karena Yesus telah menjalankan perlombaan yang jauh lebih sulit, dengan sukacita, untuk saya."