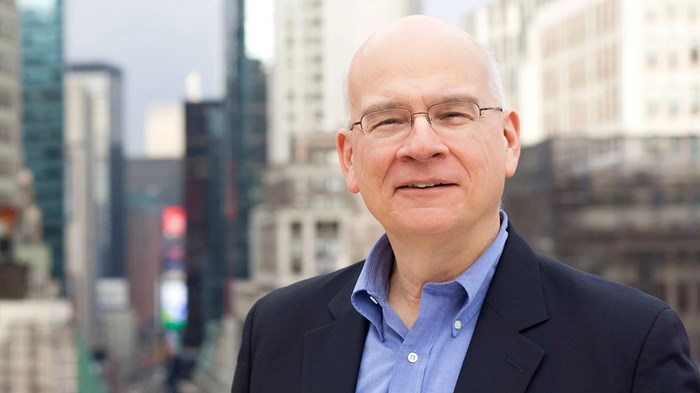 Image: Tim Keller
Tim Keller a demandé à ceux qui suivent et soutiennent son ministère de prier pour lui alors qu'il vient de commencer un traitement de chimiothérapie pour lutter contre son cancer du pancréas.
L'auteur et pasteur chrétien populaire a annoncé la nouvelle de son diagnostic dans le cadre d'une mise à jour sur Instagram et Twitter, le dimanche matin [7 juin].
«Il y a moins de trois semaines, je ne savais pas que j'avais un cancer», a écrit Keller. «Aujourd'hui, je me dirige vers le National Cancer Institute qui fait partie du [National Institutes of Health] pour des tests supplémentaires avant de commencer une chimiothérapie pour lutter contre un cancer du pancréas, la semaine prochaine à New York.»
Keller, 69 ans, a déclaré qu'il avait ressenti la présence de Dieu et qu'il se sentait physiquement bien alors qu'il subissait les tests initiaux, les biopsies et la chirurgie. Il considère que c'est providentiellement que les médecins ont repéré son cancer comme ils l'ont fait.
«J'ai d'excellents médecins humains, mais le plus important est que le Grand Médecin s'occupe de moi», écrit-il.
Keller a démissionné de son poste de pasteur principal à la Redeemer Presbyterian Church à Manhattan en 2017 après 28 ans de ministère là-bas. Il a continué à écrire, à prêcher et à travailler en relation avec l'initiative d'implantation d'Églises City To City de Redeemer. Keller a demandé que l'on prie pour lui afin qu'il puisse continuer son travail, malgré les effets secondaires du traitement.
Ces dernières semaines, Keller a partagé sa série Gospel in Life sur l'Évangile et la question de la race et a promu Uncommon Ground, le livre sur le témoignage chrétien dans un contexte de divisions, qu'il a co-édité avec John Inazu.
Keller a été diagnostiqué d'un cancer de la thyroïde en 2002, dont il a parlé dans son livre Walking with God Through Pain and Suffering. Il est désormais une figure connu du NIH dont le réalisateur est Francis Collins. Le mois dernier, Keller s'est entretenu avec Collins, un collègue chrétien et un généticien primé, lors d'une conversation en ligne sur la foi au milieu de la pandémie du coronavirus. Collins a orienté le NIH vers une recherche historique centrée sur l'immunothérapie contre le cancer, incluant les développements pour le traitement du cancer du pancréas, de la prostate et du sein.
Le cancer du pancréas peut être une forme de cancer particulièrement difficile à diagnostiquer et agressive, représentant environ 3% des diagnostics de cancer aux États-Unis et 7% de tous les décès par cancer.
Au cours de la dernière décennie, d'autres dirigeants évangéliques, dont le théologien Dallas Willard et l'ancien président de l'InterVarsity Christian Fellowship, Steve Hayner, sont décédés après avoir combattu un cancer du pancréas.
Keller a conclu son annonce en faisant référence à Hébreux 12:1–2: «Courir avec joie la course qui m'est proposée, parce que Jésus a couru, avec joie, pour moi, une course infiniment plus difficile.»
Traduit par Jean-Paul Rempp