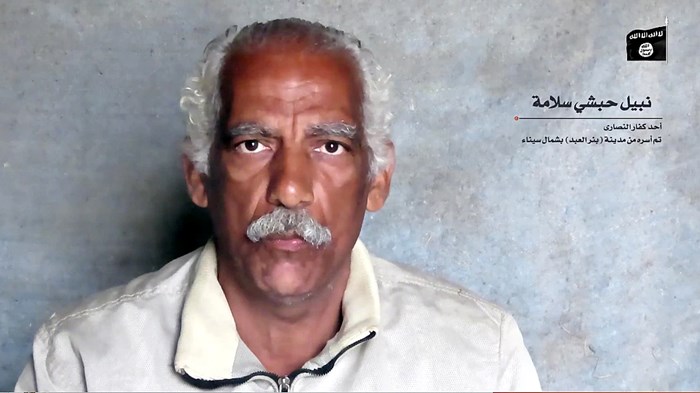 Image: Gambar: Wilayat Sinai/Tangkapan layar Telegram oleh Christianity Today
ISIS telah mengambil korban seorang Kristen lagi.
Dan Gereja Ortodoks Koptik Mesir telah memperoleh seorang martir lagi.
"Kami memberi tahu anak-anak kami bahwa kakek mereka sekarang telah menjadi orang suci di tempat tertinggi di surga," kata Peter Salama tentang ayahnya, Nabil Habashi Salama, yang berusia 62 tahun, yang dieksekusi oleh kelompok ISIS di Sinai utara.
"Kami sangat bersukacita untuknya."
Keluarga Salama dikenal sebagai salah satu keluarga Koptik tertua di Bir al-Abd di pesisir pantai Mediterania, Semenanjung Sinai. Nabil adalah seorang pedagang perhiasan, yang juga memiliki toko ponsel dan pakaian di daerah tersebut.
Peter mengatakan ISIS menargetkan ayahnya karena perannya dalam membangun Gereja St. Mary di kota itu.
Dalam video propaganda 13 menit yang baru dirilis berjudul The Makers of Slaughter (atau Epic Battles ), seorang militan mengutip Alquran untuk menuntut penghinaan terhadap umat Kristen dan kesediaan mereka untuk membayar jizya—pajak untuk menjamin perlindungan terhadap mereka.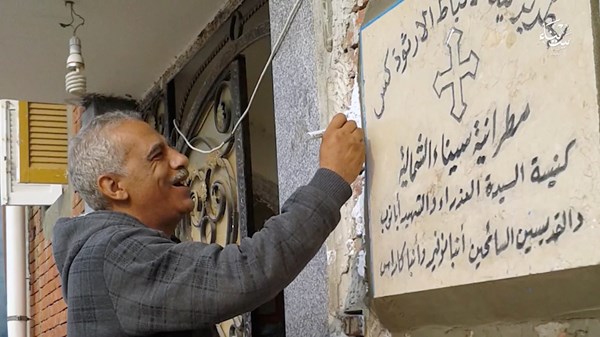 Image: Gambar: Wilayat Sinai/Tangkapan layar Telegram oleh Christianity Today
Nabil diculik lima bulan lalu di depan rumahnya. Saksi mata mengatakan selama perlawanannya, dia dipukuli dengan parah sebelum dilempar ke dalam mobil curian. Bisa jadi orang-orang ini adalah penculik terpisah, karena dalam video yang menampilkan eksekusi Nabil, ia mengatakan bahwa ia ditawan oleh ISIS selama 3 bulan 11 hari.
Pada 18 April, dia ditembak di bagian belakang kepala sambil berlutut.
"Sebagaimana Anda membunuh, Anda akan dibunuh," ditegaskan dalam video, ditujukan untuk "semua pejuang salib di dunia."
Pernyataan itu ditujukan kepada semua orang Kristen Mesir, memperingatkan mereka untuk tidak menaruh kepercayaan pada tentara. Dan kaum Muslim yang mendukung negara Mesir disebut "murtad." Dua warga Sinai lainnya—anggota suku yang bekerja sama dengan militer—juga dieksekusi dalam video tersebut.
Peter Salama mengatakan bahwa dalam upaya menggoyahkan Nabil dari keyakinannya, giginya dirontokkan oleh penculiknya.
Putri Nabil, Marina, ikut memberikan penghormatan.
"Aku akan merindukanmu, ayahku," tulisnya di Facebook. "Engkau membuat kami bangga selama hidupmu dengan kebajikanmu, dan dalam kemartiranmu dengan iman yang kuat."
Gereja Ortodoks Koptik mengeluarkan pernyataan resmi, menyebut Nabil sebagai "putra dan pelayan yang setia" yang "memegang teguh agamanya sampai mati."
Gereja tersebut kemudian menegaskan kembali dukungannya bagi tentara dan negara Mesir. Tindakan seperti itu, katanya, "hanya akan meningkatkan tekad kami ... untuk menjaga persatuan nasional kita yang berharga."
Awal bulan ini Mesir mengumumkan tambahan 82 gereja yang telah disahkan, meningkatkan total jumlah gereja menjadi 1.882 sejak undang-undang korektif disahkan pada tahun 2016.
Tiga militan telah tewas, dengan tiga lainnya sedang dikejar, kata Kementerian Dalam Negeri hari ini, yang menyebut Nabil sebagai seorang "warga negara."
Namun video dan eksekusi tersebut menimbulkan ketakutan akan aktivitas terbaru dari ISIS setelah periode tenang yang relatif lama. Pada 2017, afiliasi ISIS menembaki Muslim yang shalat di masjid Bir al-Abd, menewaskan lebih dari 300 orang dalam serangan teroris yang paling mematikan dalam sejarah Mesir modern.
Pada tahun yang sama, mereka juga menargetkan orang-orang Kristen yang tinggal di dekat Arish, yang menyebabkan lebih dari 100 keluarga meninggalkan rumah mereka.
Sejak itu, tentara Mesir melancarkan kampanye besar-besaran untuk mengalahkan cabang lokal ISIS, sehingga mereka (ISIS) tidak pernah berhasil merebut dan menguasai wilayah tersebut. Pada 2018, keamanan negara mengumumkan bahwa lebih dari 900 militan tewas.
Pada tahun 2019, keluarga Kristen perlahan-lahan mulai kembali, meskipun tidak ada yang tahu jumlah pastinya saat berita ini dimuat. Pada tahun 2012, Uskup Ortodoks Koptik Cosman menyatakan ada 740 keluarga Kristen di keuskupan Sinai Utara. Namun sebelum eksodus terjadi, para pejabat gereja menyatakan menyatakan jumlahnya turun menjadi tinggal 160 keluarga.
Saat ini, para wanita memakai penutup kepala agar tidak terlihat sebagai orang Kristen. Setelah memberi tahu pihak berwenang tentang permintaan tebusan sebesar $ 318.000 (Associated Pressmelaporkan $ 127.000), Peter berkata, pihak keamanan negara menyuruhnya dan keluarganya untuk pindah demi keselamatan.
"Kami hidup dalam penderitaan setelah menutup mata pencaharian kami," ia berkata kepada penerbitan Koptik Watani .
Dua orang Koptik lainnya, yang diculik di Sinai tahun lalu, baru-baru ini dibebaskan setelah membayar uang tebusan.
"Presiden Sisi secara pribadi telah berkomitmen untuk menggalakkan hidup bersama yang penuh damai di antara umat Kristen dan Muslim di Mesir, dan pemerintahnya telah mengambil beberapa langkah yang sangat membesarkan hati," kata Mervyn Thomas, presiden Christian Solidarity Worldwide, ketika menyampaikan belasungkawa kepada keluarga Salama.
"[Tetapi] penculikan-penculikan ini … menegaskan bahwa masih banyak hal yang harus dilakukan untuk melenyapkan sektarianisme, melindungi komunitas minoritas, mewujudkan kesatuan masyarakat, dan menegakkan hak asasi manusia yang fundamental bagi semua orang Mesir."
Sementara itu, presiden Gereja Protestan Mesir mendukung pernyataan Gereja Ortodoks Koptik.
"Bersama dengan negara Mesir, kami akan menghadapi semua tantangan dan kejahatan dengan penuh semangat," kata Andrea Zaki kepada CT, "dan kami akan selalu dan selamanya menegaskan kesatuan kami yang otentik sebagai warga Mesir."
Peter Salama, di lain pihak, berfokus pada keabadian.
"Jangan mengira saya membangun gereja ini untuk di dunia ini," Peter mengenang perkataan ayahnya, Nabil. "Saya sedang membangun untuk diri saya sebuah rumah di surga."
Dan kedamaian inilah yang memungkinkan Nabil memberi tahu putranya sebelum eksekusinya, ketika di bawah tekanan para penculiknya:
"Semuanya baik-baik saja, terima kasih Tuhan."
Diterjemahkan oleh: George Hadi Santoso