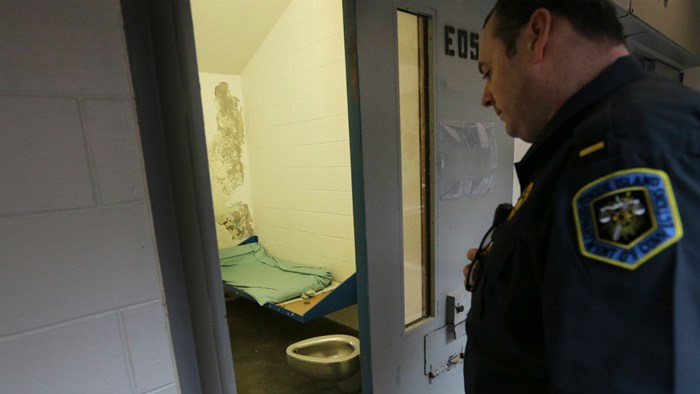 Image: AP Photo/Steven Senne
Natasha White wants to remind Christians of Hebrews 13:3: "Remember those in prison as if you were together with them in prison."
She remembers those who are in prison, personally, because she actually was a prisoner. She was released in 2016 after serving 15 years for drug-related crimes.
Now, she's telling groups of Christians in Virginia about her experience, in hopes of mobilizing them against the state's common practice of putting people in solitary confinement.
She started her sentence in solitary confinement, she told church leaders during a virtual event in October, hosted by Equal Justice USA (EJUSA). Her husband was allegedly affiliated with a gang, which allowed the warden to classify her a security risk and deny her human contact. The warden said she would stay there her entire sentence.
"I stayed in that exact cell for four years until I was finally transferred to another prison," White said. "It's spirit breaking."
Today, she is the coordinator for the Virginia Coalition on Solitary Confinement, a coalition of faith-based organizations, prison reform advocates, and civil rights groups working to end solitary confinement in the commonwealth. The coalition is part of InterFaith Action for Human Rights (IAHR), which advocates for rehabilitation.
The three groups said 30 churches were represented at the October event. Organizers hope each will work to raise awareness about the issue of prison isolation. Many states, including Virginia, say they do not practice solitary confinement, but activists object they have just given it a different name. Studies show that 80,000 inmates in America are held in some form of isolation on any given day.
EJUSA's evangelical arm hopes to mobilize Christians to get involved, contact their state legislators, and urge them to support reform.
"Solitary confinement is itself an act of violence," said Sam Heath, who leads the group's Evangelical Network. "Christians are in the business of seeing and helping people be healed, not perpetuating violence."
The opponents of solitary confinement face an uphill battle, though. Most Americans support solitary confinement. Most, in fact, seem to like the idea of prison being punitive. Sixty percent support the death penalty for people convicted of murder, and more than half of likely voters told Data for Progress that they think prisons should continue the practice of putting people in small, isolated cells for 22 to 24 hours per day.
However, a lot of people also said they didn't know much about the practice, and large majorities said they would approve of sharp limits. Seventy-four percent want all people in prisons to be allowed weekly visits from friends and family. Sixty-nine percent said people with mental illness shouldn't be put in solitary confinement. And 68 percent said no one should be kept in solitary long term.
The Christian activists see an opening in the polling data. If they can raise awareness about the reality of solitary confinement, they believe they can move people to oppose the practice. Personal stories and in-depth information about the reality of solitary can change minds.
Many people don't know, for example, that solitary confinement often includes sensory deprivation and few to no educational, vocational, or rehabilitative programs. Many think it's used only when incarcerated people are violent. But studies show one of the most common reasons people are put in solitary is for low-level disciplinary infractions. One of the top reasons listed in North Carolina is smoking. In Nebraska, many people are put in solitary for swearing. Oregon prison officials listed "disobedience" as the number one reason, while a survey of Utah prisons found roughly 20 people were isolated from human contact after suicide attempts one year.
The isolation cells themselves are often no bigger than a parking space, built with gray concrete and without windows or clocks. And the practice of solitary confinement itself is associated with numerous negative outcomes, including hallucinations, post-traumatic stress disorder, and even increased mortality after release. Isolation can range from multiple days to yearlong periods, even decades.
"Anybody who sits through one of [our] presentations normally gets involved," said White, who still lives with the long-term impacts of her years of isolation. "Whatever you did to get in prison, your underlying issues are never being addressed in solitary confinement. We're just adding and piling trauma on top of trauma on top of trauma, and then they release the person into the community."
The death penalty was abolished in Virginia in 2021, allowing opponents to shift their focus to other practices they see as "unnecessarily punitive." They pushed legislation that would have banned long-term isolation, limiting solitary confinement to 15 days every two months. The legislature decided, instead, to study what the prison system calls "restorative housing." A report is due back to the Virginia General Assembly this week.
One reason for Christians, specifically, to take up this cause, according to evangelical historian Aaron Griffith, is that solitary confinement is "a legacy of the Christian belief." Prisons themselves largely emerged from Christian reform movements around the turn of the 19th century, as believers promoted programs of "penance and reformation" to replace brutal corporal punishment. Solitary confinement was one disciplinary tool the Christians put in place.
"The hope is that by being isolated, criminals will be immune from negative influences to focus on their own inner spirituality and, as a result, change," said Griffith, author of God's Law and Order and a member of EJUSA's Evangelical Network advisory board. "The hope is reformation, but they end up being really brutal and awful places."
Today, Griffith said, while many Christians support the death penalty and law and order, there are few who would make strong arguments for solitary confinement. Most people seem open, at minimum, to concerns the system is abused and ought to be reformed. More than 60 percent of likely voters support some alternatives to isolation, including de-escalation rooms, good-behavior incentives, and increased mental health treatment.
That's encouraging to Heath.
"We also want to add in and reimagine something else," said the evangelical networking manager of EJUSA. "Punishment doesn't lead to the healing that we as Christians promise to other people."