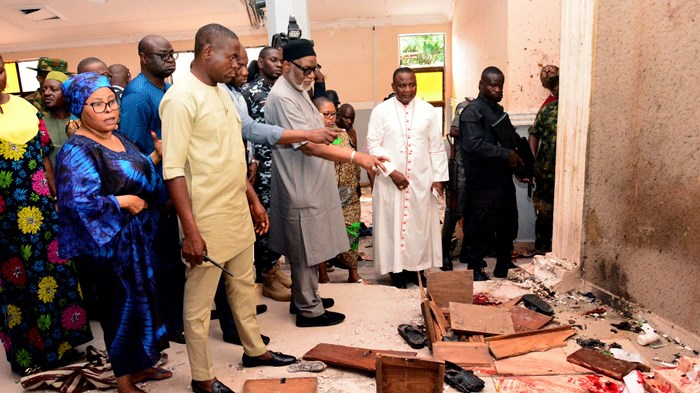 Image: AFP
ABUJA, Nigeria – Terrorists launched a gun and bomb attack at the end of a Catholic Mass in southwest Nigeria on Sunday, killing an estimated 70 worshipers according to residents and church leaders.
The terrorists attacked St. Francis Xavier Catholic Church in Owo, Ondo state, at about 9 a.m., church leaders and residents told Morning Star News (MSN) through text messages.
The carnage could have been greater. The church, one of the largest in the area, can hold up to 1,200 people and was full at the time of the attack.
A priest at the church, Andrew Abayomi, told MSN that as the worship service was coming to an end, the terrorists threw explosive devices and shot at worshipers.
"We were in worship Mass when the terrorists attacked us. They shot at the congregation while breaking into the church by throwing improvised explosive devices at the church building," Abayomi said. "Some of us hid inside the church as they shot randomly at us. This lasted for about 20 minutes before they retreated."
He said it was difficult to give details about the number killed and injured, as leaders were focusing on transferring the wounded to hospitals. Circulated videos showed bloody images of men, women, and children strewed among the pews.
Among other Owo residents, Loye Owolemi said about 70 worshipers were shot dead and others abducted when terrorists attacked the church service.
The Associated Press reported that one kidnapping victim was the presiding priest. Pope Francis was aware, stated the Vatican, and is praying.
Nigeria, ranked No. 7 on Open Doors' 2022 World Watch List (WWL), led the world in Christians killed for their faith last year at 4,650 (from October 1, 2020 to September 30, 2021), up from 3,530 the previous reporting period. The West African nation's 470 attacks on churches trailed only China's tally.
The Ondo governor, Arakunrin Oluwarotimi Akeredolu, said it was a "black Sunday" in Owo.
"Our hearts are heavy. Our peace and tranquility have been attacked by the enemies of the people," said Akeredolu in a press statement. "This is a personal loss, an attack on our dear state. … I am shocked to say the least.
"Nevertheless, we shall commit every available resource to hunt down these assailants and make them pay," said the governor. "We shall never bow to the machinations of heartless elements in our resolve to rid our state of criminals."
While no one immediately took responsibility for the assault, predominantly Muslim Fulani herdsmen were suspected, said Adeyemi Olayemi, a lawmaker in Ondo. Such kidnappings and killings are usually associated with northern Nigeria, but a recent local uptick in otherwise peaceful Ondo prompted the state government to implement restrictions on grazing last August.
The bill also established a framework for the construction of ranches.
"We have enjoyed improved security since herdsmen were driven away from our forests by this administration," Olayemi reportedly said. "This is a reprisal attack to send a diabolical message to the governor."
Akeredolu is from Owo.
Muhammadu Buhari, Nigeria's president, condemned the atrocity.
"No matter what, this country shall never give in to evil and wicked people, and darkness will never overcome light," Buhari said. "Nigeria will eventually win."
Anselm Ologunwa, the Ondo state chairman for the Christian Association of Nigeria (CAN), said "nowhere is safe in Nigeria." He linked the Owo massacre to the April attack on a northward train from Abuja, the national capital, that killed nine and kidnapped dozens. He also cited last month's abduction of a Methodist prelate.
After its leader was seized in the southeastern state of Abia, the Methodist church paid $240,000 for the release of Samuel Kanu-Uche and two fellow pastors.
And two days before the Catholic church massacre, CAN stated that armed assailants had attacked the residence of Yusuf Ashafa, a Baptist pastor in Kachia in the northern state of Kaduna. The kidnappers are demanding $96,000 to release the pastor's five children and an elderly man.
The Nigerian Senate recently passed legislation to criminalize ransom payments, with 15 years imprisonment. Buhari has not yet indicated if he will sign it into law.
Open Doors' WWL ranks Nigeria first on its list of Christians kidnapped, with more than 2,500 tallied last year. And since 2020, UNICEF counts at least 1,500 students abducted in the northern regions.
"This is raw persecution," said Israel Akanji, president of the Nigerian Baptist Association, on the Owo killings. "These people are possessed, demonic, and are not working for the good of the country. May God descend and fight [them] from their roots."
John Hayab, president of Kaduna's CAN chapter, questioned to CT the paying of ransoms—saying most churches would be unable to do so. And he faulted the government for its rhetorical response without offering concrete action to change the security realities.
Testimony Onifade, senior special assistant to CAN's president, was livid. Ransom money is better used to arm the community, he told CT. And ordinary believers, he believes, are outraged enough to agree.
"How long shall we wait, watching them kill our people, and then give them our money to buy more guns?" he asked. "Christianity does not mean stupidity."
Gideon Para-Mallam, head of an eponymous peace foundation, said church leaders must immediately visit the area to provide spiritual and humanitarian support. Uniting in prayer, such early intervention will calm the situation and prevent retaliatory violence.
But ransom payments, he said, are inevitable.
"The government is like the ostrich with its head in the ground, leaving citizens defenseless," said the former Jos-based Africa ambassador for the International Fellowship of Evangelical Students. "Nigerians have been left to the mercies of kidnappers and terrorists, and it is only an academic exercise to suggest criminalization will make a difference."
The president of the Catholic Laity Council of Nigeria called similarly for the youth to not take the law into their own hands. But in calling on the authorities to stop national violence, he warned that their failure pushes in the direction of Onifade's view.
"I want to categorically state here again that as believers in Christ Jesus, we are called to be peace-loving people and to preach it with both words and actions," said Henry Yunkwap. "But that does not mean we shouldn't be sensitive to happenings around us and take action when necessary."
As Christians, they have had enough.
"Any government who cannot provide security for her people," he continued, "is indirectly telling them to defend themselves, by whatever means they can."
These "animals in human form," stated the Catholic press statement, are suspected to be bandits. Yunkwap differentiated them from the religious extremists who killed Deborah Samuel, the college student attacked by a mob for her alleged blasphemy.
Numbering in the millions across Nigeria and the Sahel, the predominantly Muslim Fulani comprise hundreds of clans of many different lineages who do not hold extremist views. But some Fulani do adhere to radical Islamist ideology, the United Kingdom's All-Party Parliamentary Group for International Freedom or Belief (APPG) noted in a recent report.
"They adopt a comparable strategy to Boko Haram and ISWAP (Islamic State West Africa Province) and demonstrate a clear intent to target Christians and potent symbols of Christian identity," the APPG report states.
Christian leaders in Nigeria have said they believe herdsmen attacks on Christian communities in Nigeria's Middle Belt are inspired by their desire to forcefully take over Christians' lands and impose Islam, as desertification has made it difficult to sustain their herds.
But as the nation struggles now for a just solution, the president of CAN eyed the future eschatological peace.
"What happened today was a carnage and irreparable disaster," said Samson Ayokunle. "The end of the age has come, and the devil is on the prowl. As the Lord lives and reigns, the devil will not go far—but be disgraced in the end."
First published at Morning Star News. Additional reporting by Jayson Casper.