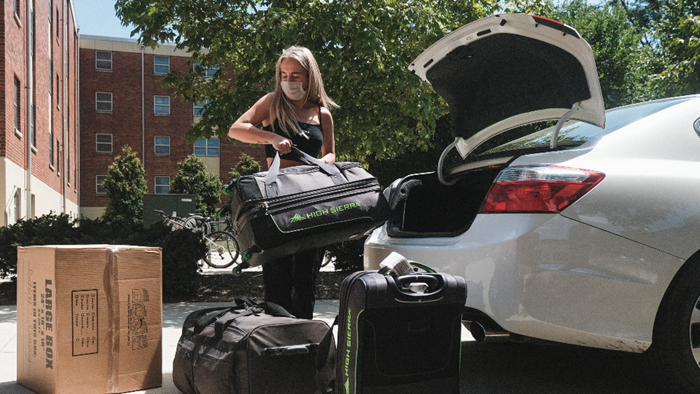 Image: Matthew Hatcher/Getty Images
Iowa Wesleyan University freshman Emma Soukup started crying when she heard the news that her school, a 181-year-old United Methodist institution, would close at the end of this semester.
She told the Des Moines Register it felt like a tornado devastated her home. She called her dad. "I don't know what to do," she told him.
She is not the only one.
A new study from Higher Ed Dive found three dozen colleges and universities have closed or merged since the start of the COVID-19 pandemic. Eighteen of them are Christian, including Methodist, Lutheran, Roman Catholic, Baptist, Church of Christ, and Independent Christian Church institutions. One minute they were there—seemingly as solid as the buildings, invested with the mission of integrating faith and learning, full of students' hopes and ambitions—and then they were gone.
The schools were all small and struggling before COVID-19. They faced devastating demographic shifts, declining enrollment, internal conflict exacerbated by ongoing crises, and, most of all, unrelenting financial challenges. Some would have certainly closed even without a global health crisis. For others, the coronavirus was the last stiff breeze that blew them over the edge.
"Small institutions are resilient or they wouldn't still be in existence," said David Fincher, head of Central Christian College of the Bible, which absorbed St. Louis Christian College in 2022. "At the end of the day, though, there's only so much resiliency gets you when there's a perfect storm."
In Michigan's Upper Peninsula, a mainline Lutheran university saw the storm rising in high school statistics. Fewer and fewer students attended the region's schools, reflecting broader Michigan trends, and fewer and fewer graduated. Among those who did remain in the region and did graduate high school, only a shrinking number expressed interest in going to college.
Finlandia University, founded in 1896 by Lutheran loggers and copper miners, announced last month that it would close in 2023.
The Christian schools that have closed since the start of the pandemic were all small—some very small. Many people on those campuses appreciated the size and the intimacy it created for their communities. But it also made them vulnerable to any enrollment decline.
MacMurray College, a Methodist-affiliated school in Illinois, had 736 students in 1980. One of the people who attended back then told the Detroit Free Press that he loved that.
"You could know almost everyone on campus," he said. "It was nice to go to someplace small and really find myself."
MacMurray's enrollment numbers dropped to around 630 in the 2010s, putting the school's finances in a perilous position. In 2015, with 570 students, the school brought in just a little bit more than it cost to operate. The following year, with 552 students, MacMurray ended up in the red, with a $1.7 million shortfall.
Things got only worse after that.
"You have to have a clear long-term strategy," said David Fitz, a former MacMurray political science professor who took a position in the administration in the early 2000s. "I'm not sure the college ever did that well. We moved from crisis to crisis and managed well, until we couldn't and then it had to close."
A last-minute effort to reimagine the school, overhauling MacMurray's curriculum to focus more on career training and striking a deal with a developer to buy the property and lease it back to the university, ended when the crisis of COVID-19 overwhelmed everything.
"Shortly after we announced we were closing, I remember walking across campus and seeing a woman sitting on the chapel steps crying," president Beverly Rodgers said. "She told me she had been married there. There's an emotional attachment to the buildings, to the campus. It's very sad we had to close it."
A lot of schools found the pandemic "made an already tough situation unsustainable," as Robert Callahan, president of Holy Family College in Wisconsin, put it. The Catholic school had seen a slight uptick in enrollment. The administration was hoping they had turned a corner. But the COVID-19 crisis was too much.
Presentation College, a Catholic school in South Dakota, met a similar end. The administration had sharply discounted tuition to try to increase enrollment. The school ended up losing about 35 cents for every dollar of tuition money that came in, while drastically cutting spending. The painful efforts seemed, in a few hopeful moments, like they might work.
"We streamlined leadership, renegotiated vendor contracts, reduced operating budgets, really brought down our budgets to about two and a half million dollars—and things were starting to look better. … Things were turning around," president Paula Langteau told South Dakota Public Broadcasting. "At that time, as you know, COVID hit."
For some schools, however, COVID-19 seemed like it could be a blessing in disguise, an odd but very welcome answer to prayer. Across the country, higher education institutions received about $40 billion from the federal government. Many received additional money from state and local governments.
The administration at Iowa Wesleyan asked the governor for $12 million in federal relief funds. When the request was turned down, though, their hopes were dashed for the last time. The governor didn't want to spend the one-time funding on ongoing operational expenses, and an independent accounting firm determined the relief money would not fix the school's financial problems, which included a $26.1 million debt owed to the U.S. Department of Agriculture.
The trustees said they had done "considerable exploration of all feasible strategic alternatives" but not come up with a workable plan. They voted to close the school in May 2023.
Financial problems have a way of getting worse at small Christian colleges. Ohio Valley University, a Church of Christ school in West Virginia, had long carried heavy debt and became dependent on debt to finance basic operations. Even more troubling, $6 million was borrowed from individuals connected to the institutions. Some of those loans came with high interest rates and terms that allowed creditors to call for repayment at any time.
Over the years, financial panics became commonplace.
"Don't you dare borrow any money from individuals,'" a board member on the finance committee said in the 2010s. "You must live within your debts. You must address all of your employees, faculty, and whatnot so that you have a balanced budget. I do not want to see any more private debt."
The practice continued, though. And plans to mine the West Virginia property for coal that was theoretically worth $10 million never quite came to fruition.
Eventually, the school couldn't pay for basic operations. In 2020, a judge ordered Ohio Valley to pay $1.2 million it owed to a former food vendor. When a software system used to store student data and records broke, it became public that the school had not paid for authorized use. In 2021, it stopped paying faculty and staff until an anonymous donor committed $900,000 to take care of the salaries around Christmas.
The school shuttered at the end of the year.
However inevitable the end of a Christian college appears, at the end, the loss is still immense and devastating to those who gave their hearts and lives to the school.
"We know this was the right decision," said W. Mark Tew, president of Judson College, when the Baptist school decided to shut down for good in 2021. "But there is not a person here whose heart isn't broken over this."
After the final crisis comes, nothing remains of the once-solid institution but the transcripts of graduates now bereft of their alma mater, the debts still owed, and the odds and ends that go for sale at auction.
Judson, a 183-year-old women's college, was reduced to 1,300 lots listed on High As the Sky Auction Company's website.
"Rare books," an advertisement said, "artwork, furniture, … collectibles and much more."