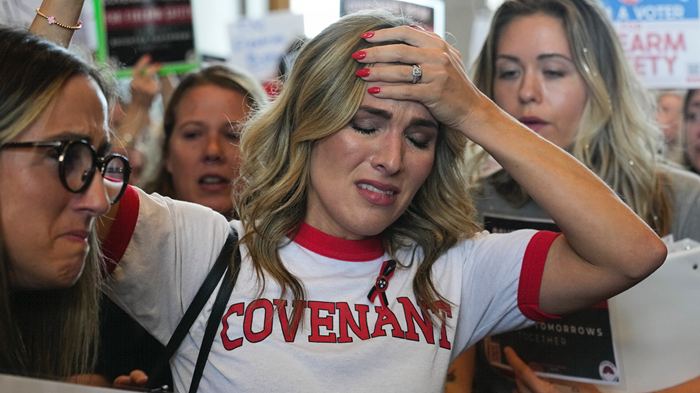 Image: AP Photo/George Walker IV
They hoped the Tennessee legislature would listen to them. They hoped the elected representatives would do something—something—to make their kids safer.
But at the end of the special session in Nashville on Tuesday, The Covenant School parents' hopes were dashed. The legislature didn't even vote on the bills that the families of children who survived a Nashville school shooting in March wanted to see made into law.
Wearing matching black T-shirts with the words "Get Used to Seeing These Faces," the cofounders of Covenant Families for Better Tomorrows wept at the Capitol. And at a press conference after, some of them spoke of how hard it was going to be to explain all this to their children.
"We will go home and we'll look at our children in the eyes," said Mary Joyce, whose daughter was best friends with one of the girls murdered at the Presbyterian Church in America school. "They will ask what our leaders have done over the past week and a half to protect them.
The parents vowed this defeat would not be the end of their activism. Melissa Alexander, whose fourth-grade son stood silently against a wall while a shooter killed three of his classmates, addressed elected officials directly.
"The shooter confronted our children with guns," she said. "Now you are stabbing our families and all Tennesseans in the back."
There have been 477 mass shootings in America so far in 2023. Gun violence is the leading cause of deaths for children over the age of one, surpassing automobile accidents and cancer. Tennessee has had 17 mass shootings this year, leaving 32 people dead and 59 wounded.
One of those shootings happened in March, when a person identified as a former student reportedly in the process of changing their name and pronouns broke into The Covenant School carrying three guns—an AR-15 semiautomatic rifle, a 9 mm semiautomatic pistol-caliber carbine, and a 9 mm semiautomatic pistol.
The armed intruder fired 152 rounds in 14 minutes, killing six people before police fired back, killing the shooter.
The guns were purchased legally, even though the 28-year-old was under a doctor's care for an undisclosed emotional disorder and the person's parents felt they should not have access to firearms. Tennessee law does not allow adults to be deprived of their Second Amendment right to bear arms unless they have been convicted of a felony involving drugs or violence, received a restraining order with a specific prohibition against firearm possession, or are under the influence of drugs and alcohol at the time of possession. People who are mentally ill and have expressed a desire to hurt themselves or others can still buy guns.
In the aftermath of the shooting, Gov. Bill Lee proposed a limited "red flag law," which would allow a court to evaluate a person's mental health and temporarily deny them access to guns if re were deemed to be dangerous. Nineteen states—including conservative states like Florida and Indiana—have similar laws on the books.
A Vanderbilt University poll found that 72 percent of registered Tennessee voters support red flag laws. That includes half of self-identified "MAGA Republicans" and about 70 percent of non-MAGA Republicans and independents.
"There is broad agreement that this is the right approach," Lee said in April. "I'm not saying it's easy, but it is possible when we're talking about the safety of our children, our teachers and innocent lives."
Red flag laws are opposed, however, by the National Rifle Association and gun-rights advocates who say it's just a sneaky way for governments to gain the power to take away a constitutional right. Lee's proposal included additional protections for due process, but that didn't make a difference. Tennessee House Republicans said such measures are "a nonstarter."
The legislature, which is dominated by a supermajority of Republicans in both the House and Senate, did not take up the Republican governor's proposal in the regularly scheduled legislative sessions. They did not offer any alternatives, either. The session ended in April.
Lee, who was family friends with two of the adults killed at Covenant, called legislators back for a special session in August.
"I think most lawmakers agree with that and agree that we should be continuously improving public safety," he said. "We propose a framework but the General Assembly at the end of the day will decide what happens in that session."
The governor did not line up sponsors for a bill, though, and did not spend much time campaigning on the issue. In one scheduled Rotary Club event, the opening prayer touched on gun violence. Lee did not mention his proposal or the need to make Tennessee safer in his speech.
The Covenant parents, meanwhile, started lobbying legislators as hard as they could. Most of them had no experience in politics and certainly no history of opposition to guns.
Alexander, for example, told The Washington Post that she is a lifelong Republican, a conservative Christian, and a gun owner. She taught both her son and daughter to shoot when they were five years old. Her husband and son hunt ducks, doves, and pheasants. She and the other Covenant parents are not interested in overturning the Second Amendment or banning specific types of guns.
But in the aftermath of the shooting that could have taken their children's lives, they believed something had to be done. Alexander felt like God told her to create purpose from the pain and pursue change.
"As a native Tennessean and gun owner, I think it's important to emphasize we are proponents of responsible gun ownership," Alexander said. "However, I also think it's important to intervene when there are clear signs that something is wrong."
The Covenant parents met with more than 20 legislators. Some seemed sympathetic to them in private but then publicly said they would never support the legislation the families were interested in. Others said they wanted to focus on "small things" that they believed could make a difference, like shortening police response times to schools, eliminating taxes on gun safes, and declaring the Bible the official state book of Tennessee.
When the special session began, legislators in both houses considered dozens of bills, but most of them were tabled without serious discussions. No red flag law was considered.
A House committee did vote on a proposal to arm more people at schools. Chris Todd, one of the bill's Republican sponsors from West Tennessee, said restricting guns wouldn't have protected the children at Covenant.
If the shooter hadn't had a gun, Todd said, "she probably would've had a car—she had a car. She probably would have driven over those kids when they went to recess."
Several Covenant parents left the room after he said that, according to The Tennessean. Republicans attempted to call for a vote on the legislation before Covenant parents could testify against it and then had to shut the committee meeting temporarily as tempers flared. The bill ultimately died in a tie vote.
The only legislation that the House and Senate agreed on during the special session was a bill that would require the Tennessee Bureau of Investigations to create a new report on human trafficking. Representatives from the state law enforcement agency said they already report that data. The bill will go to the governor to be signed into law.
"I hoped for more," said David Teague, who has two children who survived the shooting at Covenant. "A tremendous opportunity to make our children safer and create brighter tomorrows has been missed."
Teague, who quoted both the New Testament and The Lord of the Rings, said the Covenant parents learned a lot about the limits of lobbying. Going forward, he said, they would need to get more involved in primary elections. He urged more "sane and reasonable" people to get into politics.
"As citizens of a representative democracy and as image-bearers of a just and merciful God, each and every one of us has a part to play that is ours and ours alone," he said.
The families are, as one of them said, "still in the trenches of this trauma," but they also say their faith has compelled them to try to make a change and not just give in to the darkness.
"We don't give up," said Sarah Shoop Neumann, whose kindergartener recently drew a picture of his school that included a coffin. "We've got faith unlike anything else. We've literally lived through hell and we're here and we're still united in it, and we're going to keep showing up every January for regular session. … We will be back in January."