Thaís and Ismael Akiyama had big plans for 2020. It was the year they would expand Akiyama, their Brazil-based biometric identification authentication business, to new markets. Their two spin-off companies, Neoyama, an industrial automation supplier, and Natosafe, which specializes in biometric identification of newborn infants, were poised for explosive growth. Massive projects were lined up, and profits were expected to hit record highs.
By the end of 2019, the gym that physiotherapist Brandi Binkley started in the garage of her Nashville home had grown into a thriving operation. Physiofit was housed in an 8,300 square-foot training studio and employed seven exercise physiologists. Business was booming.
The earliest days of 2020 saw restaurateur Craig B. Welburn riding high. He owned and operated five McDonald's franchises in Pennsylvania, New Jersey, and Delaware. And if the market predictions and trends were to be believed, this was to be a record year for the food and beverage industry.
Do you salvage what you can and run from the storm or risk everything and lead head-on into uncertainty?
Yet, as King Solomon warns in Proverbs, "Do not boast about tomorrow, for you do not know what a day may bring forth." An invisible storm was swiftly approaching that would plunge the world into crisis and force business owners in every industry to confront a threat to their very survival. When the coronavirus hit, no sector was safe.
As 2020 spiraled and business leaders were forced to constantly pivot, making hard decisions and navigating unforeseen challenges, the Akiyamas saw everything they had built start to crumble. The Brazilian government, one of their largest clients, slashed its biometric budget, payments for Neoyama parts only trickled in, and hospitals delayed adapting Natosafe technology as they struggled with an overwhelming influx of COVID-19 patients. Binkley faced the closure of her gym due to pandemic restrictions. Welburn watched with great concern as the virus took another devastating toll, closing the doors of many restaurants. As business leaders, each had a critical choice to make: salvage what you can and run from the storm or risk everything and lead head-on into uncertainty.
All chose the latter.
Looking back on the last year, these companies haven't just survived in the midst of turmoil and upheaval, they've thrived. Akiyama picked up new clients and profits exceeded expectations. Binkley pivoted her business from physical fitness training to a focus on a software platform that multiplied her potential market. Welburn's restaurants grew, outperforming his regional peers.
The common thread? All attribute their success to missions rooted in faith and the strength of their peer communities. While they each realized that facing the storm was the only way forward, no one dared to try this alone.
All four are members of C12, a global network of Christian business owners and executives who meet regularly to encourage, equip, and hold each other accountable to build businesses for a greater purpose. C12's mantra of "no margin, no mission" compels mission-driven leaders toward resiliency and innovation to advance business as a ministry. The motivation and ability to weather a pandemic are much greater when a business exists for more than turning a profit.
Thaís Akiyama says that her peers, missional mindset, and faith in Jesus grounded her in the midst of chaos. "We are inspired in every meeting and go back to the office full of ideas," she says. "We've learned how to make the company a real instrument for mission."
Stronger Together
Managing three different companies with three distinct missions was a juggling act even before the pandemic. Once it hit, things looked bleak, but the Akiyamas didn't falter. They digitally gathered their team of administrators and employees across all three companies and made a commitment to the whole group summed up in the hashtag #strongertogether.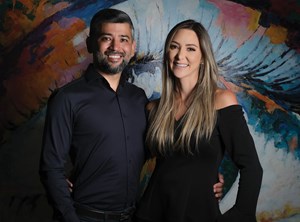 Image: Thaís and Ismael Akiyama photo by Marco Godinho
"The storm came for all of our companies, and we understood that we couldn't find a way out by ourselves," says Thaís Akiyama. "We needed to join together, building a community and identity as a group."
The Akiyamas consolidated the disparate companies under one umbrella and mission, and it served as a catalyst for transformation. They took the crisis as an opportunity to be intentional about their faith and to make Christian principles the foundation for how they do business.
Anchored in the hope of the gospel, the Akiyamas made 2020 a year of revival in their company. Clients noticed how the Akiyamas presented themselves: their actions were not swayed or influenced by the system of bribery so pervasive in the Brazilian business world. Employees across the three companies started collaborating on community projects. Conversions about God became more commonplace.
"The outcome of this year was great for business," says Thaís. "But when it comes to God's mission, I would say that we had an even greater outcome."
Spiritual Support
Brandi Binkley is no stranger to adversity. She joined the Navy after feeling called by God to active duty during a Campus Crusade for Christ summer project and served aboard the aircraft carrier USS Nimitz in Operation Iraqi Freedom. When she left the service, she felt guided to make an impact on people's lives through exercise.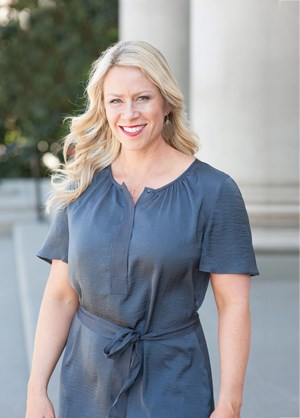 Image: Brandi Binkley photo courtesy of Physiofit
"I heard God calling me to help people feel better in their own skin and understand that they have so much more to give to the rest of the world when they themselves are in the process of healing and listening," says Binkley.
Binkley's training program, grounded in exercise science and spirituality, proved popular with the community, and the gym soon upgraded to a larger facility to accommodate everyone. Year after year the company grew. Then came 2020.
The gym was empty due to pandemic restrictions, and most of the trainers' work had to be done via Zoom. The storm was bearing down, but Binkley, encouraged by how her C12 peers weren't backing away from their own challenges, chose to charge ahead with them at her side.
"God's always called me into the fire pit," says Binkley. "Everyone in C12 was fighting the same battle, doing everything they could to help one another. I knew I wasn't going to get lost out in the storm by myself."
Instead of trying to convince new customers to join Physiofit in the middle of a pandemic, Binkley told her team to intentionally focus on those they already served. She and her trainers dropped off care kits with immunity products, chocolates, and written encouragements, "loving each person so hard that they didn't see Physiofit as a place to come work out—they saw it as their family."
Then, one day, Binkley heard God's call again, this time to grow the business so she could help keep the fitness industry afloat. She pivoted Physiofit by investing in Physio, a software platform that helps gyms manage their facilities through social engagement, financial optimization, and customer care, allowing them to better serve their customers. Now Binkley feels she is making a bigger impact than ever before for peoples' well-being and the kingdom.
Changing Perspective
"I've had ketchup in my veins for a long time," says Welburn, whose first job was cleaning up tables at McDonald's. Welburn now owns several McDonald's restaurants. His parents and siblings operate McDonald's franchises of their own. "Thanksgiving and Christmas," he jokes, "can turn into a meeting."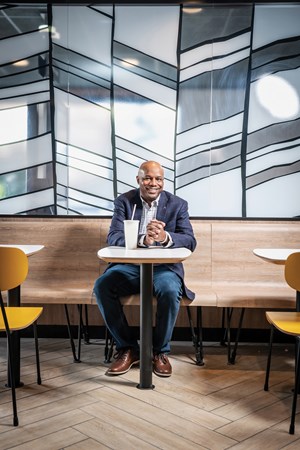 Image: Craig Welburn photo by Scott Suchman
The road of entrepreneurship seldom runs smooth, and when mistakes piled up, Welburn prayed that God would guide him through. His answer came in the form of an invitation from a neighbor to join the C12 Group, where he found the accountability and counsel he needed to weather the waves of COVID-19.
When the pandemic exacerbated food insecurity and made it difficult and dangerous for customers to come to his restaurants, Welburn's team came to them instead, donating and delivering meals from food pantries set up in each of Welburn's franchise locations. He also set up a Hardship Relief Fund to set aside money for team members struggling to pay rent and bills during the pandemic.
At the end of a year that saw many dining establishments close their doors forever, profits from Welburn's locations were ten percent higher than the national average. He chalks this up to God's provision, a faith-driven mission, and his peers' support.
"It's lonely being at the top," says Welburn. "Being a CEO of a business can make you think you have all the answers. It's been humbling to realize that I don't, but I can pick up the telephone and call my C12 peers, and they'll help me get those answers."
The end of the pandemic is not yet here, but it is in sight. These three successful businesses made it through by confronting the challenge head-on with help on all sides—and from above.
Looking back on the year, Welburn pointed to Matthew 6 as a source of strength and a reminder that God looks out for his people amid the storms of life. That includes pandemics, and Welburn emphasizes that the steadfastness and support of the Lord and fellow Christian business leaders makes no challenge too great to overcome. "It's eye opening when you realize that there are other Christian leaders who are in the same situation and want to help you," he says. "God's provided that and more for us during this time. We haven't had to worry. It's been covered. That's the perfect place to be."
To join or learn more about C12 peer advisory groups, visit joinc12.com.
Landry Harlan is a freelance journalist based in Cambridge, Massachusetts, who hails from northwest Arkansas. His words have appeared in the Boston Globe, Martha's Vineyard Magazine, and his arts and culture newsletter, Noteworthy.